Marriages Are Made in Heaven, but Minnat Lalpuria Makes Them Happen on Earth
Deven Lad
&nbsp | &nbsp Mumbai
02-February-2018
Vol 9&nbsp|&nbspIssue 6
Trust and transparency are key factors to make any relationship work. Minnat Lalpuria's 7Vachan, a Mumbai-based wedding consultancy, has created a niche for itself based purely on these two Ts.
Her wedding consultancy, 7Vachan, helps the bride, groom and their families to find the right venue, photographer, makeup artists, and basically take care of the hassles of arranging a wedding. They help find the best deals and charge 2 per cent commission on the fees charged by the various service-providers to the client couple.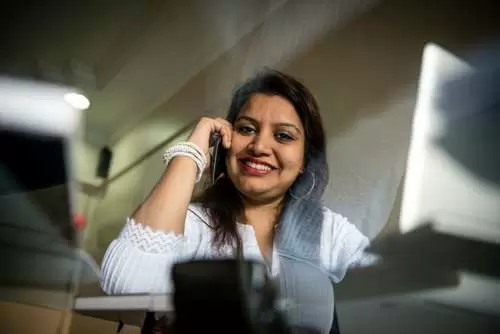 Started in 2012, Minnat Lalpuria's 7Vachan Private Limited has managed 10,000 weddings so far (Photos: Manoej Paateel)

"7Vachan is the gateway between the client couple and everything they need to arrange a wedding," Minnat explains her business in one line.
This is different from wedding planners who actually help stylise the décor, colours, themes and stay on ground for the wedding. 7Vachan's work is pre-wedding – cracking deals with vendors and service-providers.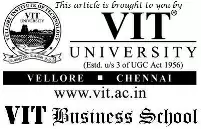 Starting with 200 weddings in 2012, 7Vachan Private Limited has managed 10,000 weddings so far and now they manage 2,500 weddings annually. Starting with only one employee, they now have 12 employees and have partnered with over 6,500 hotels in the last five years.
With an initial investment of Rs 2 lakh, in first year 7Vachan earned Rs 50 lakh and today its cumulative turnover is Rs 10-12 crore. This is expected to cross Rs 18-20 crore in the coming year.
"When I started this business, there was no player in the market and the concept was new," says Minnat. "By 2014 the number went up to 20 new players out of which 15 businesses died out."
Minnat, born and brought up in Mumbai's Lokhandawala area, always excelled at studies. She did her schooling from Arya Vidya Mandir, Juhu, and went to D.G. Ruparel to pursue science and scored 92 per cent in both HSC (higher secondary school certificate) and SSC (secondary school certificate). She then studied IT engineering in S.P. Engineering college in Mumbai.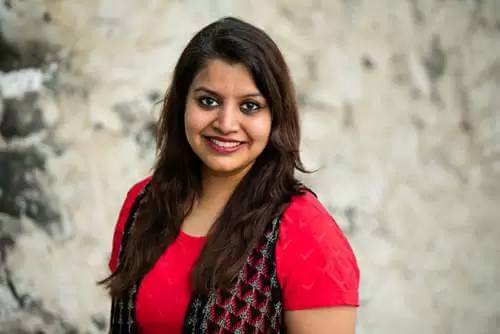 Minnat declined 30 job offers, while she was in the process of studying the wedding market before launching 7Vachan

After this, she got a job for Rs 18,000 per month at Tata Consultancy, where she worked for six months. She then worked in digital marketing for companies like Quasar and The Upper Storey.
Taking a cue from her father, Kantilal, who is into real estate business, she started thinking of a business of her own. Her family is well-off and supported this idea.
"After five years of working, I went to Indian School of Business to pursue an MBA and realised that 25-35 are the make or break years so if I have to do business, this is the time," reveals Minnat. "I had a few ideas (like grocery delivery) in mind out of which wedding consultancy seemed most workable."
Minnat got over 30 job offers in the time she spent working out her business but she refused them all. For 7Vachan, she researched the market for six months in 2012 and interviewed around 1,000 recently-married couples whom she met through her friends and acquaintances.
"Wedding is second most costly affair after buying a house," says Minnat. "People spend money on their marriage according to their financial capacity and my job is to help them to do that, and save unnecessary spends."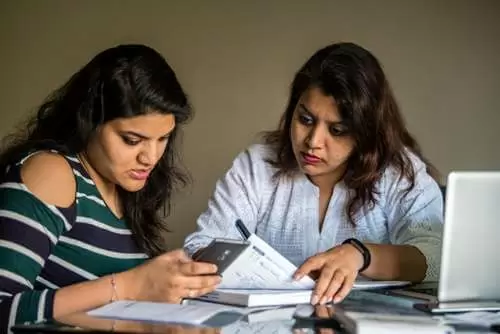 Focused on Work: Minnat's job involves networking with several vendors and service-providers

In 2012, she had no money to invest in 7Vachan so she borrowed Rs 2 lakh from her younger sister for marketing and promotions on social media.
In the first month 7Vachan didn't have any clients but within six months they got 100 weddings and in the next year 300 weddings to consult on.
Her first and only employee for a while was Aditi Mehta, who still works with them. Today, Minnat's mother and sister, who work from home, are also part of 7Vachan.
"Wedding is complicated business – it is socially, financially, emotionally exhausting for people," says Minnat. "Everyone has their own budget, from Rs 3 lakh to Rs 30 crore and there are a lot of options, so choice matters a lot."
7Vachan helps couples fix arrangements within their budgets, like the number of guests, the menu, travel arrangement for a destination wedding, and more.
"We help them draw up contracts so both parties are answerable," says Minnat. "We are not wedding planners, we are wedding consultants. Initially, wedding planners used to think we are their competitors but now many wedding planners are part of our network."
Through Minnat's 7Vachan website, one can connect to thousands of vendors, including hotels and fashion designers.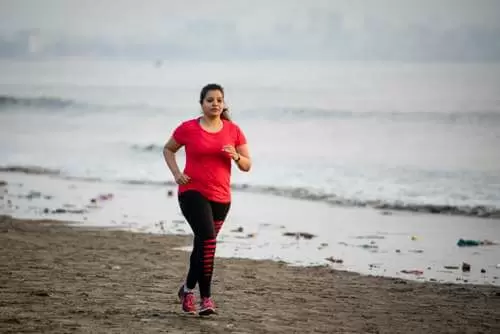 Minnat loves to keep herself fit. At the beach in Mumbai, jogging after a hard day's work

"Our growth is good and in the span of five years, we have had three rounds of funding," reveals Minnat.
Thirty-two-year old Minnat, who has set herself the goal to earn now and then retire in her 50s, has plans of finding investors who can help her to go international in the future.
Her business ethics of not compromising on the two Ts should see her through.
This Article is Part of the 'Amazing Entrepreneurs' Series
More Amazing Entrepreneurs
C K Ranganathan, Founder, CavinKare Private Limited
Wish to share your story?
Trending Now: