Serve and Profit is the Motto of Woman Serial Entrepreneur's Delivery Service Startup
Deven Lad
&nbsp | &nbsp Mumbai
03-November-2017
Vol 8&nbsp|&nbspIssue 45
Life threw an unexpected challenge to Revathi Roy, who went from a comfortable life to a period of personal and financial loss without notice, but she tackled it with gumption and came out on top.
Along the way, Revathi got invested in not just uplifting her own life but also that of other women from underprivileged backgrounds.
Revathi Roy launched Hey Deedee, a delivery service startup last year, which employs around 100 women from underprivileged families (Photos: Azhar Khan)

The 57-year-old social entrepreneur's journey started in 2007, when she first started driving a taxi, and 10 years later she has driven herself to success.
She launched Hey Deedee delivery service in 2016, a private limited firm based out of Mumbai that works with underprivileged women.
Currently Hey Deedee employs around 100 women at a salary of Rs 10,000 per month. A further 2,823 women are undergoing the 45-training programme by Zaffiro Learning Pvt Ltd, a training firm Revathi established in February 2016 that provides the compulsory training before joining Hey Deedee.
The women who sign up for this training have to pay a fee of Rs 1,500 even though the programme actually costs Rs 11,500 per person – the deficit of Rs 10,000 is financed by Maharashtra State Skill Development Society under the government's Skill India initiative, RPG Foundation and Tech Mahindra. The training takes place in Mumbai, Bengaluru and Nagpur.
Starting only last year, Hey Deedee already has several prestigious clients such as Amazon, Pizza Hut, and Subway, apart from local Mumbai restaurants like The Curry Brothers and The Bohri Kitchen among others.
Mopping up a turnover of Rs 1.5 crore in the first fiscal, Revathi is confident of taking it up to Rs 5 crore by the end of 2018.
Sitting in her 5 x 5ft cabin in the Worli office, part of a 1000 sq ft campus where the girls are trained, she recounts her journey.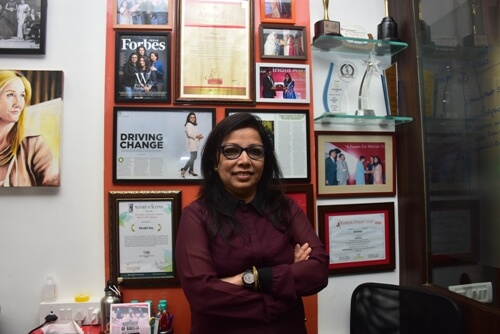 Revathi had worked earlier in the marketing department of a couple of media companies

Born in 1960 in Karnataka, was brought up in Mumbai, in a regular middle-class household. Her mother was a housewife and father, a businessman, owned a trade monthly magazine on the rubber industry called Rubber News.
Revathi went to a convent school in Prabhadevi and completed her graduation in economics from St Xavier's College.
"I was an only child so I was quite pampered," says Revathi. "There were no restrictions on me and I was free to study or work as I pleased."
After her graduation, she joined Current Weekly as a trainee in the marketing department in 1982, and then she shifted to India Today for six months before doing a three-year stint with the Times of India's marketing department, till she quit in 1985.
"I got married in 1985 and started helping my husband in his printing press and leather factory businesses," says Revathi. "But I took on other corporate jobs later and in 2004 I was head of marketing at the real estate firm Chesterton Meghraj."
She and her husband, Siddhartha Roy, led an affluent life, living in Breach Candy with their three children, when suddenly, in 2004, tragedy struck Revathi's life.
Her husband suffered a heart attack and slipped into coma before passing away on January 29, 2007. Apart from the emotional loss, it was a financial shock for her. She spent almost Rs 3 crore on the treatments.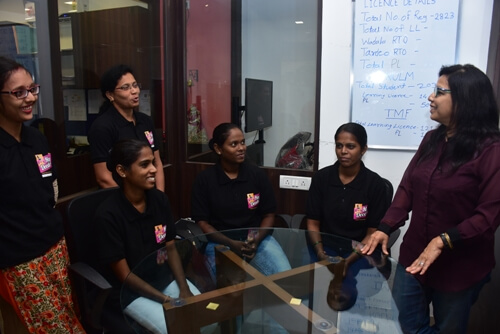 Employees are trained in communication and soft skills before being put on the delivery job

While he was in hospital, Revathi had to sell his assets including the house and after his death she was left with nothing but their children.
"I sold everything to keep him alive but eventually it wasn't to be…" says an emotional Revathi. "My elder son, who was studying in MIT Pune, had to drop out as we didn't have the money to pay for his college fees."
But Revathi didn't crumble. She was a strong wife, a strong mother and now it was time to think about the future. She took a hold of her emotions and thought of the options.
Her one passion was driving; she had participated in many rallies, and loved to drive. She decided to use her driving skills to earn some money.
"I borrowed a tourist taxi from a friend who also put me in touch with GVK – the group that runs Mumbai airport - and they gave me a slot at the airport because of the situation I was in," explains Revathi. "I started ferrying passengers."
On January 26, 2007, she gave an ad in newspaper that they are starting a taxi service and needed female drivers.
"Three girls responded but my husband passed away on January 29, so I started training them only in March," says Revathi. "I wanted to teach them how to drive and become independent."
Revathi started with three Indica cars and on International Women's Day, March 8, launched Forshe, a private limited company, which she visualised as an airport pick-up and drop service for corporates. "It got good coverage in the media after which finance company IL& FS invested in it," says Revathi.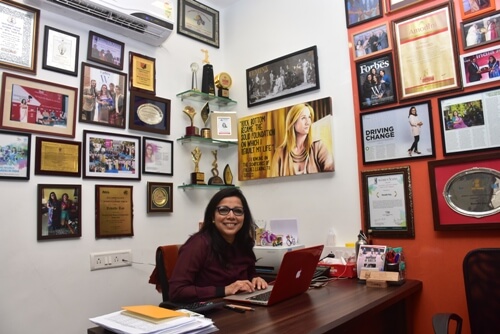 Hey Deedee plans to expand its services to other cities like Pune and Nashik

Her friends too supported her a lot during this time. In a few years, Japan-based ORIX gave additional funding to her company and she scaled up the business to more than more 20 cars.
In 2009, Revathi exited Forshe, giving up her stake and in 2010 she started a new all-women cab service, Viira Cabs, with AAP leader Preeti Sharma Menon.
In two years, by 2012, she quit that business too. Her mind was working on another, larger, idea. She wanted to empower women by training them in driving or riding bikes and scooters, and also in other inter-personal skills that will help them in life.
She started toying with the idea of starting a delivery service for food outlets and other companies and, four year later, in 2016, she finally co-founded Zaffiro Learning in February and Hey Deedee in March, with her friend Jagdish Gothi of Kamdhenu stores and a third sleeping partner.
"The idea behind this profit-oriented start-up was to empower underprivileged women," explains Revathi. "Of the women in training, over 1,000 come from below poverty line backgrounds and have faced many problems. Many of these women don't come back after the first day as their families don't allow them to go out."
Hey Deedee delivers everything from gifts to grocery, documents, food, couriers, and takes 25-30% as commission from companies. It is currently operating in Mumbai, Hyderabad, Bengaluru and Nagpur and soon it will expand to other cities, like Pune and Nashik.

"We look forward to empower women, so that they gain confidence to work freely," says Revathi. "These deliveries are done on scooters and bikes; we help them with loans and the money gets deducted monthly from their salary so they become owners of their scooters and bikes."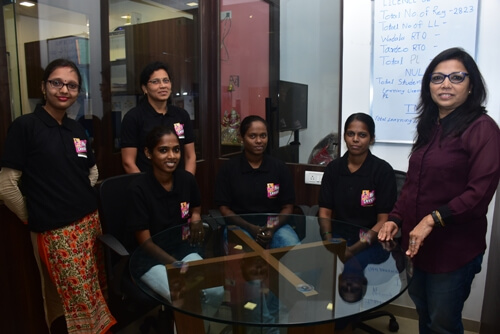 Women employees at Hey Deedee are thankful to Revathi for empowering them

Currently Hey Deedee gets 12-15 orders per day and Revathi spends around Rs 5 lakh monthly on it – for now there is no thought about profit and her entire focus is on building the business and empowering the women.
"Money will come, but I look forward to seeing more and more women join the company," says Revathi.
She has already helped so many women, like 23-year-old Sarita Kadam, who did not study after school and came from a poor background. She says: "Rs 3,097 out of my salary goes into the EMI but I am happy that today at least I am independent enough to work and earn for myself."
Revathi's vision is to make Hey Deedee the Uber of parcel delivering with an all-women staff – making inroads into a field that was earlier an all-male domain.
This Article is Part of the 'Super Startups' Series
MORE SUPER STARTUPS
Dipak Agarwal, Founder, OneX Solutions

Abhay Hanjura and Vivek Gupta, Founders, Licious

Related Stories: