How a small-time contractor built a 70,000-employee-strong Rs 2,000 crore turnover company
Deven Lad
&nbsp | &nbsp Mumbai
20-September-2017
Vol 8&nbsp|&nbspIssue 38
He spent his childhood selling mangoes, his teenage taking up house painting contracts, and struggled to fund his college degree. Today, he runs a successful integrated services company offering services like facilities management, housekeeping, gardening, and works with prestigious institutes and companies all across India.
Hanmant Gaikwad, 45, started in 1997 with a contract of Rs 12,000 per month, but today his company Bharat Vikas Group (BVG) starts at contracts of Rs 1 crore per month.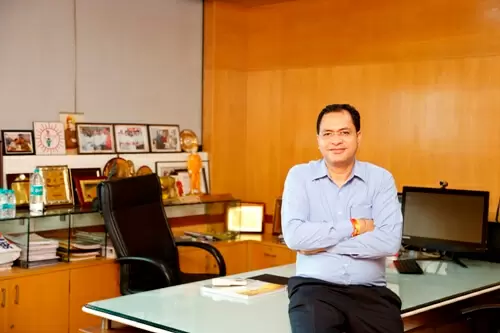 Hanmant Gaikwad, Chairman and Managing Director, BVG India Limited at his office in Pune (Photos: Aniruddha Rajandekar)

BVG's annual turnover is Rs 2,000 crore and they have 22 branches in 12 states across India. They have over 500 organisations in their client list and employ over 70,000 people!
I met the man in a Mumbai five-star, and he seemed friendly and down-to-earth. He even took care to introduce me to his driver Jagannath, who's been with him for 25 years and considers Hanmant more a brother than a boss.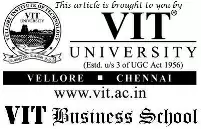 Hanmant's refreshing manner can be seen in how he interacts with everyone – be it senior staff or a junior worker – with grace and without any airs. And this is a big factor in his own incredible journey.
Born in Maharashtra's Rahimatpur village, Hanmant was always a studious child. His father, who was a clerk in the lower courts, sent him to Naveen Marathi School where he received a scholarship of Rs 15 per month from the Maharashtra State Council of Education when he was in class 4.
"Till I was in the 6th standard we had no electricity at home," recalls Hanmant. "We had a chimney at home under which my brother Dattatray, who is now a doctor, and I would study."
Then, his family shifted to Phugewadi in Pune, where he used to live in an 8 ft by 9 ft space, nothing more than a tiny room. He went to Modern High School, where he first realised the difference between the rich and poor.
"My family's condition wasn't good compared to other students and I was doing small jobs as my father was ill," Hanmant remembers.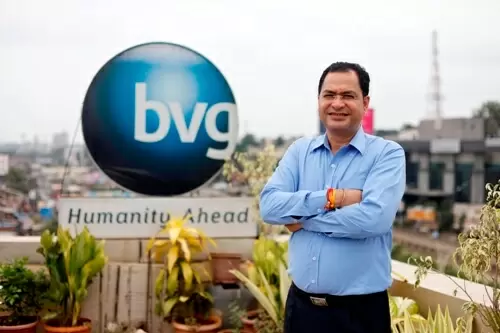 Hanmant who worked in Tata Motors before starting BVG, roped in his former employer as their first client

"The situation was critical, my mother had to sell her jewellery, and I sold mangoes at Rs 3 for a dozen. But I still remember the happiness I got out of selling those mangoes – knowing that I sold something and earned money."
In class 9, he was at a function in honour of the great Maratha king Shivaji, where he heard the following lines in Marathi: Jevha dash dishya nirashechya andhkarane bharun gelya hotya tevha me mhanat hoto jhunja jhunjat phude chala, aajahi sandesh toch aahe jhunja jhunjat phude chala.
Translated, it means: "When all directions were dark with failures, then I told you to fight and move ahead; today too, the message is the same, fight and move ahead."
"That speech was so inspirational, it changed my life," says Hanmant. "I was inspired by Swami Vivekananda and Shivaji Maharaj and my company Bharat Vikas Group, then Bharat Vikas Pratishthan, was basically founded on those principals."
Hanmant scored 88% in SSC and 148/150 in Mathematics. His mother was now teaching at a municipality school and his father was still ill.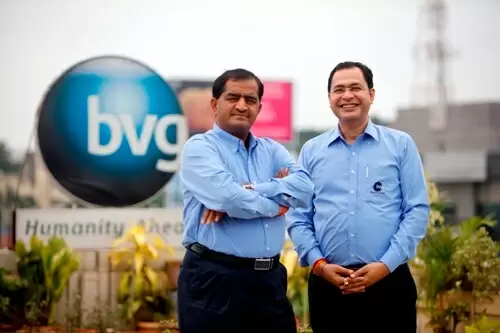 Hanmant with his right hand man, Umesh Mane, joint MD and VC of BVG Group

The headmaster of the school where his mother taught advised that Hanmant should pursue a diploma course, so he was admitted to Government Polytechnic in Pune for a diploma in electronics.
"During the second year, my father passed away after a cardiac arrest," says Hanmant. "I started working for Philips as a trainee after completing the diploma but I didn't like it much so I quit soon."
He decided to study some more. His mother took a loan of Rs 15,000 from the Pune Municipal Co-Operative and Hanmant joined BTech at the Vishwakarma Institute of Technology.
"I started taking tuitions on the side with my friend Yogesh Atre," he says. "We got Rs 3,200 and divided it in two. I also got Rs 2,300 per month working as an agent for a company that made jams and sauces. Eventually, I was able to self-finance my degree this way."
He had also started taking painting jobs on contracts – he collected four or five labourers for a 10-day job and earned about Rs 5,000 profit per flat. "I used to have two orders in a month for painting, which was enough for my education and commute."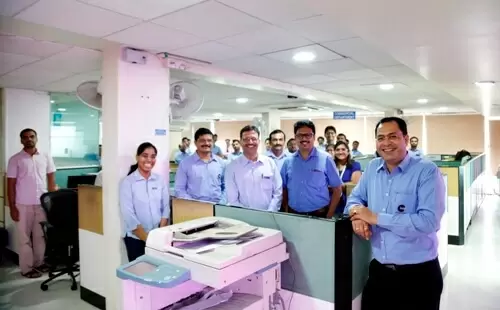 Hanmant believes in keeping his employees happy and the smile on their faces show it

His life and living conditions were getting better, and they bought a 2,000 sq ft plot in the Sangvi area in Pune with his father's gratuity of Rs 80,000.
Hanmant always wanted to do something for society so in 1993 he formed Bharat Vikas Pratishthan, a non-profit, where he used to collect funds for underprivileged students. "I was inspired by Swami Vivekananda and considered giving back to society important," he explains.
In the final year of his degree, he heard of the Balewadi stadium, where the National Games were going to be held and approached Lama Agency that was giving away a contract of Rs 3 lakh for remaking the pathways.
He took up that contract since he had recently built his own house so he knew people who could provide cement and other materials. He then took five people on daily wages with the target of completing it in seven days. This way he could earn around Rs 1.5 lakh profit.
"However, because of the earthquake in Latur, the Games got postponed and rains ruined the pathways," recalls Hanmant. His payment was suspended but his workers agreed to work for free to build it again and in the end he managed a profit of Rs 1 lakh.
"I treated the people I worked with nicely and, in return, they were happy and enthusiastic to work for me," he explains his policy that works till today.
After completing his BTech, Hanmant joined TELCO, now known as Tata Motors, as a trainee. He saved the company Rs 2 crore as, with the help of his colleague Ganesh Limaye, he found a way of using old materials lying for years as scrap.
Hanmant believes that success comes to people who who get out of their comfort zones and work hard

"My boss was very happy and asked me what reward I wanted," says Hanmant. "I told him that my village people were searching for jobs and asked if he could employ them in housekeeping."
The company could only recruit from a trust or an organisation, which is when Hanmant told him about Bharat Vikas Pratishthan. He agreed.
The Bharat Vikas trust got its first job with Tata Motors, where eight people got employment, for Rs 12,000 a month. Soon Tata Motors gave him contracts for housekeeping, gardening, and in the electrical and mechanical departments.
"One by one things started happening, we almost got all the units," recalls Hanmant. Other automobile companies heard about the good work by the Pratishthan and they got more contracts.
In the first year, 1997, he formed his company BVG India Limited and earned Rs 8 lakh in the first year and in second year it jumped to Rs 56 lakh.
"I always believed in hard work," says Hanmant. "If you work hard you will get your reward. I like to dream big, and believe all this happened because of dreaming big."
In 1999, Hanmant got married and quit TELCO. BVG got 10 more clients in Bangalore because of recommendations, then in Chennai and Hyderabad. Everywhere, BVG excelled in their services.
In 2003, BVG's turnover was touching Rs 4 crore. They got big contracts, such as mechanised cleaning of the Parliament, the Prime Minister's residence and then the Rashtrapati Bhavan. "I felt very proud as we were working at prestigious institutes," says Hanmant.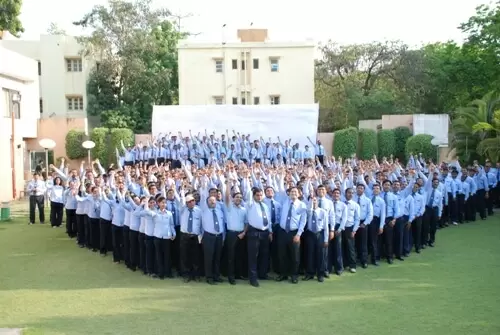 Hanmant with a part of his 70,000-strong workforce

Private sector was also BVG's target and they were doing great at Tata Motors. Today they have big clients like Bajaj, Mahindra, Ashok Leyland, Hyundai, Volkswagen, Fiat, in automobile companies, and ONGC, ITC, Hindustan lever, Accenture and Indian Railways in the public-private sector.
Hanmant still cares for his employees and has full trust in his organization – it is his family. "I have rehabilitated many people from my village and places nearby, and we take good care of employees," says a proud Hanmant. "When I travel, my driver who is like my family, shares my room – I ask for twin beds, and ear plugs, as he snores a lot!"
Hanmant lives with his wife and two daughters in Pune, who don't play an active role in the company.
He believes that to succeed, people need to get out of their comfort zones and work hard. "You need to leave your village or city or home and seek opportunities; nobody can change your circumstances unless you decide to change yourself," he advises.
This Article is Part of the 'Amazing Entrepreneurs' Series
More Amazing Entrepreneurs
Kailash Katkar, CEO, Quick Heal Technologies

Trending Now: