When a Business Idea was Born in a Family Bungalow, the Result was a Holiday Home Rental Portal

Usha Prasad
&nbsp | &nbsp Bengaluru
06-September-2017
Vol 8&nbsp|&nbspIssue 33
Your vacation can be more enjoyable when you opt to rent a villa or a holiday home, where you and your family can enjoy the comforts and space of an entire home, instead of a hotel room, in a new place.
Roshan D'Silva, 38, offers just that with Tripvillas, Asia's largest vacation rental website, which he launched in late 2009. Started with an investment of around Rs 3 lakh from Roshan's savings, the website has seen significant growth over the years and has registered a turnover of USD 8 million (Rs 52 crore) in 2016-17.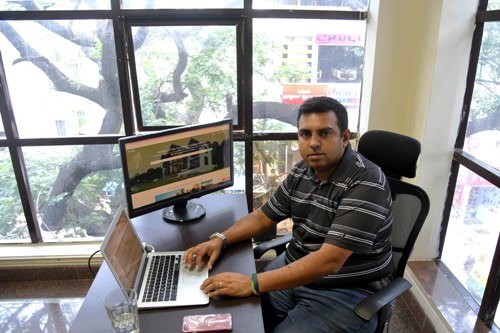 In 2009, Roshan D'Silva launched Tripvillas which has now enlisted 2 lakh holiday homes spread over 35 countries, including India (Photos: Vijay Babu)

Roshan stumbled upon this idea when he was looking for ways to generate an additional income from his family bungalow, located amidst a 40-acre coffee plantation in Sakleshpur, in the Hassan district of Karnataka. The family used it only for a week or two in the whole year.
Headquartered in Singapore, in less than 10 years Tripvillas has enlisted 2 lakh holiday homes covering 35 countries, including 5,000 from India.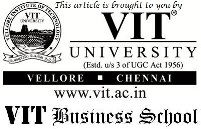 Thailand, Bali in Indonesia, and India are Tripvillas's top three destinations in South East Asia, while the biggest market in the West is Italy, followed by Spain and UK.
The website allows travellers to book holiday homes and homestays instead of hotels and resorts. "This is a win-win proposition where owners who do not use such properties all year can make an additional income by renting it out," says Roshan, "and travellers get to stay in large spacious family homes in some of the most beautiful places in the world."
Tripvillas provides house-owners an online platform to welcome travellers into their homes, help them in collecting payments securely and provide them with the knowledge and tools to provide a great experience to travellers.
Born and brought up in Qatar, Roshan's parents moved from Mangaluru to Qatar in 1969, where his father worked as Finance Manager with Qatar Fertilizer Company, and his mother worked for HSBC. His parents moved back to India in 2008 after retiring and now live in Mangaluru.
Roshan, the eldest of three sons, studied up to 12th standard in Qatar and moved to India in 1996 to do his engineering in telecommunications from IIT Bombay.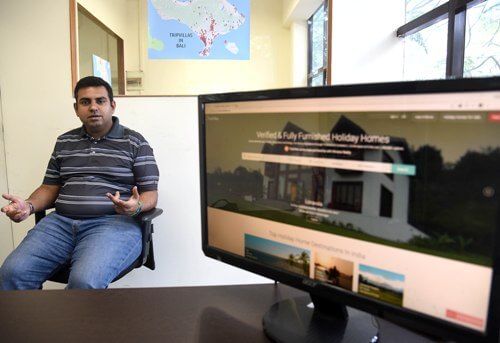 Roshan initially started operations from his old flat in Mumbai and shifted his headquarters to Singapore later

After completing his studies, he founded Myzus, a mobile value-added services company in 1999 in Mumbai. He sold the same in 2006 and started another firm, Paytronic Network, in 2006. As the managing director of Paytronic, he built one of India's largest cash acceptance networks.
However, in 2009, he sold his stake in Paytronic and took a break for a year. It is during this sabbatical that he got the idea of starting a business in holiday homes.
"I realised revamping our old home in Hassan would cost a huge amount of money and if it is not utilised full time, then we will have no returns on the money spent," explains Roshan, about the beginning of Tripvillas.
When he decided to rent out his property as a holiday home, he also came up with a business plan to bring together owners like him with unused properties.
Inspired by Craigslist, a US-based free classifieds website, Roshan set out to create a simple website where home-owners could create a profile for their property and then correspond with likeminded families who would be interested in staying in their homes as an alternate to hotels.
He started operations from his old flat in Mumbai, which was vacant after he moved to a new flat, with just one person to help him in going around the city to look for properties.
He put in a lot of research about where people want to visit in India and Goa came on top. Roshan approached people in Goa, Sakleshpur and Lonavla, near Mumbai, through his social circle.
"I knew a lot of Goans, spread across the world, people who had settled elsewhere, but still had a house in Goa, and they appreciated the idea," he says. "I approached non-resident Goans and also met Goan Associations in London, Dubai, Qatar etc."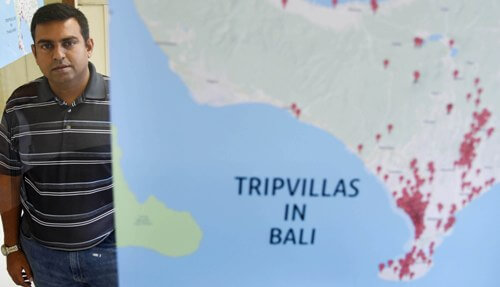 Tripvillas does not take money for registering properties, but takes its commission from transactions

Today, Tripvillas has many innovations to its credit, including being the first online marketplace to launch instant bookings.
Roshan, who has been a passionate and early advocator of the vacation rentals space in Asia, self-funded Tripvillas for the first 18 months and slowly engaged with thousands of owners, real estate developers and regulators to grow the business.
In the first year, Roshan offered the space on Tripvillas free of cost. There was no commercial arrangement with property owners. People could register their house for free and customers contacted the house owners directly and would do the business on their own.
"Though I was an engineer and had founded two companies earlier, I had not done anything seriously technical. I learned to write a program to build the website," he says.
After one year, when Tripvillas started becoming popular and registered 300 homes, Roshan decided to make money out of it.
"Seeing the numbers go up, we thought of generating more business and appoint a travel agent. To do this we needed money. In the second year, we realised that we must register as a company," says Roshan.
While both his previous companies were based out of India, catering to customers overseas, Tripvillas was set up in Singapore.
"With the number of people renting their houses out as holiday homes being too small in India, I felt that India is too small a market," explains Roshan. "In 2010, I moved myself and the first employee to Singapore, registered the company there and started doing business with our focus primarily set on the South East Asian markets such as Bali and Thailand."
He invested about USD 200,000 from his savings from previous ventures when he set up business in Singapore. Tripvillas got a professional website, and six people working for the company.
"In 2014, we decided to have a global customer service centre for Tripvillas in India, both for owners as well as travellers. That's when we decided to have our India office in Bengaluru," says Roshan.
"We have owners in India and other parts of the world who need our assistance. Often, a holiday home owner is a senior citizen or slightly older, who is not tech-savvy enough to upload pictures or write a proper description of a property. Our teams sitting in Thailand, Philippines and India help the customers in using the platform and to reconfirm when they get a booking," he explains.
Talking about focusing on the South East Asian markets, he says, "Bali and Thailand were more matured markets as Europeans and Americans had bought properties in these places and were looking out for a platform like Tripvillas to register on and rent out their properties as holiday homes."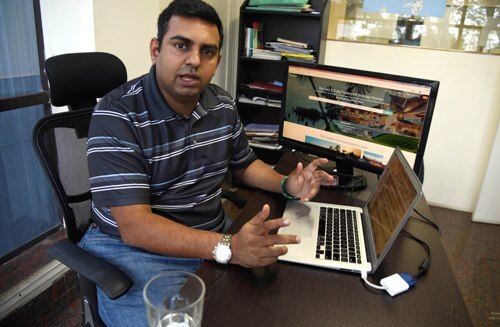 Roshan is eyeing the US market next, having entered Australia and New Zealand markets this year

However, Roshan was cautious not to over-commit financially. "Since we did not buy homes, our investment was automatically limited," he says.
"When we started this business, we saw that companies in the US who were in a similar business charged per year for the properties to be listed on their website, but we felt that we will generate income by collecting the rent online and not charging for registering the property. The rent will come to Tripvillas and we will deduct the commission and pay the owners."
But for one or two stray incidents initially, where someone had posted pictures of cricket legend Sachin Tendulkar's house in Lonavla, Tripvillas has never had any trouble with travellers so far.
They have put all the checks and balances in place before anybody can register their property. They have a strict rule against brokers – only property owners who can produce electricity bills or property tax documents in their names are allowed to register. The Tripvillas team verifies the same.
Word of mouth has contributed majorly to the company's growth. "Now, we have also started partnering with builders in India, Thailand, Bali and Sri Lanka, where builders assure property owners who don't utilise the property through the year about a business option such as this," says Roshan.
While Singapore remains the head quarters of Tripvillas, the business comes from all tourist destinations in South East Asia. India and Sri Lanka top the charts in the region.
Roshan lives in Singapore with his wife, who is a yoga teacher, and his seven year old daughter. He shuttles between Singapore and Bengaluru, managing both the offices.
As Tripvillas grew, it has been funded by leading Angel Groups and Funds including The National Research Foundation (NRF), a part of the Singapore Prime Minister's office, Neoteny Labs, Blume Ventures, Mena Ventures and others. So far, the company has raised about USD 1.5 million with Roshan's contribution adding another half a million dollars.
"We are a self-sustaining business model and are not capital-intensive since we don't own the assets. We provide the platform, generate income and monetise," he says.
This year, Tripvillas has entered the Australian and New Zealand markets. "Our aim is to reach the number two position in these areas, with Air BNB and Home Away being our largest competitors," says Roshan. His ambitions don't stop here: Next year, they plan to enter the US market.
This Article is Part of the 'Amazing Entrepreneurs' Series
More Amazing Entrepreneurs
Kailash Katkar, CEO, Quick Heal Technologies

Trending Now: