Starting from a 8 ft by 8 ft office, sitting all alone with a big dream, he built a Rs 64 crore turnover business
Deven Lad
&nbsp | &nbsp Mumbai
15-September-2017
Vol 8&nbsp|&nbspIssue 33
From Muzaffarpur to Mumbai, the journey hasn't been easy for 42-year-old Purnendu Shekhar, but the founder of Cogoport, one of the top online cargo logistics platforms, makes light of it.
Not to mention a huge success. It's been barely a year of operation and he's already targeting a turnover of 100 million dollars by the end of next year.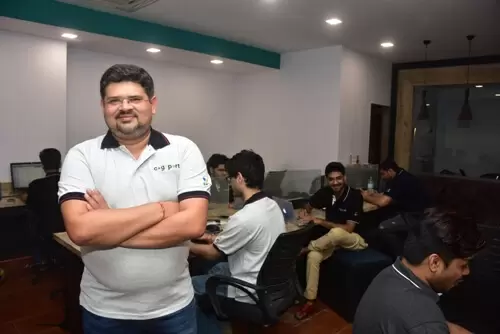 Purnendu Shekhar started Cogoport in an 8 ft by 8 ft office as a single man, but has now grown into a 50-member team with seven offices (Photos: Azhar Khan)
Cogoport is known as the Flipkart of logistics because of its fast growth. They help companies with moving freights from warehouses to ships, and offer various logistical services like truck transfers, custom and inland docking charges, all under one umbrella.
In the span of one year, Cogoport has an annual turnover of US$ 10 million (around Rs 64 crore) with 9,000 containers shipped from its portal and 2,500 truck transfers.
Sitting in Mumbai today, Purnendu recounts how he went from being the youngest mariner to a successful businessman.
"It's been 22 years, but I remember 21st August 1995 clearly, when I joined Shipping Corporation of India (SCI) to train to be master mariner," he remembers. "It was a one-year training programme and they gave me a stipend of Rs. 40,000."
Purnendu comes from a middle class, well educated, family from Muzaffarpur near Patna. Since childhood, he dreamt big but his family was more in favour of steady, conventional careers.
His late brother was a doctor, his sister went to IIT for civil engineering and he himself graduated in chemistry from L.S. Government College in Muzaffarpur, where his father was a professor.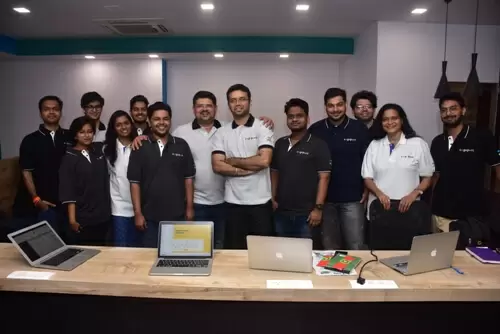 Cogoport has raised a funding of $950,000 from HNI Singapore

"When I was in the 6th or 7th standard, I used to make these wild business plans, but my family was dead against it all," says Purnendu. "They thought being a businessman was a bad thing!"
From the age of 13, Purnendu knew he was a free spirit, and wanted to get away from the family and explore the world. "I was carefree and I'm still like that," he says. "Also, I wanted to make a difference, do something different, rather than just earning."
In 1995, he saw the SCI advertisement for training onboard T.S. Chanakya in Mumbai and applied for it. "I nailed the interview," he recalls. "I wanted to see the world and in the process discover myself; I wanted to be myself."
At age 20, he went to Mumbai but had no money. "I used to stay in a lodge near CST station for Rs 50 per night," he recalls his days of struggle. "I used to walk from CST to Nariman Point, eat the cheapest food – a thali for Rs 10."
In SCI he worked very hard and round the clock. He had gained respect on the ship as the youngest master mariner and by the end of his sailing career he had seen around 150 countries.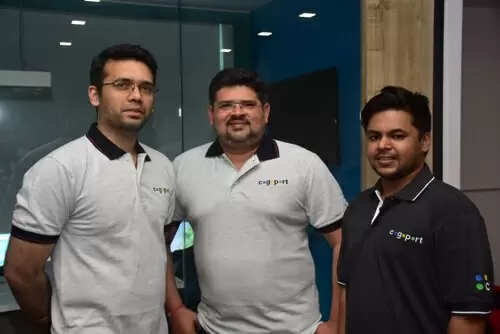 Purnendu Shekhar with senior members of his team

"I sailed for 12 months of the year, worked very hard and never gave anything else a thought till 2003," says Purnendu. That was the year he got married to Kriti, a friend of his sister, who lived in the same neighbourhood.
"I did not want to marry but my father was in the ICU and said he wanted to see me married…" says Purnendu. "So I asked Kriti's family and marriage just happened to me. Now, 10-15 years later, I realise its value. I am not an easy guy to understand but she stuck with me!"
All his life, Purnendu's decisions have been spontaneous and his decision of quitting the marine job and pursuing an MBA in logistics and supply chain management was also taken suddenly. And that too when he and his wife were thinking of having a baby.
"We had small fight when my wife learnt my decision," he laughs, "we had no savings because I always lived life king-size, but I thought if I sail for another year or two, I could save enough money for my family to live comfortably."
Since he was sailing he didn't have a chance to apply to the best business schools but got through S.P. Jain Institute, in Singapore. "My first baby was delivered when I got the letter of confirmation from S.P. Jain for my MBA," he laughs. "I had to tell my wife just after five hours of delivery that I was off to do my MBA!"
For his one-year MBA, Purnendu took a study loan of Rs. 15 lakh. His wife stayed in India, working with a pharmaceutical company, in corporate communication, while Purnendu started the course in April 2006.
But his risk paid off. He topped his class and got a job back in India, in Damco, a reputed shipping company, as Regional Sales Head. He worked there from 2007-2014, when he quit as Director of South Asia commercial.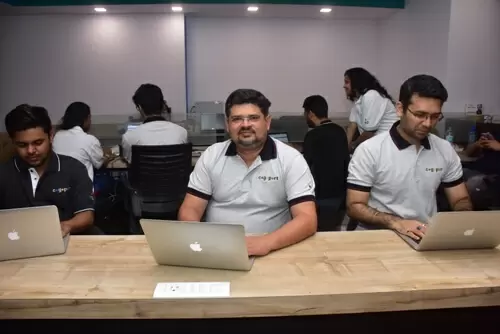 Purnendu is aiming to achieve a turnover of US$ 100 million by end of the next financial year

"The good thing about this organization is that they reward you for hard work and I was always a hard worker, which helped," explains Purnendu about his meteoric rise.
In 2014, he joined Panalpina World Transport as Senior Vice President but he was already thinking of his own business. "My heart was not in the job, so in May 2016, I finally hung up boots."
By this time he had had another child, a daughter, but this time he had enough money to follow through with the idea that had been playing in his head for a year. He gave his one year's savings to his wife and took his sons to his hometown in Muzaffarpur. "I was quite emotional," says Purnendu, "I told my children that if I fail this time, this is your home."
Cogoport started in an 8 ft by 8 ft office situated in Shagun Mall in Goregaon East, Mumbai. He was the only staff member then. "I remember my first day sitting at the table in the small office," Purnendu recalls, "so far this had been a dream, but now I did not know where to start."
He had no team, no money to invest, and didn't want to use his previous companies' contacts. "Meeting new people is better, as you get newer experiences," says Purnendu, with a smile.
Eventually people like Anurag Dabral, industry expert in sub domains of logistics like warehousing, distribution, strategy, and Kunal Rathod, an IITian, Nishant Dalmia (worked with Amazon and housing.com) and Harsh, an ex-banker, joined his team.
"For six months we were just meeting people and everyone worked for free till we got our first client, a Gujarat-based company," says Purnendu. "I also managed to raise $950,000 from HNI Singapore."
Cogoport helps big companies transport their goods without hassles, and at reasonable prices.
"Companies register on Cogoport, we verify the authenticity of the company and we give them a price for export or import," he explains. "They pay us but unlike other platforms, we include all services, including excise duties, under one roof so it's a one-stop solution."
It has around 2000 registered clients and an average of 10 companies register every day. Today, Purnendu has a team of 50 people spread across seven offices. He is looking at US$ 100 million by end 2018.
"I believe in hard work and my team's hard work has got us good clients. But I work hard even now. I am always meeting people, I hardly sleep," Purnendu explains the reason behind this success.
He lives life on his own terms. Till now he hasn't invested in buying his own house as he feels it's a bad investment. He takes decisions spontaneously and adapts according to changing situations, a key to him doing so well.
This Article is Part of the 'Super Startups' Series
MORE SUPER STARTUPS
Dipak Agarwal, Founder, OneX Solutions

Abhay Hanjura and Vivek Gupta, Founders, Licious
Wish to share your story?
Trending Now: