Eye surgeon who lived on a single meal during his MBBS days sets up thriving practice in Kota

Partho Burman
&nbsp | &nbsp Kota, Rajasthan
26-August-2017
Vol 8&nbsp|&nbspIssue 33
A barefoot village boy who only owned a pair of clothes translated hardship into hard work to become an eye surgeon, and today runs a 30-bed hospital with a yearly turnover of Rs five crore.
"During my MBBS, I used to have only one meal a day in a Jain Bhojanalaya facing the medical college," recalls Dr Pandey of his days of struggle as a medical student in the late 1980s. "At 3 pm, this single meal was my breakfast, lunch and dinner."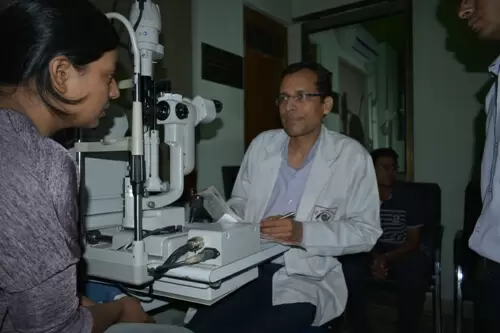 Dr Suresh Kumar Pandey (above), who came up the hard way, along with his wife Dr Vidushi Sharma Padey established SuVi Eye Institute and Lasik Laser Centre opened in Talwandi, Kota, in 2010. (Photos: Partho Burman)

Now this well-qualified and established eye surgeon with a hospital in Talwandi in Kota, Rajasthan, two cars and a mobile eye care unit bus, takes precisely 10 minutes to give back sight to a 62-year-old villager Hazarilal Jatav, suffering from a mature cataract.
Just after, the old man can count fingers and even read time on the hanging clock before he steps out of the operation theatre.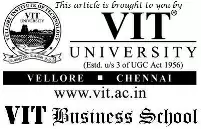 Dr Suresh Kumar Pandey makes a gruelling journey look simple.
"My lasting inspiration was my paternal grandfather Kamta Prasad Pandey," says Dr Pandey. "He was an Ayurveda practitioner who received cataract surgery training from Dr P.D. Giridhar of the Kishan Lal Jalan Eye Hospital, Bhiwani, as also from Dr Edward John Taylor, a British eye surgeon."
Kamta Prasad moved from Ballia, Uttar Pradesh, to Mohna in Chittorgarh district, about 80 km away from Kota in Rajasthan, when during a visit for an eye camp in Rajasthan the Rao of Bhesroadgarh offered him free land for service to society.
And that's how in 1972, four-year-old Suresh came to walk 1.5 km without shoes or slippers all the way from home to his Government Primary School in this small dusty village.
Forty-five years later, Dr Suresh Kumar Pandey, MBBS, MS Ophthalmology, Anterior Segment Fellowship (USA & Australia), and Director of SuVi Eye Institute and Lasik Laser Centre, has shown what grit and gumption can achieve.
Born to Kameshwar Prasad Pandey and Maya Pandey, Suresh was the second among four siblings. His father was a primary school teacher, whose monthly income of Rs 3000 didn't stretch far.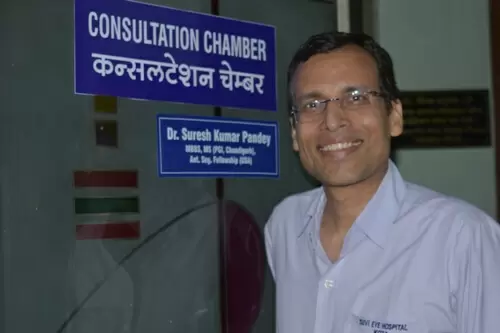 Suvi Eye Hospital provides advanced facilities for diagnostics, eye care, microsurgery and OPD

"I had slippers to wear only during the scorching summer," he shares, "and managed with only a couple of shirts and half-pants, which included my school uniform."
The situation worsened in 1975 when a rift in the family separated Suresh's family from his dear grandfather's home. From 1977, Suresh trudged along a 5-km distance to Government Secondary School in Eklingpura.
A brilliant student, he received a scholarship from the village elders. "I also obtained the NTSE (National Talent Search Exam) scholarship of Rs 100 a month for a year in 1980," Dr Pandey recalls.
Moving on to the Government Higher Secondary School in Rawatbhata – 30 km away from his village Mohna – 12-year-old Suresh had to live in rented accommodation, surviving on hotchpotch or boiled rice and potatoes he cooked himself on a kerosene stove or a sigri (earthern oven).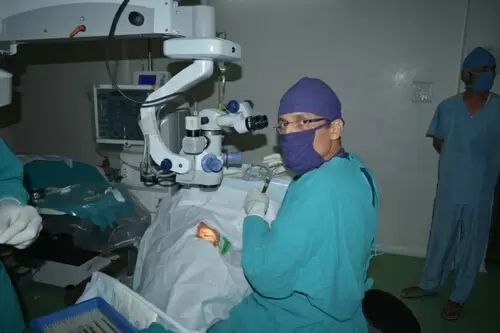 Dr Suresh Kumar Pandey has conducted 50,000 cataract surgeries between 1995 and 2017

Yet another scholarship announcement for about two years for his excellent results in the Higher Secondary Examination boosted his confidence. Borrowing books and visiting libraries, he got into Rani Durgawati University, Netaji Subhash Chandra Bose Medical College, Jabalpur, Madhya Pradesh, in 1986, in his first attempt – and without any coaching.
"I faced the toughest time of my life during the MBBS course," recalls Dr Pandey. With only Rs 600-800 sent by his parents every month, he had to stretch every rupee. "I kept myself motivated by reading inspirational stories of Swami Vivekananda and Pandit Sriram Acharya of Santikunj in Haridwar," says Dr Pandey.
In 1992 he opted for Ophthalmology for post-graduation in the same college, but left due to the poor infrastructure and work culture. He then joined Chandigarh's prestigious Post-Graduate Institute of Medical Education and Research (PGIMER) on a stipend of Rs 7,000 per month (later raised to 10,000) in 1995.
Still inspired by his grandfather, for Dr Pandey, "Ophthalmology is the most exciting and challenging branch of medicine because you gift people sight, help people to see."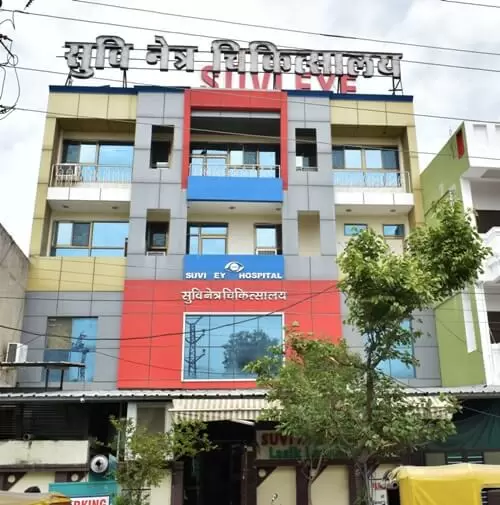 The 30-bedded Suvi eye hospital treats daily about 200-250 OPD patients and carries out 10 surgeries

To gain advanced training in his chosen field, he went to USA in 1998 with his savings of Rs two lakh and joined the Storm Eye Institute, Medical University of South Carolina, Charleston, USA, and the John A. Moran Eye Center, University of Utah, Salt Lake City, USA, where he got a paid fellowship of US$ 22,000 per annum. After working five years there he became an instructor.
Marriage decided his dilemma between the USA and India, and he returned home. Soon his wife, Dr Vidushi Sharma Pandey, MD, MBBS (AIIMS), FRCS, UK, and also an Ophthalmologist, took the opportunity of a clinical fellowship-cum-research job in Sydney Eye Hospital, Save Sight Institute, University of Sydney. The doctor couple moved to Australia in 2004, with Dr Suresh working in the field of cataracts while Dr Vidushi worked in ocular plastic surgery.
Returning in December 2005, after a short dissatisfying stint at the L.V. Prasad Eye Institute in Hyderabad, Andhra Pradesh, they decided to set up on their own in Kota: it was home; less frenetic than a metro; and Rajasthan has its fair share of eye problems due to the harsh sun, the dry environment and the sand-dust.
Their first venture involved leasing an old orthopedic hospital just a kilometre away from Talwandi for Rs 30,000 a month, post which the running of the hospital and paying staff salaries were their responsibilities. "We named it – SuVi", says Dr Vidushi Sharma Pandey, "derived from the first two letters of our names."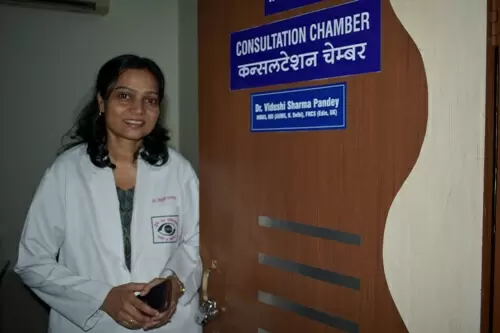 Dr Vidushi Sharma Pandey has worked in the field of ocular plastic surgery in Australia

Within only three years, the doctor couple managed to break even. They decided to build their own hospital on a 410-yard plot they bought in Talwandi with Rs 50 lakh-1 crore loans from SBI and the Bank of Baroda. They invested their own Rs 10 lakh for equipment.
On July 1, 2010, SuVi Eye Institute and Lasik Laser Centre opened in Talwandi. The Private Limited Hospital provides advanced facilities for diagnostics, eye care, microsurgery and OPD. It houses three operation theatres with Carl Zeiss operating microscopes and CCTV for live transmission of surgical procedures.
The institute currently has 45 staff and four doctors, including the doctor couple. "As an eye surgeon, I have conducted 50,000 cataract surgeries between 1995 and 2017," shares Dr Pandey.
The centre daily treats about 200-250 OPD patients and carries out 10 surgeries. They also offer concessions or free surgeries to needy patients. Their mobile eye-care unit has provided ophthalmic care to more than a lakh patients in the rural areas of Rajasthan and adjoining Madhya Pradesh since 2006.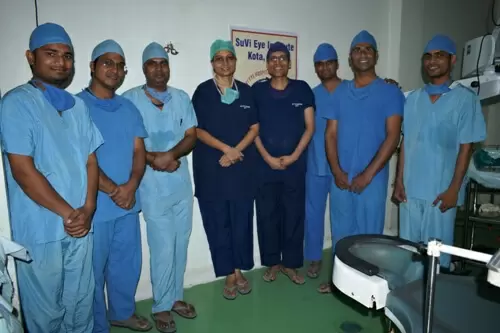 The doctor couple with some of their OT team members

Besides, over the past 6-7 years, the doctor couple has uploaded 300 videos of routine and complex eye surgeries on YouTube.
Their own medical fraternity has acclaimed them. Several doctors from the USA, Switzerland, Ireland, Saudi Arabia, Iraq, Azerbaijan and from across India have visited Kota to learn from their model of a small, compact practice. Their rate of success is 99 per cent in both cataract surgery and Lasik surgery.
For his research and surgical expertise, surgical videos, scientific posters and papers in national and international ophthalmology congresses, Dr Pandey has received several prestigious awards between 1998 and 2016, such as an Achievement Award from the American Academy of Ophthalmology, the Best-of-Show Video Award, the Best Poster Award, and the Best-Paper-of-the-Session Award.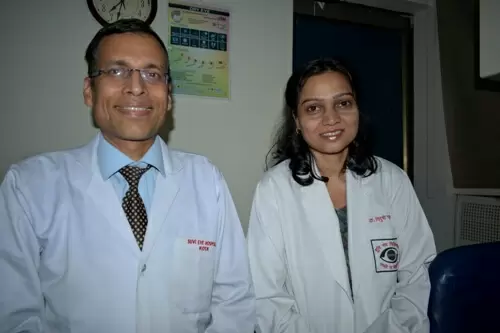 Dr Suresh and Dr Vidushi offer concessions or free surgeries to needy patients

He was also given a Gold Medal by the Indian Intraocular Implant and Refractive Surgery Society twice, in July 2000 and July 2013. Dr Pandey was also invited at international meeting in Milan, Italy, to perform live surgery in 2014, while in 2011 Dr Vidushi was honoured by the Government of Rajasthan for her outstanding work towards the elimination of preventable blindness.
Dr Suresh Pandey's efforts are geared totally towards his patients. "The medical challenge is to provide quality services to the patients," he says, "and that's what we are trying to do."
After all, that was his vision right from the start.
This Article is Part of the 'Amazing Entrepreneurs' Series
More Amazing Entrepreneurs
Kailash Katkar, CEO, Quick Heal Technologies
Wish to share your story?
Trending Now: