Cultivating on leased land, a Chartered Accountant tastes profit in agriculture with Rs 40 lakh turnover
G Singh
&nbsp | &nbsp Ranchi
14-August-2017
Vol 8&nbsp|&nbspIssue 22
Chartered accountant Rajeev Kamal Bittu could have easily led a luxurious life but instead he chose heat, dust, hard labour and risk as an agripreneur – to bring back respect to farming. "I set out myself on a mission to prove that anybody can do farming and it is not a lowly job," says 37-year-old Rajeev. It's a mission he has made a very successful one.
Farming has changed his life in every way. "I live in Ranchi and used to travel 28 km nearly daily to my farm in Kuchu village," says Rajeev. "Now I find it very difficult to bind myself within the four walls of my office. I would rather spend my time with nature. It gives a lot to my life."
Rajeev Kamal Bittu took to farming after his daughter reluctantly responded to a farmer who wanted to take her in his arms because he was wearing shabby, muddy clothes (Photos: Monirul Islam Mullick )

It all began in 2013, a life-changing year, when Rajeev went to his village in Gopal Ganj in Bihar along with his three-year-old daughter, Ritwika Kamal.
"She mingled with all the villagers," he recounts, "but hesitated when a farmer tried to take her in his arms, because he was wearing shabby, muddy clothes.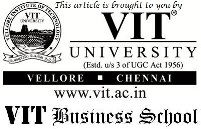 "Her reaction upset me and it hit me that our country's farmers toil hard to give us food, but they are still looked down upon and ignored." Rajeev vowed to earn worth and value for the farming community.
His life's journey had been very different until then.
Born in Gopal Ganj in the Siwan district of Bihar, Rajeev was the eldest of three siblings. His father, Birendra Prasad, was an engineer in the State government irrigation department at a salary of Rs 3,000, and as the eldest had the responsibility of his six siblings.
"My father's salary was spent on the family," Rajeev says.
After his primary education in a government school in Gopal Ganj, he studied at a school in Barhi at Hazaribagh (now in Jharkhand), about 380 km from his village, staying in a government hostel there.
Rajeev came to Ranchi for the first time in 1988 to study at Saraswati Vidya Mandir, Dhurwa. "The school was like a modern gurukul, well known for preserving Indian culture, "says Rajeev.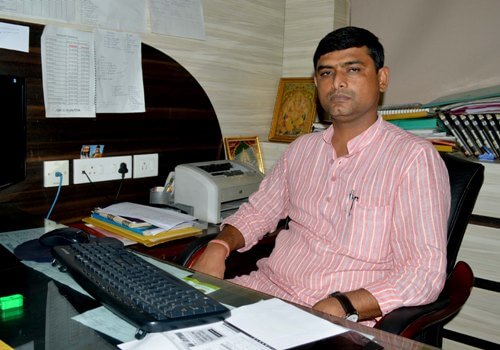 Rajeev Kamal Bittu was a successful chartered accountant in Ranchi before he turned his attention to farming

After Matriculation, in which he earned a commendable 79 per cent and was ranked among the top 10 students in Ranchi, he then went on to St. Xavier's College where he completed his higher secondary in the Science stream in 1995.
In 1996, he dropped an academic year to prepare for the IIT but couldn't make it. Following plan B, he joined Marwari College in Ranchi, graduating in commerce in 1999.
The same year he enrolled into Chartered Accountancy (CA) and started giving tuitions to graduation students, earning Rs 1,500 to contribute to the expenses of his own education. "I always tried to stand on my own feet," he says.
"Looking into the life of many RSS pracharaks who lived their life like sages, I associated myself with various social-work activities such as organizing blood donation camps , environmental rallies and tree plantation activities," says Rajeev, recalling those years.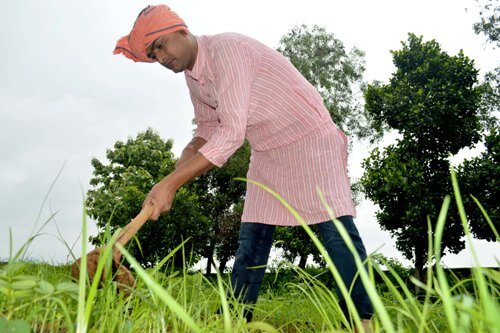 Clad in a jean and kurta, Rajeev working in his fields at Kuchu village

After completing CA in 2003, Rajeev rented a space of around 150 sq ft at a monthly rent of around Rs. 5000 in Ranchi and started practising as a CA there. He earned an average Rs 40,000 a month and in 2009 he got married to Rashmi Sahay (30), a plastic engineer.
It was business as usual until that fateful day in Gopal Ganj.
A complete novice in the field, Rajeev began to research farming using multiple sources – the Internet, professors at the Birsa Krishi Agriculture university and local farmers.
He convinced a land owner to lease him around 10 acres of land at Kuchu village without charging rental. "Instead I shared 33 per cent of the profits with him," explains Rajeev, who intelligently saved on the large initial capital investment buying land would have cost him.
Rajeev had to invest around Rs 2.5 lakh to bring the barren land into proper shape and get the paraphernalia for organic farming. "We farmed in seven acres of land, sowing watermelon and yellow melon in October-November 2013," says Rajeev.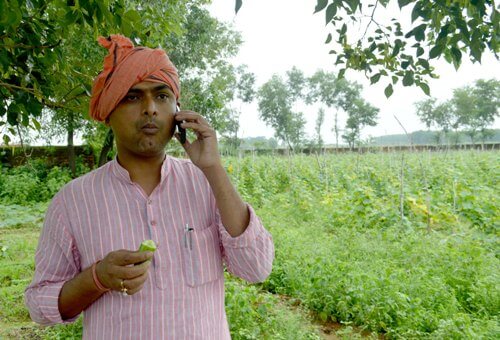 Rajeev cultivates vegetables such as cucumber, pumpkin and brinjal

"I was convinced by a salesman of seeds, who shared with me the productivity details and economics of melon growing. It became my main crop."
At the end of daily hard labour over months, the crop, harvested by January-end 2014, sold for around Rs 19 lakh to the local fruit wholesalers and yielded a profit of around Rs 7-8 lakh.
Encouraged by this, Rajeev began to experiment, based on market study and his own instinct. He leased another 13 acres of land in Anandi village of Ranchi's Ormanjhi block at a rental of Rs 8000-Rs 10,0000 per annum.
"We sowed cherry tomatoes, sweet corn and sweet potatoes," he says. It was again a profitable venture and the wholesale market began to recognize him for his unique crops.
"I had sales of around Rs 40-45 lakh, of which the profit was around Rs 20-22 lakh," he says. In 2016, he leased yet another three acres in Kuchu in Ormanjhi at Rs 45,000 per year, to cultivate vegetables, such as cucumber, pumpkin and brinjal.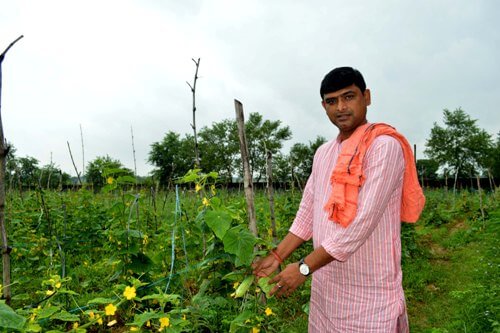 Hailstorms destroyed the watermelons he cultivated last year and it hit the turnover, which he was expecting to touch one crore

However, farming is vulnerable to the vagaries of weather and 2016 -2017 was a terrible period, bringing hailstorms that destroyed the watermelons.
"The turnover has remained stagnant at around Rs 40-42 lakh while we were looking to touch a crore rupees," says this first-generation farmer.
Explaining the predicament of a farmer's life, he says, "If the monsoon is good and we get good produce, the price stays low; and if the weather conditions are not suitable, our produce stays limited – so either way, the farmer suffers.
"The price is never based on our labour and commitment, and the entire risk rests on the farmer. Besides, farmers like us who work on leased land do not receive any financial support from banks and the government."
Still, Rajeev soldiers on, assisted by two trusted aides, Devraj Baraik (37) and Shiv Kumar (33) who look after his accounts and the technical part of farming respectively.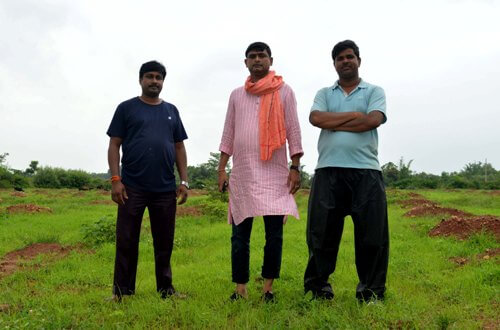 Rajeev with his aides Devraj Baraik and Shiv Kumar

Around 42 daily-wage labourers work the land, and more are recruited during sowing and harvesting times. He focuses his efforts on planning crop yield at the beginning of the season to get higher revenue from sale.
"Many other people around have also started agriculture activities and mostly on leased land," says Rajeev, who has contributed to the acceptance of this model.
Besides, nearby marginal farmers visit his farm to learning his methods, such as mulching, drip irrigation as well as the use of cow dung and urine for traditional manure, and neem leaf and karanja leaf as bio-pesticides.
"We also teach them about seed selection and the use of organic fertilisers and pesticides to preserve the fertility of the land," he says.
Rajeev now aims to create an agricultural tourist hub in one of his farmlands, with small huts for boarding and lodging visitors, who will be able to experience various aspects of farming.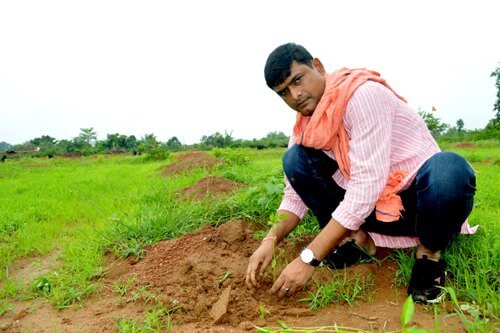 Seven-year-old Ritwika is now proud to be the daughter of a farmer

"We are also in the process of acquiring vans to deliver fruits and vegetables to nearby residential complexes," he says, sharing his expansion plans.
And just for the record, these days seven-year-old Ritwika mingles readily with farmers.
After all, now she too is the daughter of a son of the soil.
This Article is Part of the 'Amazing Entrepreneurs' Series
More Amazing Entrepreneurs
Kailash Katkar, CEO, Quick Heal Technologies

Trending Now: