Working for Rs 1,000 salary, marrying with Rs 1,100 in hand, he went on to build a Rs 8 crore turnover LED company
Masuma Bharmal Jariwala
&nbsp | &nbsp Rajkot
22-June-2017
Vol 8&nbsp|&nbspIssue 22
From having a bank balance of Rs 39 when he started on his first job to being the first Indian to set up an LED manufacturing facility in China with a turnover of Rs 8 crore, Jitendra Joshi has come a long way.
Today, Joshi's Chinese plant is manufacturing indoor and outdoor LED displays, LED curtains, transparent LED walls, LED display kiosks, LED screen vans and many other products, which are exported to the Gulf, UK, USA, India and other Asian countries.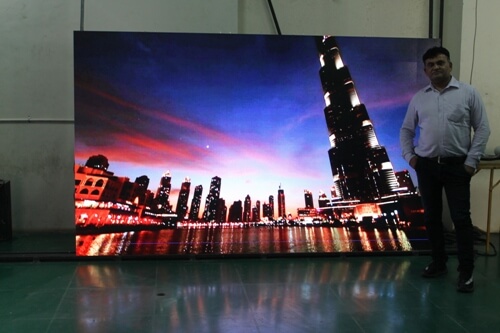 Jitendra Joshi, founder, Global Communications.com, set up a LED manufacturing unit at Shenzhen, China in 2014 (Photos: Abbas Ali)

They have customers in about 400 cities in China. "We manufacture around 8,000 square metres of LED in China annually," says Joshi with the assurance of a man who has achieved global success.
But the 39-year-old businessman who is fondly called as "jadugar" (magician) in Rajkot - where he has been based since 1997 - once sold rubber stamps for a paltry monthly salary of Rs 1,000.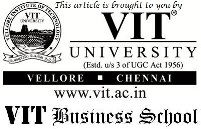 Born in Mumbai in a middle-class family in 1978, Joshi did his schooling at Morvi in Gujarat. Joshi was the only son among three siblings, but never found favour with his father.
To make matters worse, he fell in love with Chandrika, one of his classmates at school. While Chandrika cleared her Class 12 exam and joined medicine, Joshi failed in the board exam and went to Mumbai in 1994, where he signed up for a diploma in computer engineering from Bharati Vidyapeeth.
But he never attended classes regularly and took up a job at Perma Rubber Stamp Company. "I was assigned the task of selling self-inking rubber stamps at a monthly salary of Rs 1,000. I worked at Perma for three months."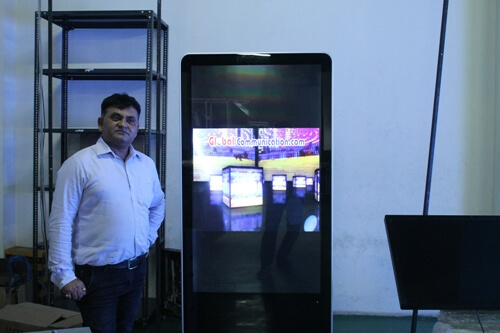 Joshi has established India's first LED plant near Rajkot spread across an area of 10,000 square feet

The same year, against the will of their parents, Joshi married Chandrika according to the Arya Samaj tradition.
"I just had Rs 1,100 with me when we decided to get married. I gifted Chandrika a sari worth Rs 600, spent Rs 350 on marriage related expenses and was finally left with only Rs 39 at hand.
"Chandrika was doing her medical internship then. For one-and-a-half years she was eligible for a stipend. But I knew I had only that much time to start earning a proper living.
"After our marriage Chandrika went back home to finish her studies. I finished my diploma and then enrolled for a degree in computer science," says Joshi.
Not attending college regularly, he landed a job as a service engineer at Hindustan Computers Limited (HCL) for a monthly salary of Rs 1500. There he got the experience of working with computers.
In 1997, after working for a year and a half with HCL, Joshi and his wife - who had by then completed her medical studies - shifted to Rajkot with the aim of starting a business.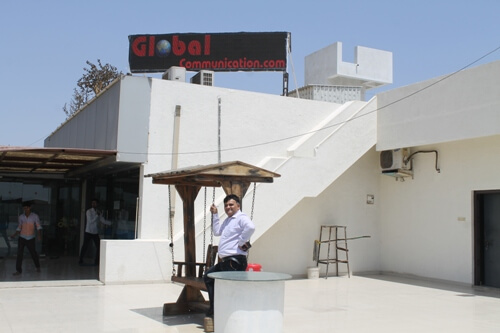 During the initial years of his business, Joshi used to rent LED screen to Baba Ramdev and do live streaming of his yoga events

"With some money in hand, I started a small ready-made garment business but had to shut it down within six months. It was a bad idea because most of the garments were bought by people known to me. Relationships overpowered business and money never came in," explains Joshi about his initial attempt to start a business of his own.
However, he was in no mood to give up on his entrepreneurial ambition. "I got into computer business in 1998 and took a shop on a monthly rent of Rs 1,500. Assembled computers were in demand those days," he recalls.
Procuring components from Mumbai, he assembled the computers at his shop and earned around Rs 10,000 to Rs 15,000 on each system he sold. But when excise raids were carried out on shops selling assembled computers, it dealt a blow on his business and he suffered heavy losses.
Joshi then took a bank loan of Rs 3 lakh and started 'Computre Media Services,' a company that provided internet service in Rajkot.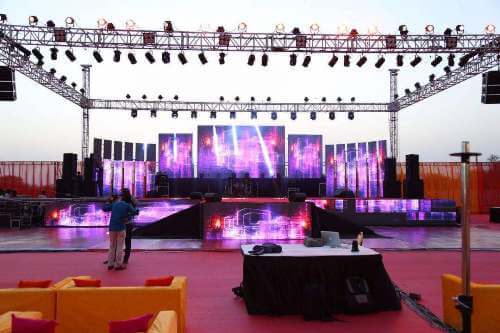 A complete LED set-up at an event in India (Photo: By special arrangement)

However, he was not on a sound financial footing until he formed Global Communication.com, a proprietorship firm, in 2003. That's when he came in contact with yoga guru Baba Ramdev who had come to Rajkot to conduct a yoga event.
Ramdev hired projectors from his company to showcase the program. Later, Ramdev asked Joshi to accompany him to his various yoga camps and do live streaming of the events.
"From four projectors in Rajkot, we went on to conduct camps in almost every part of the country, using as many as 80 projectors at one point. I charged for renting the equipment and for the video streaming. In the first year, we did business worth Rs 60 lakh," reveals Joshi.
He managed everything at Ramdev's yoga camps, from sound to lights to live streaming on Aastha and Sanskar channels. From projectors, they shifted to optical screens and then to LED screens.
"We bought the first LED screen from China to India at a cost of Rs 25 lakh in 2008. I borrowed the money from Baba himself and then repaid it. Later, we designed an LED truck – a truck with an LED screen for live streaming – for one of Baba's programs. It was a big hit," he smiles.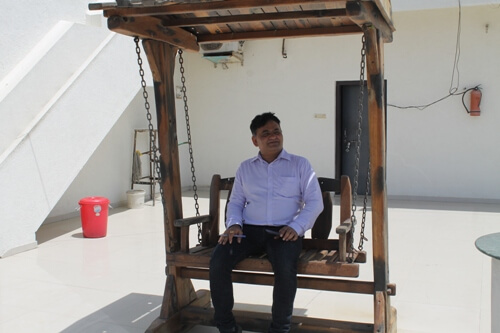 With an annual turnover of Rs 8 crore and a huge market waiting to be tapped, Joshi has reasons to smile

Joshi also started to work for the Gujarat government. "Narendra Modi was the chief minister of Gujarat then. We covered everything from Vibrant Navratri to Kutch Mahotsav to krishi melas, Independence Day celebrations, Janmashtami and Navratri festivals," recalls Joshi. The company also covers IPL matches and Bollywood shows now.
Joshi sensed the future of LED would be huge in India and made the big decision to manufacture LED screens on his own.
"The world LED market is estimated to be around 3 billion USD and India is among the top five consumers.
"Of the total demand, China produces goods worth one billion USD. Last year, China's LED screen export to India alone was worth about 30 million USD," he explains, citing hard facts and figures as the reason behind his decision to get into LED manufacturing.
In 2014, Joshi set up a LED manufacturing unit at Shenzhen, China, which produced 500 square metres of LED in the first year. The products were mainly exported to India.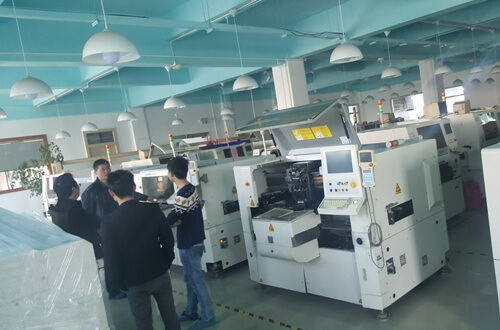 Joshi's Chinese plant manufactures 8,000 square metres of LED screen annually (Photo: By Special Arrangement)

"It wasn't easy," Joshi says. "Production was planned, but language was a barrier, because we had almost 40 Chinese employees. However, the challenges were overcome systematically with planning and with time."
Last year, he set up India's first LED plant near Rajkot spread across an area of 10,000 square feet. "We expect to start production soon. The machinery is in place and the workers have been trained in China. We have made investments to the tune of Rs 15 crore.
"I now know that my dream of LED screens being produced in India is not far away," he concludes with the satisfaction of an entrepreneur who has dared to go where not many have gone before.
This Article is Part of the 'Amazing Entrepreneurs' Series
More Amazing Entrepreneurs
Chandubhai Virani, Founder, Balaji Wafers

Trending Now: