With just Rs 10,000, a 10th-pass former canteen worker built a Rs 1,800 crore turnover potato wafers company

Masuma Bharmal Jariwala
&nbsp | &nbsp Rajkot
19-April-2017
Vol 8&nbsp|&nbspIssue 16
Chandubhai Virani, the 60-year-old founder and director of Balaji Wafers Private Limited, started making potato wafers in 1982 with a minuscule investment of Rs 10,000 at a shed erected in the compound of his house. He then went on to build a company that has reaped Rs 1,800 crore as turnover in 2017.
Balaji Wafers, the largest regional potato wafer and snack brand and the second biggest player in the potato wafer segment in the country, started small.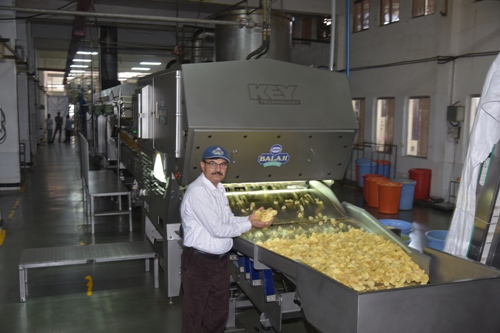 Humble beginning: Chandubhai Virani, founder and director of Balaji Wafers Private, had worked at a canteen in a cinema theatre before he started making potato wafers

Now, despite being concentrated in the western States of Gujarat, Maharashtra, Goa, Rajasthan and Madhya Pradesh, it is a household name thanks to its strong distribution network.
As one enters the premises of Balaji Wafers Private Limited in the village of Vajdi (Vad) around 20 km from Rajkot, a small Balaji temple in the forefront of the 50-acre factory area, is proof of the faith the owners have in Lord Balaji, from where the brand name 'Balaji' came.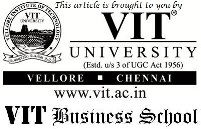 The factory grounds have around 2,000 plants and trees, a hundred cows, a water treatment and bio-gas plant but not a single company board or brand painting - despite it being a record-breaking plant when it started in 2003, with the highest potato processing capacity of around 5,000 kg potatoes an hour.
It was in 1972 that Chandubhai's father, the late Popat Ramjibhai Virani who was an ordinary farmer, gave three of his sons – Meghjibhai, Bhikhubhai and Chandubhai – the sum of Rs 20,000 to invest it wisely.
The family then lived in Dhundoraji in Jamnagar district - about 79 km from Rajkot - and Chandubhai was only 15 years old.
His elder brothers invested in agricultural tools and fertilisers, but lost the money. Forced to leave in search of earnings by a poor monsoon and subsequent severe drought, the three brothers came to Rajkot in 1974 while the youngest Kanubhai stayed back with his parents and two sisters.
Chandubhai, a Class X pass, found a job in Astron Cinema. While his main job was to serve at the canteen, he also did odd jobs like sticking film posters, door-keeping and ushering, all for a monthly salary of Rs.90.
"At night after the show, I repaired torn seats and in exchange got a plate of chorafari (a Gujarati snack) and chutney," shares Chandubhai. "We lived in a rented place, but one night we ran away from there because we did not have even Rs 50 to pay as rent." (He later paid the landlord back.)
For Chandubhai no job was too big or too small. Impressed, after a year, the cinema canteen owner offered him and his brothers a contract at a rent of Rs 1,000.
The tenth class pass Chandubhai Virani is a sought-after speaker at business schools

The brothers started selling various items in the canteen including potato wafers bought from a supplier, who was always late. This spelt disaster at a movie hall! "After changing suppliers three times," says Chandubhai, "I thought – why not make our own potato wafers?"
By 1982, the whole family had moved to Rajkot and Ramjibhai had bought a house with a large compound. The family made 'masala' sandwiches for the canteen; it was a hit, but a perishable product and Chandubhai saw a future in wafers because they could be carried anywhere and everywhere.
With an investment of Rs 10,000, Chandubhai set up a small shed in the compound and began his experiments with making chips, after canteen work.
Finding the cost of the standard potato-peeling-and-cutting machine too high, he got a similar machine made for Rs.5000.
But the person hired to fry wafers would frequently not land up. "I would fry the wafers the whole night myself then," says Chandubhai. "Initially, a lot got wasted, but I did not lose hope. No one in the family till date knows how to fry wafers except me."
By this time, Chandubhai had three canteen contracts: two at Astron Cinema and one at the Kotecha Girls high school in the city. Soon he was supplying wafers to 25-30 shopkeepers too and, in 1984, they decided on the brand name 'Balaji'. But the hardships were not over yet.
"When I would go for payment, many shopkeepers would return half-eaten packets of wafers, saying they were stale," he recalls, "or give me torn notes, or lie that they had already paid."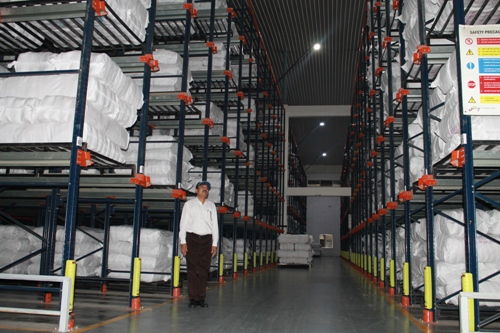 Balaji's fully automated plant located in a 50-acre plot at Vad has around 2,000 plants and trees in its premises

But nothing discouraged Chandhubhai who persisted in his work relentlessly, optimistic that things would turn around, and never compromising on quality.
With some earnings and a bank loan totalling about Rs 50 lakh, in 1989 Chandubhai started a factory at the Aji GIDC area of Rajkot, and it was then Gujarat's biggest potato wafer plant.
But the new machinery installed was an unpleasant surprise – it never worked. "The company engineers would come and slap on us hotel and other bills to the tune of Rs. 50,000 each time," he recalls. Finally, they studied the machines and repaired it themselves. "This incident turned us into engineers. Every setback made me stronger," he says, "teaching me foundational lessons."
Discussing his growth graph, he says, "In our initial ten years of struggle, we earned Rs 20,000 to 30,000 a month."
Business gained momentum with the company Balaji Wafers Private Limited being formed in 1992, with three directors – the brothers Bhikhubhai, Chandubhai and Kanubhai.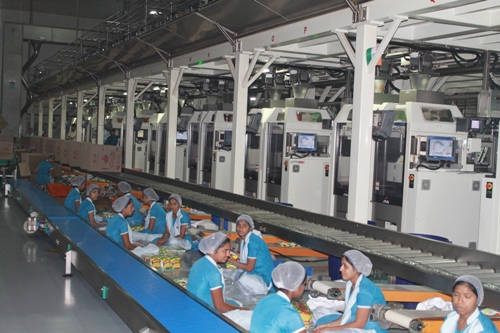 Women constitute around 50 per cent of the total workforce of 5,000 at Balaji

They put up a grand, spirited fight against competition such as Uncle Chipps, Simba and Binnies – by focusing on quality, distribution, price and service.
"We survived against behemoths such as PepsiCo because Balaji is an Indian company and we built a strong rapport with our distributors, suppliers, dealers, retailers and consumers to the extent that they can talk to us directly," says Chandubhai. "That does not happen in multinational companies."
His bywords are: building trust, quality, service and value for money. "We are not in the race of hiring people to achieve 'targets'," he says. "Our people deliver service and the rest follows."
Today Balaji owns four plants in India with a total processing capacity of 6.5 lakh kg of potatoes and 10 lakh kg of namkeen a day. Besides potato wafers, Balaji also makes around 30 varieties of salted snacks and savouries.
Their third plant at Valsad, started in 2008, has the capacity for processing 9,000 kg of potatoes per hour, the highest capacity in Asia when it began. A hi-tech fully automated plant was commissioned in 2016 at Indore to make inroads elsewhere in the country.
Following the motto 'customer is king', the company claims over 60 per cent market share in Gujarat, Maharashtra, Rajasthan and Goa and around 15 per cent in Madhya Pradesh.
The company has an employee strength of 5,000 people of which 2,500 are women. The distribution network comprises six main distributors, 700 dealers and more than eight lakh shopkeepers. From employees to shopkeepers, for Chandubhai everyone is part of the "Balaji Family".
A study by global researcher Euromonitor shows that between 2013 and 2015, while Lay's share dropped from 51.1% to 49.5%, local players such as Balaji Wafers have steadily gained share every year in a market estimated to be around Rs 7,000 to 10,000 crores.
No wonder thatmany top B-schools and companies selling top brands have invited Chandubhai to share his success story with them.
"I tell them I am there not to speak only about good things, but to tell them the truth," he says. "The path on which I travel is difficult but not impossible. Today people want to eat mangoes when they have sown tomatoes. Instead of climbing the ladder step by step they want to quickly jump, and hence adopt tactics that have no roots."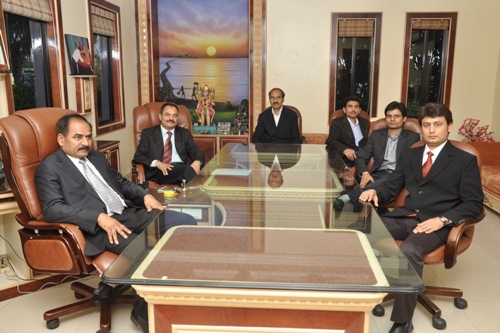 The children of Chandubhai and his brother have joined the business lending more strength to the company

The next generation has now joined the business. They include Bhikhubhai's sons – Keyur takes care of R&D and Mihir looks after marketing; Chandubhai's son Pranay takes care of development, liaison and construction (while his daughter Kinjal is married), and Kanubhai's son, a student, is waiting in the wings.
Currently the company registers around 20-25 per cent growth every year.
Unsurprisingly, according to Chandubhai, many companies including MNCs have approached him to pick up a stake in Balaji.
"This includes PepsiCo," he reveals, "and another American company called General Mills besides 50-odd private equity firms in India, all with different offers. But I am here to run my company not sell it. Surviving against MNCs is not easy. I have planted a tree and never chopped it, so it has deep roots."
This Article is Part of the 'Amazing Entrepreneurs' Series
More Amazing Entrepreneurs

Trending Now: