How a Professor of Economics built a Rs 1,000 crore turnover group of companies
P C Vinoj Kumar
&nbsp | &nbsp Chennai
31-May-2017
Vol 8&nbsp|&nbspIssue 21
It is rare to find an academic topper who also becomes a students' union leader. But Palani G. Periasamy, who heads the Rs 1,000-crore turnover PGP Group of Companies that has interests in the hotel, sugar, finance, real estate, and education sectors, was an exception.
A University gold medalist in BA Economics from St. Joseph's, Trichy, he got elected as leader of the students' union while doing his post-graduation at Presidency College, Chennai, during 1960-62.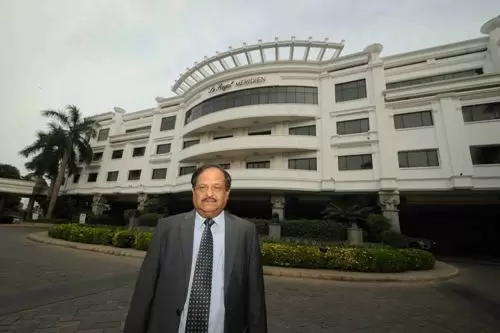 Dr Palani G. Periasamy, Chairman, PGP Group of Companies, in front of their flagship property in Chennai - Hotel Le Royal Meridien (Photos: H K Rajashekar)

Hailing from Muthugapatti, a village near Namakkal in the Kongu belt of western Tamil Nadu, Periasamy's entrepreneurial journey started in the US where he had gone to do his doctorate, and later worked at University of Baltimore from 1973 to 1987.
Many affluent Indian doctors living in the US sought his advice on making investments in that country to avail tax benefits. Being an economist with knowledge of American laws, he was able to offer them proper guidance.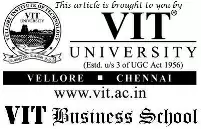 With the goodwill he developed with all of them, Periasamy formed PGP Industrial & Financial Consultant Corporation in 1976 with 33 other Indian investors and started investing in real estate in the US.
The company initially invested USD 260,000 in a housing complex at Louisville, Kentucky, which was sold at a good profit 15 months later. Encouraged by the sale, Periasamy continued to invest in real estate and accumulated wealth.
"We formed more companies, purchased many buildings and shopping malls. We renovated the properties, rented them, and later sold it for profit," says 78-year-old Periasamy, looking back on his early days in business from the comforts of his tastefully done up wood paneled office at Hotel Le Royal Meridien in Chennai.
Opened in 2000, the 250-room Le Royal Meridien, a five-star deluxe hotel, belongs to the Rs 88 crore turnover Appu Hotels Limited – a part of PGP Group - which also owns Hotel Le Meridien in Coimbatore and Hotel River Side Resorts & Spa at Kumbakonam.
Hotel Le Royal Meridien is owned by Appu Hotels Limited, which is a part of PGP Group

The PGP Group also owns Dharani Sugars and Chemicals, a Rs 369 crore turnover public limited company, Dharani Finance Limited, and Dharani Developers Private Limited. He has established these industries with investments from around 300 NRI investors.
His first project in Tamil Nadu was Dharani Cements, a cement factory, in Ariyalur. Established in 1987 it was sold to the Aditya Birla Group for Rs 65 crore in 1998.
Periasamy is also the founder of PGP Educational & Welfare Society, which owns several colleges and schools in Tamil Nadu.
"I was able to start all these industries only because of the trust my friends in the US reposed in me and came forward to invest in all my ventures. On my part, I worked hard denying myself time for leisure or recreation to give them the profits on their investment," says Periasamy, who has come a long way from his humble beginnings.
He has vivid memories of his childhood days. "I grew up in a village where our family owned large tracts of agriculture land. We cultivated paddy, tapioca, tobacco, and peanut.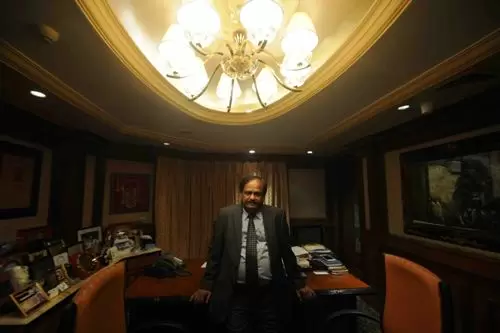 Palani Periasamy, who studied in Tamil medium till SSLC, was a gold medalist in BA Economics

"I studied in Tamil medium until SSLC and joined Alagappa College in Karaikudi for my PUC (Pre-University College) - where the medium of teaching was English," says Periasamy, who was the fifth child in the family. He had four elder sisters and two younger siblings – a brother and a sister.
During his younger days, his father had a major influence on him. Periasamy recalls with pride how his father treated everyone with respect and how he would always share the harvest first with all the workers, before bringing it home.
"He was kind to everyone. There was perfect communal harmony in our village and nobody discriminated against anyone based on caste.
"My father had two close friends. One was from the Reddy community, who was a vegetarian, and another was a Muslim. We got the best vegetarian food from the Reddy family and good biryani from the Muslim family on special occasions," he says, chuckling.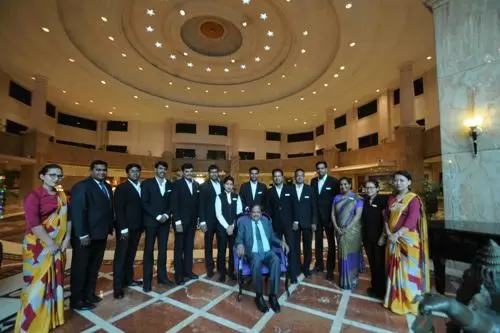 Palani Periasamy at Hotel Le Royal Meridien, Chennai, with some of the employees

As a child, he was inspired by the lives of Mahatma Gandhi, Abraham Lincoln, and Jawaharlal Nehru whose biographies he had read in the village library.
At one stage, Periasamy wanted to get into civil service. "To join PUC, I had to get some of my school certificates attested by a gazetted officer. I went to the Namkkkal Tahsildar's office, but they demanded one rupee as bribe for the attestation.
"I refused to pay, and because of that they made me run around for several days. Finally, I got the attestation from the deputy collector, an IAS officer. I then vowed to become an IAS officer, so that I could provide attestations for children free of charge," he reminisces.
He joined BA Economics in St. Joseph's, Trichy, only with the aim of cracking the civil service exam. However, by the time he completed his post-graduation he was found to be over-aged for the competitive exam.
However, he got a job offer for the post of an executive from a leading private company in Chennai for a salary of Rs 640.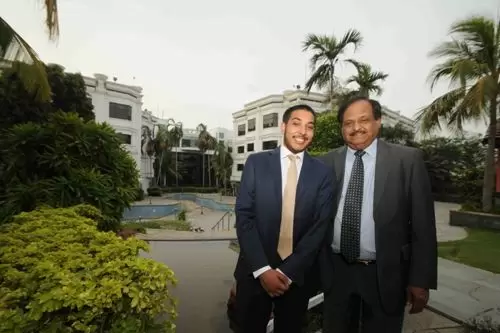 The Future: Periasamy with grandson Vikram

Had he taken up the job, his life would have moved in a different direction, but he listened to the advice of Professor Velayudham, head of economics department at Presidency College, and took up a lecturer's job – for a lesser salary of Rs 245 - at PSG Arts College, Coimbatore.
About a year later, he joined Tagore Arts College in Pondicherry - where he worked from 1964 to 1967, until he left for the US to do his doctorate.
When he was in Tagore College, he rose to the rank of Second Lieutenant in NCC (National Cadet Corps), which was a gazetted post that helped him to fulfill his dream of providing attestations to students in his village.
"I would go to my village during the months of April and May when all the children who needed attestations would come to me and I would happily sign for them," says Periasamy.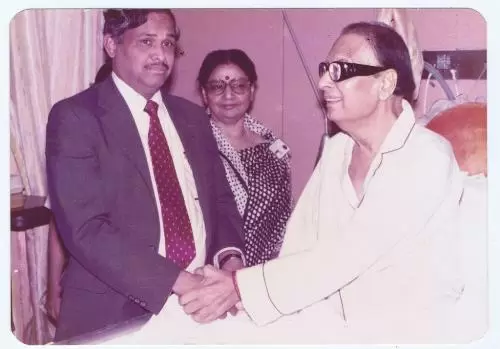 Periasamy with AIADMK founder MGR and his wife Janaki Ammal at Brooklyn Hospital (By Special Arrangement)

But the high point in his life was his close friendship with popular matinee idol and AIADMK founder M G Ramachandran.
Periasamy first met MGR when he visited the US in 1981. He was then the president of Tamil Sangams of Washington, Maryland and Virginia. He planned MGR's itinerary and coordinated all his engagements in the US in the absence of MGR's secretary and that association developed into a lifetime friendship.
Later, in 1984 Periasamy had arranged for MGR's medical treatment at Brooklyn Hospital in New York where the latter underwent a kidney transplant.
While MGR was at Brooklyn the Tamil Nadu assembly elections was held. MGR contested from Andipatti in that election.
"It was my idea to shoot a video of MGR at the hospital to show that he was alive and to put an end to rumours that he was dead and we were keeping him in an ice box," reveals Periasamy.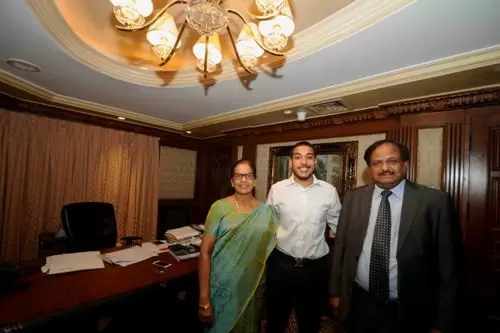 Visalakshi, Periasamy's wife, takes care of the educational institutions run by PGP Educational & Welfare Society

The video played a major role in turning the tide in favour of AIADMK, which returned to power with a thumping majority and MGR became the chief minister again.
"Some people wrongly think that I had grown in business with financial support from MGR, but it's not the truth. I made a lot of money in the US and invested it well.
"Whenever we started an industry, we would invest our money first and then borrow from the bank. We would also repay the loans promptly," says Periasamy, who completed his doctorate from University of Pittsburgh in 1972.
Periasamy's wife Visalakshi, a BBA graduate and a qualified Systems Analyst, takes care of the PGP group of educational institutions.
"She has stood by me during all my difficult times," he praises his life partner of 53 years. He was 25 and Visalakshi was 17 when they got married in 1964.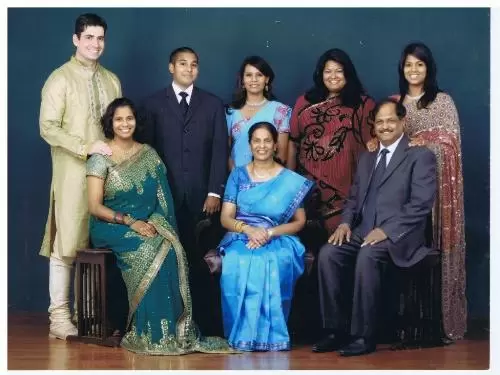 A Family Photo: Standing left to right:Son-in-law Ronen, grandson Vikram, daughters Jayanthi, Ananthi, and Nalini. Sitting: Shanthi, Visalakshi and Periasamy

He has four daughters. The eldest, Jayanthi, who has one son, Vikram, is a psychiatrist based in New Jersey. Two other daughters, Shanthi, who holds a doctorate in Counseling Psychology and Nalini, an MBA graduate, are also settled in the US.
His third daughter, Ananthi, is based in Chennai. A business administration graduate from Towson University, Maryland, she is assisting him in business.
This Article is Part of the 'Amazing Entrepreneurs' Series
More Amazing Entrepreneurs
Chandubhai Virani, Founder, Balaji Wafers

Trending Now: