He used to sleep on the railway platform, but today owns a Rs 100 crore turnover travels company
P C Vinoj Kumar
&nbsp | &nbsp Chennai
17-May-2017
Vol 8&nbsp|&nbspIssue 20
In 1981, a 27-year-old youth from Tiruchendur, then a village in Tamil Nadu, about 180 km from Madurai arrived at Chennai's Egmore railway station with dreams of becoming a movie star like Kamal Haasan or Rajnikanth, the superstars of Tamil film industry then.
V. K. Thanabalan, who would later be known as V.K.T. Balan, founder of Madura Travel Service Private Limited, which would achieve a turnover of Rs 100 crore by 2017, had taken a train from Tiruchendur to Chennai without informing his family.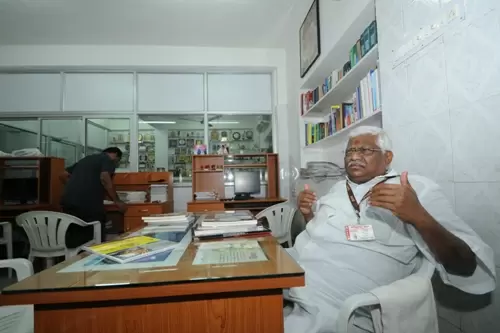 V.K.T. Balan, founder of Madura Travels in Chennai, still remembers his humble roots and continues to wear shirt and dhoti, the attire he wore when he first arrived in Chennai as a starry eyed youth in 1981 (Photos: H K Rajashekar)

"I came to Chennai without any money. I travelled ticketless on the train. My only possession was the dhoti and shirt I was wearing," recalls Balan, 64, who had stopped studying after Class VIII and began to show interest in theatre.
He was crazy about films and a diehard fan of Sivaji Ganesan and MGR, the top stars of the '50s and '60s. He would memorise lengthy dialogues from their films.
"That interest drew me to theatre in my teens. I joined with friends and started staging plays based on popular films in our village. I would settle for nothing less than the hero's role in these plays," says Balan, laughing.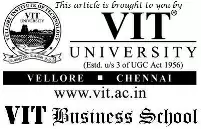 It was this mindset that made the man and took him to the heights he has reached today- the desire to play the hero and hog the limelight, even at a time his family was wallowing in poverty, and lived on the leftover food given by the villagers for whom his parents washed the clothes.
During the teenage years of Balan, Tiruchendur was still a village – now it's grown into a small town. His family belonged to the community of washermen. His parents would collect the laundry from the homes of the villagers, make a bundle of it, mount it on their donkey and head to the nearby streams or river for washing.
"We never cooked at home. The villagers provided their leftover food to us. We would eat only that food," says Balan, who had two elder brothers who are now no more. He also lost his father when he was just 19.
In Chennai, his dreams of entering the celluloid world was shattered as reality hit him hard outside the studios of Kodambakkam, the hub of Kollywood.
"I was expecting to bump into famous actors on the streets of Kodambakkam and get a chance to work in the films. But I never met anyone, nor could I get inside any of the studios. I tried for jobs at the hotels and travel agencies in Egmore, but I soon realised that nobody would give a job to a stranger," says Balan.
He knew nobody in the city and there was none to help him. "The platform at Egmore railway station became my home and I shared it with rickshaw-pullers, beggars, pickpockets and other homeless people like me," recounts Balan of those hard days when he went without food for several days.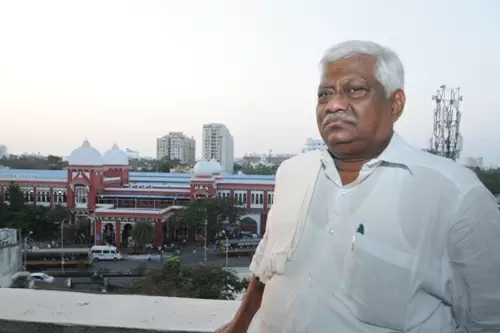 From the terrace of the commercial complex where Balan's office is located in Egmore, a view of the railway station where he had spent several hungry nights

"I became thin and frail. I must have looked like a beggar with my disheveled hair and unkempt beard. One night a policeman hit me with his lathi as I was sleeping in the railway station. I was asked to stand in a line along with a few others.
"Someone told me that all of us would be detained under false charges and sent to prison. I came to know that the police routinely rounded up such homeless people and foisted cases on them," he recalls.
Balan made a split second decision – to escape. "I took to my heels. I ran so fast that I didn't know where I got the strength from. Soon, I found a pavement where many were sleeping. I too sat down there and fell asleep in a while," he says.
It was the pavement outside the American consulate in Chennai where people queued up for their visas from the previous night itself. Those sleeping there included agents who would sell their place in the queue to the visa seekers in the morning.
At around 5 a.m. someone woke him up and offered Rs 2 in exchange for the place occupied by him.
With that money he had his first meal after days of starvation. "I wanted to have a meal with rice, sambar, rasam, and kootu poriyal (a traditional vegetable dish that is served with rice in Tamil Nadu).
"I skipped breakfast to have lunch in a small eatery, where though it was 'limited meals' for Rs 2, I had plenty of sambar and poriyal with the little rice they served to fill up my stomach," he says, narrating his story with the flourish of a scriptwriter.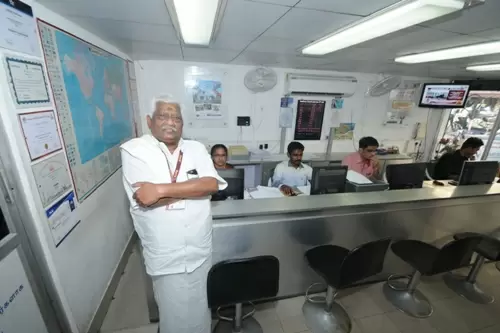 Balan in the office with some of his staff

"I became an entrepreneur overnight," he says, with self-deprecating humour, "and started reserving places by placing handkerchiefs and stones for five to six people daily outside the US consulate, and selling the space to people the next day."
His daily earnings grew from Rs 2 to Rs 10, and then to Rs 20, and he found a small room to stay at Saidapet for a monthly rent of Rs 150.
At his 'workplace' outside the US consulate, he became acquainted with agents who worked for travel agencies, and got introduced to a company, which gave him a nine per cent commission for selling flight tickets.
"I offered a five per cent discount on flight tickets to people who came for visa interviews and wrote my name on the backside of the travel agency's visiting cards and gave it to them. Many people showed the card and got the discount. I received my share of four per cent commission on each ticket," says Balan.
By 1982, he got the job of a courier for an agent to deliver visas for passengers travelling by the Rameswaram – Colombo ferry. There were many others who did a similar job.
"I used to take a train in the evening from Chennai and reach Rameswaram early morning and hand over the visas to the agent a few hours before the departure of the ship.
"In one of my trips I woke up at the crack of dawn to some commotion outside and found that the train had stopped before the 2-km long Pamban Bridge (which linked the Indian mainland with Rameswaram Island).
"I was told the train would be delayed by a few hours since they had to carry out some repairs on the track which would begin only after the workers reported for duty. I then decided to walk across the track not realising the risks involved.
"After I walked a few metres I found that there was no ballast beneath the tracks in the stretch over the sea. The wooden planks (the sleepers) were greasy and wet and I could see the raging sea waters below.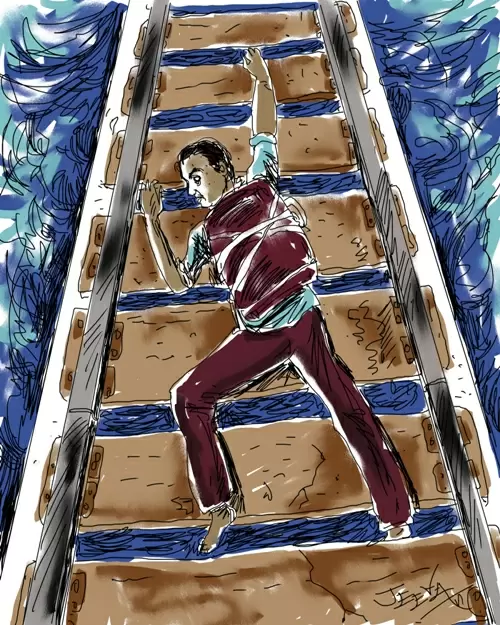 An artist's illustration of Balan's dangerous crawl across the Pambam bridge (Artist: Jeeva)

"The waves were splashing water on the tracks. I got down flat on my belly and began crawling across the planks, with the bag containing the visas tied to my back.
"The whole situation seemed surreal and the first rays of light emerging through the darkness gave it an eerie feel," Balan vividly describes the scenario, where one wrong move would have meant a watery grave for him.
But Balan lived to tell the tale. He was the only courier to deliver the visas to his agent who had organised the visas for nearly hundred odd passengers waiting to board the ship.
"I arrived in Rameswarm with grease and dirt all over my clothes and body. The agent hugged me and gave me a big treat and Rs 1,000 cash gift, which was huge money then.
"If I had not reached on time by risking my life he would have lost a lot of money. That incident established me as a trustworthy person in the travels and tours industry," says Balan.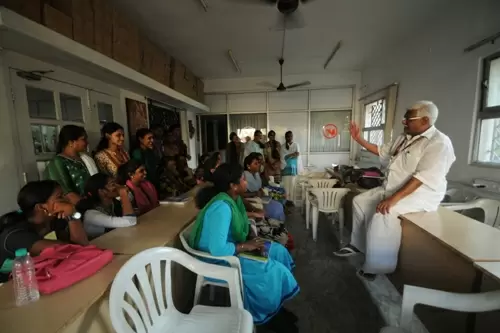 Balan interacting with tourism student interns from various city colleges

In 1986, Balan opened his own agency at Mannady in North Chennai as a proprietorship and operated as a sub-agent for International Air Transport Association (IATA) recognised agencies. "I started in a small way. I took a shop on a monthly rent of Rs 1,000 and had three people working for me."
He achieved a major milestone in his career in 1988 when he organised a big music concert with leading Carnatic vocalist Sirkazhi Govindarajan in some major European cities. The concert became a mega hit in all the cities and suddenly Balan became a sought after person to hold overseas programmes with film personalities.
There was no looking back for Balan. He has so far organised more than 300 events involving leading film personalities, both from Bollywood and Kollywood, in over 25 countries – a feat that got him an entry into the Limca Book of Records for most number of cultural programmes organised by an Indian company in foreign countries.
He became popular in Kollywood circles and many celebrities became his clients. In 1997, he received the prestigious 'Kailaimamani Award' from the government of Tamil Nadu for his contribution to promotion of culture.
Today, Madura Travels offers international package tours in categories such as MICE (Meetings, Incentives, Conferences and Exhibitions, and Events), and Cruises, and Ayurvedha packages covering South Indian destinations and spiritual tours in the domestic sector.
In 1993, Balan converted his company into a private limited to get IATA recognition. He holds 90 per cent shares in the company and the balance shares are held by his wife and son.
By 1998, the company's turnover touched Rs 22 crore. Madura Travels operates 24/7 without a single holiday in a year and has 40 people on its rolls with an additional strength of about 400 contract and sub-agents.
The company brings out Madura Welcom, a quarterly publication targeting tourists in Tamil Nadu, and has published four books in Tamil, including one on former Chief Minister K Kamaraj.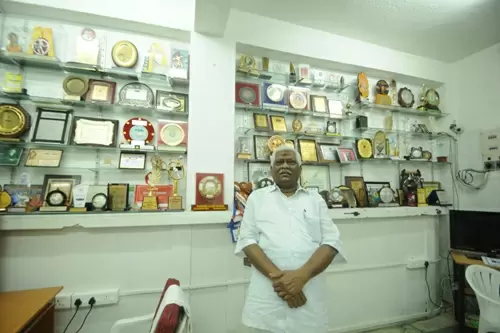 Balan has received several awards including the prestigious Kalaimamani award from the state government

Balan is also doing a weekly programme on Doordarshan called 'Velichathin Marupakkam' that features people from society's underbelly such as prostitutes, criminals, and other ordinary folks like street vendors, for the past eight years.
For Balan, who is now ready to hand over the reins of the company to his son Sriharan, 27, his wife T Susheela, 60, has been a great asset. He credits her with teaching him values and ethics and moulding him into a better human being.
His daughter Saranya, 30, currently doing a doctorate in psychology, is married to B Jaikumar Christurajan, who is director of St. Joseph's College of Engineering in Chennai. He adores his grandchildren Tasha, 6, and 6-month-old Shivani and loves to spend time with them.
Balan says he has never compromised on two things in his life - his personal integrity and gratitude for those who had helped him. "If anyone accuses me of not having these qualities, I would rather end my life," he declares, signing off on an emotional note.
Wish to share your story?
Trending Now: