Edible spoons he developed to replace plastic spoons is now a Rs 2 crore turnover business
Ajuli Tulsyan
&nbsp | &nbsp Hyderabad
03-June-2017
Vol 8&nbsp|&nbspIssue 21
Entrepreneurs, it is said, are those who find new solutions to old problems. It might well be true in the case of Narayana Peesapati, a former scientist at ICRISAT (International Crops Research Institute for the Semi-Arid Tropics), Hyderabad.
Constantly troubled at the sight of plastic cutlery that not only poses environmental hazards, but also contains toxic and carcinogenic substances harmful to the body, Narayana had set out to find an alternative to the plastic spoons.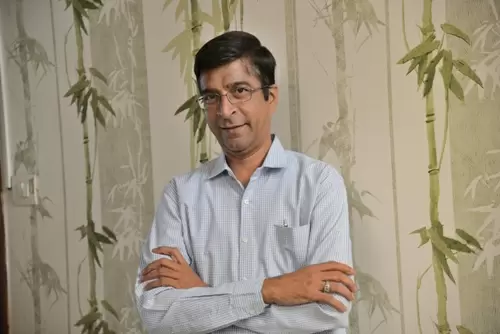 Narayana Peesapati, founder of Bakey's Food Private Limited, makers of edible cutlery (Photos: P Anil Kumar)

The result of that quest is the development of an incredible product – the world's first edible cutlery.
Made from edible ingredients such as rice, carom seeds, wheat, jowar (sorghum) and black pepper, the spoons and chopsticks developed by Narayana can be eaten after use. If discarded, they either become food for insects or rodents, or decompose within 5-6 days.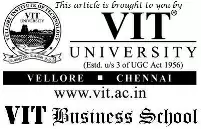 In 2010, Narayana set up Bakey's Food Private Limited. After the initial years of struggle, he has now made the venture profitable with a current annual turnover of around Rs 2 crore.
But the journey, from the time of conceptualizing the product to developing the prototype and then marketing the spoons, was not at all easy.
Narayana spent more than Rs 60 lakh to develop the machine for making the products and later had to invest around Rs 3 crore to set up the factory.
"I had to sell my two houses in Hyderabad and Baroda, and also dip into my savings and borrow from friends, family and banks," he says, adding, "In fact, this very house where I am residing now (in Mushirabad) was on mortgage."
It was around 2006 that the idea first came to him that he could create something like edible cutlery to replace the ubiquitous plastic spoons.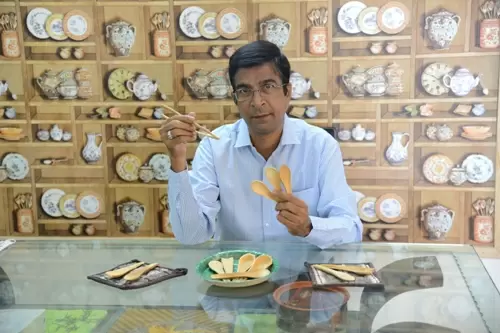 Bakey's cutlery items are made from edible ingredients such as rice, carom seeds, wheat, jowar and black pepper

"Plastic contains toxic and carcinogenic substances. Studies claim that plastic products used in canteens and other similar places consist of polystyrene which discharges a volatile chemical known as styrene that increases the risk of cancers such as lymphoma and leukemia," says Narayana.
"A scarier thought struck me when I noticed that in spite of such a huge consumption of plastic spoons, they are nowhere to be seen in the same numbers after disposal. I later found that this was because they were being reused, which makes them a source of bacterial contamination as well," he adds.
At ICRISAT, where he had done research on groundwater, he found that a major cause for the depleting water table in many areas was the cultivation of water intensive crops like rice. He became a votary of dry land crops such as jowar and ragi, which he felt would help stabilize the levels of groundwater in rural India.
Once on a field trip, he ordered for Jowar roti and realized that the roti turned really hard when it got cold, and could even be used as a two dimensional spatula.
Therein came the scientist's 'Eureka moment' and he thought to himself, "If a two dimensional jowar roti could be used as a spatula, why can't a 3-dimensional one be made into cutlery!"
"I also recalled seeing a lady have dessert with a Khakra (a Gujarati snack). Both these incidents inspired me to go ahead with producing edible cutlery," says Narayana.
In 2007 he quit his job at ICRISAT and focused on developing the product. Since the product was the first of its kind in the world, everything needed to be done from scratch.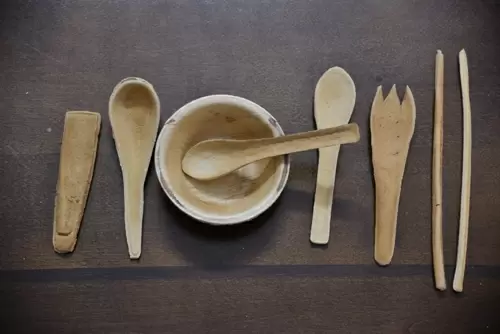 The full range of edible cutlery from Bakey's

Even the prototype machines and moulds had to be designed. Narayana toiled hard, and with learning and research finally developed the machine that he was aiming for.
"Our spoons don't get soggy if placed in water and food. They only soften after some time (10-15 minutes), and thus can be eaten easily at the end of the meal," says the now 50-year-old scientist.
In those early days after he launched the product, he would be seen strolling around Indira Park (Hyderabad), trying to explain to the joggers and walkers there the advantages of edible cutlery vis-a-vis the harmful effects of plastic cutlery.
However, there were no buyers even though he had priced a set of 25 spoons at a meager Rs 40. No business, no demand and a huge debt dancing on his head, many a times he wondered if he should quit.
"One day 8-9 stern looking guys came from the bank and told me that I had to vacate my flat within 10 days. I had nothing to tell them, except about my products, and so I started explaining what I was striving for and why I was in so much debt.
"Slowly the stern guys melted and in fact by the end of it all they even paid Rs 2000 and bought a few packets of edible cutlery from me," says Narayana.
His hard days came to an end after a story appeared in the media about his products. Business picked up and sales soared.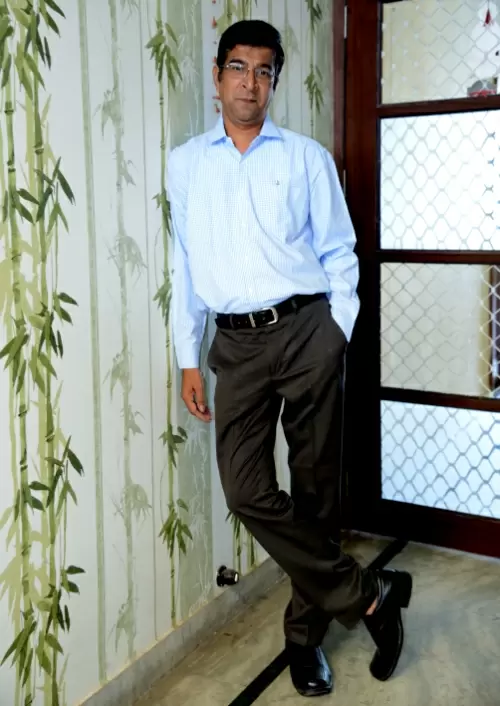 The sales of Bakey's cutlery picked up from last year. The company has achieved a turnover of around Rs 2 crore

"My phone started ringing non-stop and my mailbox was flooded with mails. In March 2016, I had around 16-18,000 mails and today I am sitting on around 80,000 mails from across the globe.
"The best part was that all this caught the attention of funding partners as well and in a month I received a fund of USD 3, 85,000 from various crowd funding platforms. We got around 30-32,000 orders on our website.
"Just when I was contemplating on whether my retreat moment had come, it was time to take charge. I had my victory," says the entrepreneur, smiling.
It became difficult to cope up with the orders. "Now the challenge was delivering on time and meeting the high demand, as we were operating on a semi-automatic machine, which we soon converted to an automatic one to balance the demand supply graph," he says.
Currently, he employs 12 people for production and packaging work. Initially their factory in LB Nagar, Hyderabad, manufactured 5,000 pieces a day, but now they produce around of 30, 000 spoons.
Narayana is working towards upgrading to a more advanced machine soon, which would have the capacity to manufacture 150, 000 spoons in 24 hours.
Bakey's sells three products: Spicy Spoons, Sweet Spoons and Plain Spoons. They are priced at Rs 300 for a set of 100 spoons.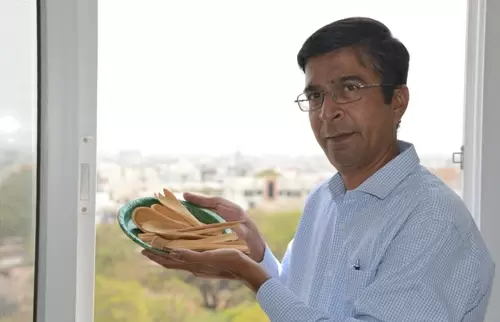 Narayana has teamed up with Cafe Coffee Day chain and has plans to tie up with other restaurant chains

Bakey's has teamed up with Café Coffee Day chain, Kamineni Hospitals, Hyderabad, and plans to tie up with event management companies and caterers (in Bengaluru, Hyderabad, Chennai and Mysuru).
Talks are on with food chains like Paradise Biryani (Hyderabad), Aasife Biryani (Chennai) and a few corporate houses.
Besides selling directly from their website, Bakey's also sets up stalls at organic bazaars and exhibitions.
Narayana's wife, Pragnya Peesapati, is a director at Bakey's. "I confidently pursued my goal for 10 years till success came my way in 2016 and I had Pragnya's constant support," Narayana sums up his success while paying glowing tributes to his better half. Their daughter is in Canada pursuing her Masters in Mathematics.
This Article is Part of the 'Amazing Entrepreneurs' Series
More Amazing Entrepreneurs
Chandubhai Virani, Founder, Balaji Wafers

Trending Now: