From washing dishes for Rs 18 monthly salary, he rose to build a Rs 70 crore turnover restaurant chain
Bilal Handoo
&nbsp | &nbsp New Delhi
27-May-2017
Vol 8&nbsp|&nbspIssue 21
At 64, Jayaram Banan still remembers a day in the mid-1960s when he fled from his home in Udupi (in Karnataka). Today, as the undisputed 'Dosa King of North India', that memory is clearly a thing of the past.
From earning Rs 18 washing dishes at a canteen in Mumbai to setting up the Sagar Ratna restaurant chain - whose annual turnover has touched Rs 70 crore now - his rise has been nothing short of meteoric.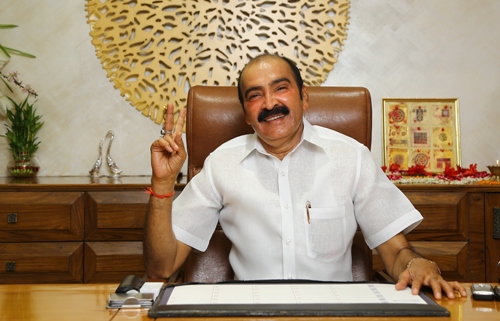 Jayaram Banan, chairman of Jayaram Banan Group, owns a chain of restaurants, star-category hotels, budget hotels, and canteens at industrial establishments

One of seven children, Banan says he grew up having to deal with a cruel father. A driver by profession, Banan's father would put chilli powder in his son's eyes for doing badly at school.
At 13, when Banan failed in his exams, he stole some money from his father's wallet and ran away from home.
He sat in a Mumbai-bound bus where he was spotted crying by a fellow villager from Udupi who took him to the Hindustan Organic Chemicals (HOC) canteen in Panvel, Navi Mumbai.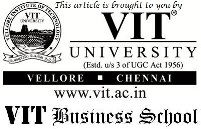 He landed his first job at the HOC canteen as a dish washer for Rs 18 a month. In those days, people from Udupi would flock to Mumbai to make a living.
"They brought dosas to Mumbai, eventually introducing the masala dosa to the city and making it India's no. 1 dish," says the self-made restaurant tycoon, who currently owns the extremely popular Sagar Ratna, Swagath and Shraman chains.
Banan's sincere work ensured that he soon moved from dishes to tables and then got promoted from being waiter to headwaiter to manager. For eight years, Banan continued working at HOC, picking up trade and management skills, and earning Rs 200 a month.
While the years at HOC were tough, they helped kindle Banan's entrepreneurial spirit.
Initially, he thought of opening a South Indian eatery in Mumbai, but scrapped the idea when he sensed that there were way too many of them in the city.
He eventually left his job at HOC and moved to Delhi in 1973, where his brother worked as the manager of an Udupi restaurant. He got married to his wife Prema soon after the move.
This was around the time the government was setting up Central Electronics Ltd (CEL) in nearby Ghaziabad. Banan bagged the contract to set up the canteen at CEL in 1974 for an "investment of under Rs 2,000".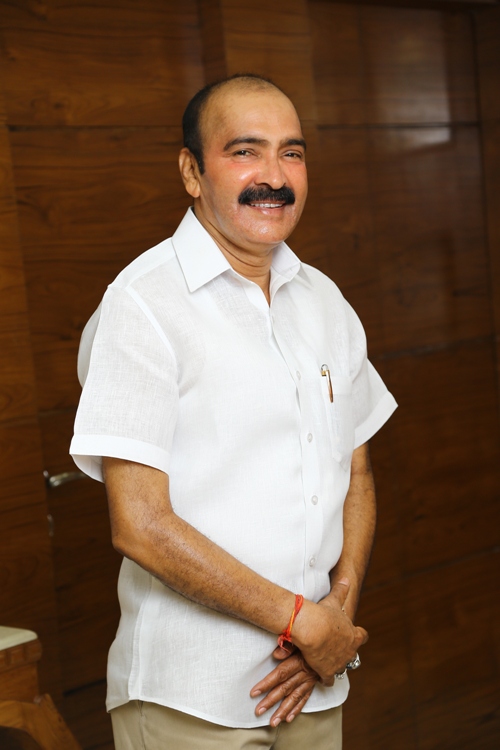 Banan owns 90 restaurants across North India including the Sagar Ratna chain

This proved to be the turning point in his career. He employed three cooks and ensured quality meals were served at the canteen. His tasty food and remarkable humility clicked with his customers and the canteen became a success.
"It was just the impetus I needed to try something more big and beautiful," says Banan, recalling those early days with a smile.
"Back then, one could only get Haldiram ka dosa in the name of Udupi cuisine in Delhi. It was popular and easily available, but not genuine," he explains.
"In fact, authentic dosas were only available at two expensive restaurants: Woodlands at the Lodhi Hotel and Dasaprakasa at the Ambassador."
Sniffing an opportunity, Banan made an ambitious plan. He decided to serve Woodlands-quality idlis and dosas at the rates of street chaat!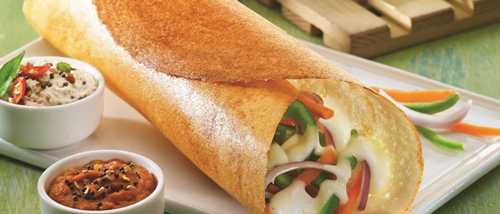 Banan gave customers quality dosas at the rate of street chaat

On 4 December 1986, he opened his first restaurant in Delhi's Defence Colony market with his savings of Rs 5,000. He named his 40-seater outlet 'Sagar' and served South Indian staples like idli, dosa and sambar.
Banan made a sale of Rs 408 on his first day. However, renting the space for Rs 3,250 a week meant he had to book losses, but Banan made sure he never compromised on the quality of the food.
By working tirelessly from seven in the morning till midnight every day, he managed to ensure that sales at Sagar picked up. "I think the good quality of food, affordable rates and personalised service made Sagar click," he says.
Shortly afterwards, Banan had to rent the space above the restaurant to increase its seating capacity. But given Sagar's growing popularity, the extra space couldn't accommodate the crowds that now stood in long lines outside his restaurant.
Four years later, in 1991, Banan bought out Woodlands, the restaurant he had once competed against. His four-year dream run at Defence Colony had given him enough to strike the deal.
"For a small-town boy like me from Udupi, this was a giant leap," chuckles Banan. "Unlike the sparse ambiance of my Defence Colony outlet, I decided to give this restaurant a fancy look.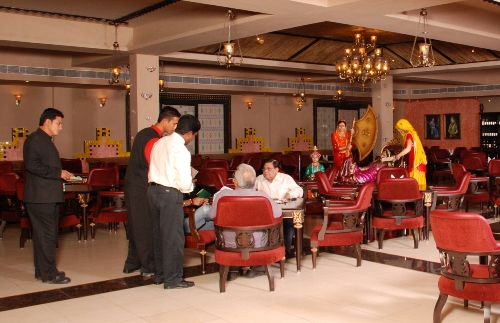 A scene at one of Banan's restaurants

"I invested Rs 50,000 in furniture, increased prices by 20 per cent and called this restaurant Sagar Ratna," he recalls with pride.
The Sagar Ratna brand grew rapidly and soon there were 35 of them across the city. The restaurants were patronized both by the common man and by hot-shot politicians like Atal Bihari Vajpayee.
In 1999, he opened his first franchise outlet at Ludhiana's Hotel Maharaja Regency. He set Rs 60 lakh as the minimum investment required for a Sagar Ratna franchise.
Over the next fifteen years, the brand added 36 franchise outlets in Chandigarh, Meerut, Gurgaon and other Indian cities. The group even opened restaurants in USA, UK, Australia and Singapore.
Even as Sagar Ratna became a brand to reckon with, Banan decided to diversify into coastal food.
"Coming from Udupi, which is a coastal town, I decided to introduce Delhi to the delights of South Indian seafood," he says, explaining the reason behind opening the first Swagath outlet in 2001 in Defence Colony, a short distance from his first Sagar restaurant.
Since this cuisine was rare at the time, the ethnic restaurant was an instant hit, drawing Indians and foreigners in droves.
The Swagath chain, which presently has 17 outlets, serves exotic coastal cuisines from Mangaluru, Chettinad and the Malabar regions. In 2005, the Miele Guide, the popular guide book to restaurants in Asia, recognised Swagath as one of the top seafood restaurants.
Today, Banan owns 90 outlets across North India, including Sagar Ratna and Swagath. The expansion has vastly improved his turnover, with the chain making an impressive 20-25 per cent profit every year.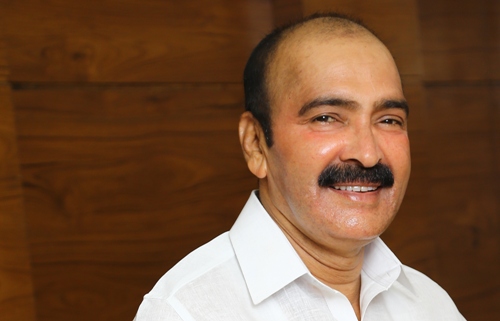 Giving Back: The Sagar Ratna restaurant in Karkala in Udupi, which was opened in memory of his parents serves a full meal at Rs 10

In 2000, Sagar Ratna's turnover was about Rs 12 crore, which doubled to Rs 25 crore in 2005. Presently, the Sagar Ratna chain is valued at about Rs 200 crore.
In August 2011, Banan's spectacular success made the New York-based private equity firm India Equity Partners (IEP) invest in the Sagar Ratna chain. IEP shelled out a whopping Rs 180 crore to buy 75 per cent stake and appointed a new CEO.
Banan retained 22.7 per cent equity and became the chairman of the chain, which was now christened the Jayaram Banan Group (JRB). This takeover was a strategic move to expand and become a pan-Indian restaurant chain.
However, by October 2013, differences had crept in with the IEP, and Banan decided to buy back his shares.
Later, Banan, along with his son Roshan who had joined him in running the JRB Group, started to expand into other allied businesses.
The group now owns star-category hotels, budget hotels, canteens at industrial establishments, a bakery, and sells packaged snacks, pickles and ready-to-eat meals.
The diversification notwithstanding, Banan is hungrier than ever. Being a serial entrepreneur, he recently opened a new chain of restaurants called Shraman, tapping into the food tastes of North India's large population of Marwaris and Jains.
The outlet serves vegetarian food without garlic and onion. "One has to continuously change according to the demands of the market," he says, "and we have grown organically so far."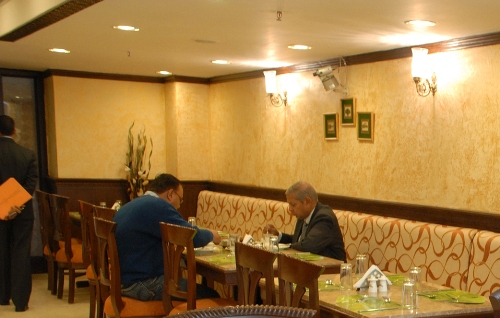 Banan has provided employment for around 10,000 people in his various businesses
He has channelized some of his success into charity. His Sagar Ratna restaurant in Karkala in Udupi, which was opened in 2010 in memory of his parents, serves a full meal at Rs 10.
"One should always give back to the society, which has helped us grow in life," he opines. This is one of the reasons why almost his entire 10,000-strong workforce comes from Karnataka and Tamil Nadu.
His belief of "giving back to society" keeps him close to ground. Banan still bows low as guests enter his hotel, irrespective of whether they are celebrities or commoners, which perhaps explains why over 2000 people throng the Sagar outlet in Defence Colony every day.
From runway kid to restaurant tycoon, Jayaram Banan sure is a man on the spice route to success!
This Article is Part of the 'Amazing Entrepreneurs' Series
More Amazing Entrepreneurs
Chandubhai Virani, Founder, Balaji Wafers

Trending Now: