No-frills model fruit juice entrepreneurs set to hit one crore turnover in under three years
G Singh
&nbsp | &nbsp Kolkata
08-February-2017
Vol 8&nbsp|&nbspIssue 6
It has been a successful journey for Piyush Kankaria and Vikram Khinwasara, who started 'The Yellow Straw', a fruit juice shop in Kolkata in 2014. In just a little more than two years they have grown into a six-outlet chain and are inching toward a one-crore turnover mark.
Brothers-in-law, close buddies and business partners, Vikram, 37, and Piyush, 32, have earned a loyal clientele among fitness freaks and the health-conscious citizens of the city who prefer natural juices over soft drinks.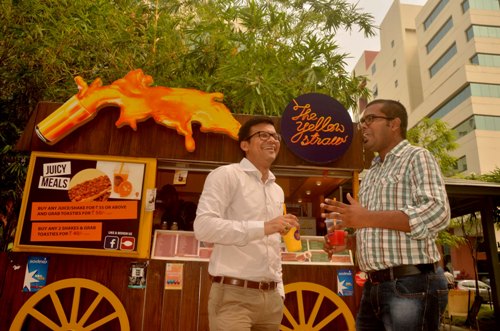 The Yellow Straw co-founders, Piyush Kankaria and Vikram Khinwasara, have dared to be different from their competitors. They sell from kiosks and carts as well (Photos: Monirul Islam Mullick)

The duo has dared to be different from their competitors. Operating on a no-frills model, they sell juice in carts and one of their outlets located in a prominent club of Kolkata "' The Tollygunge Club - operates only on weekends and national holidays.
"I am a fitness freak and I am regular with my work outs. Since my childhood I have preferred fruit juice over aerated drinks which I find to be extremely unhealthy," says Vikram, who looks younger than his 37 years and is the chirpier of the two.
"When I was planning to start my business venture, I thought of doing something connected with health," he adds, sitting in his shop that doubles up as a lounge at RN Mukherjee road in Central Kolkata.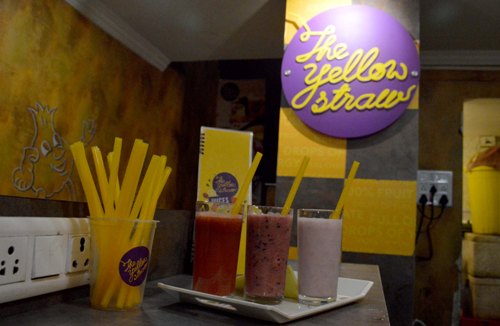 The Yellow Straw offers fusion juices like the Chili Pataka Straw which is a mix of pineapple, kiwi and green chilies

The second among three siblings, business came naturally to Vikram as his father was a businessman dealing in electrical items. Vikram graduated in Bachelors of Commerce from Seth Anandram Jaipuria College, Calcutta University.
He had previously owned a mobile phone shop and tried his hand in garment business before joining a multi-national investment company as a relationship executive in 2004.
"I was a novice in investments and financial dealings. I joined the company to get myself accustomed to the markets and to learn how business is conducted.
"I worked there for nearly ten years and rose to the rank of vice-president before putting in my papers in 2013 after the company chose to wind up its operations in the country," he recounts.
Though he joined another MNC in Kolkata, he says, "The idea of starting my own business had already begun to germinate in my mind."
Meanwhile, Piyush was also having similar thoughts. He was working as a software engineer at an MNC in Bengaluru.
"Being a foodie, I was thinking of starting a food chain," he says.
Since their interests matched, Vikram and Piyush decided to start a juice shop. But Piyush suggested that they do some research before they started the business.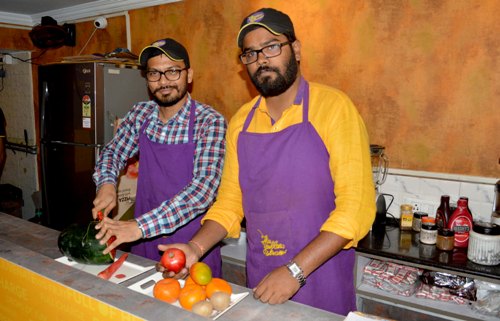 Piyush and Vikram prepared the juice and served it to the customers themselves in the earlier days

For the next nine months, he extensively travelled around the country and visited various juice shops in Delhi, Ludhiana, Ahmedabad, Amritsar, and some famous joints like Juice Junction, Bengaluru, Haji Ali Juice Centre, Mumbai, Boost Juice Bar, Delhi and Juice Lounge, Amritsar.
"The feedback we got was that the idea was good, but it would not work in Kolkata where people are used to consuming juice at roadside stalls for cheap rates. We were a bit discouraged but still strongly believed that things would work out well," recalls Piyush.
Piyush went on to work in a fast food chain for nine months to gain experience in the food and beverages industry. He got all-round exposure there, from chopping veggies and making salads to managing the front desk.
Eventually, they decided to start the shop with an investment of Rs 10 lakh each in 2014.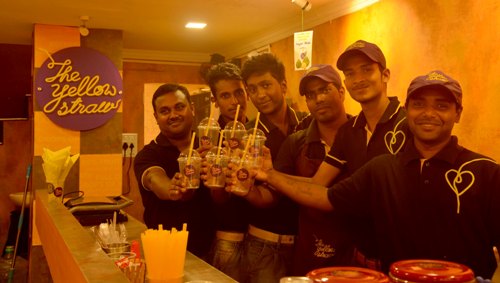 A total of 25 employees work in the various outlets of The Yellow Straw

"The money was arranged from our savings over the years. With the money, we hired a small 26 sq ft shop near the Calcutta High Court and hired consultants to chalk out the recipe of our products which we wanted to be different from others," says Vikram.
The duo named their shop 'The Yellow Straw' with a tagline, 'Drink Your Fruit'. "Our tagline matches with our principles as we add no sugar, no water or any other ingredients to our products. Fresh fruits are only used for making the juices and nothing else," says Piyush.
They opened their first shop with two employees on May 2, 2014. "Initially, we did all the work, including preparing the juices and serving to customers. We sold 85 glasses of juice on the very first day of opening the counter," shares Vikram.
Other than fresh apple and guava juice which are made without a drop of water, they have many interesting fusion juices too like the ChiliPataka Straw which is a mix of pineapple, kiwi and green chilies, Power Punch Straw which is a mix of spinach, apples, oranges and beet root, Healthy Straw which is a mix of bottle gourd, turmeric, ginger, beet root and lemon.
Prices of the juices range between Rs 40 and Rs 150.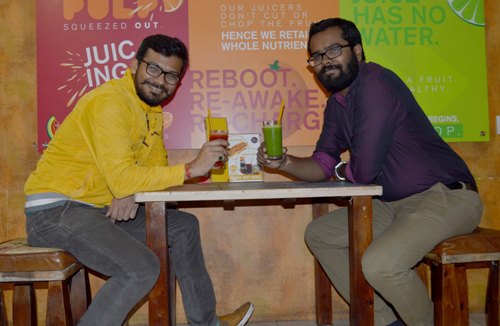 Piyush and Vikram have plans to expand into tier-II cities in the country

As business grew, the duo rented a 250 sq ft shop at Dalhousie area in central Kolkata in 2015. "Apart from juice and shakes, we also began to sell snack items including toasts and sandwiches," says Piyush.
They broke even in early 2016 and started adding more kiosks and carts.
"We registered a turnover of around Rs 60 lakh in 2015-16 which is all set to cross one crore in the current fiscal year. Around 70 per cent of customers keep coming back to us again and again," reveals Vikram.
"We have 25 employees and sell over 600 glasses per day. We plan to launch our products in tier-II cities across the country," the duo adds. Surely, success seems sweeter without adding sugar to them!
This Article is Part of the 'Super Startups' Series
MORE SUPER STARTUPS
Eshwar K Vikas and Sudeep Sabat, Founders, Mukunda Foods

Trending Now: