'Why own a car when you can rent one for cheap rate'

Narendra Kaushik
&nbsp | &nbsp New Delhi
07-March-2016
Vol 7&nbsp|&nbspIssue 10
For a start-up launched in November 2013, Sakshi Vij, 32, Founder and CEO of Myles and Executive Director, Carzonrent, has unusually impressive numbers to show – a lakh and a half customers.
"Out of 365 days, an Indian family uses a car for 100 to 120 days on an average. Sometimes you need a car only for a few hours," says Vij. "Why should you pay EMIs for years and spend on parking, maintenance and insurance when you can get the same comfort for a fraction of the cost?"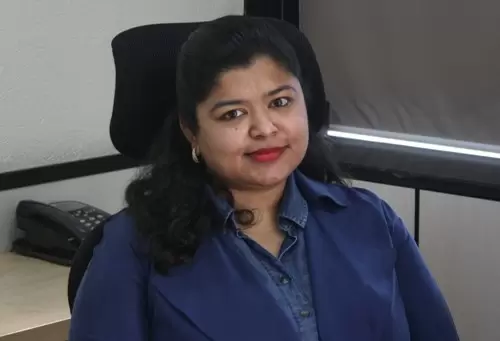 Sakshi Vij plans to add 50,000 cars to her fleet and take Myles to 50 Indian cities by 2020 (Photo: Narendra Kaushik)

Her logic is simple – actual usage of the cars is on a decline in the country despite more vehicles being added every day.
Vij's smart and sharp insights into the target segment and market dynamics for self-drive cars have ensured that her company moves on the fast track. In less than 28 months, Myles has grown from 14 cars in two cities (Delhi and Bangalore) to 38 models of 1,000 cars – compact SUVs, electric cars, hatchbacks, luxury cars, MUVs, sedans and SUVs – in 21 cities in the country, from Mumbai to Bhubaneswar and Chandigarh to Pondicherry.
The company has its footprint in more than 250 locations including 10 airports, and has on an average 500 customers every day, taking cars on rent on a daily, hourly, weekly or monthly basis for their intra- and inter-city travels, at rentals ranging from Rs. 75 to Rs. 1,000 per hour.
Take the case of 28-year-old Kunal Priyadarshi. When this Noida-based HR professional decided to go on a Bharat Darshan, inspired by Mahatma Gandhi, in March last year, he weighed all travel options.
Air travel was too costly. Travelling by rail was fraught with overcrowding and littered trains. Driving down to Kanyakumari in his Tata Safari – yes, possible, but how wasteful against the Mahatma's journey (the fuel alone would cost over an estimated Rs. 90,000).
This is when Priyadarshi thought of hiring a Nano from Myles. The 56-day long trip to Kanyakumari and back through 13 Indian States, according to Priyadarshi, was not only a 'great experience' but also saved him as much as Rs. 15,000. He had to pay around Rs. 17,000 rent for the car, spend around Rs. 58,000 on fuel, and his journey was maintenance-free!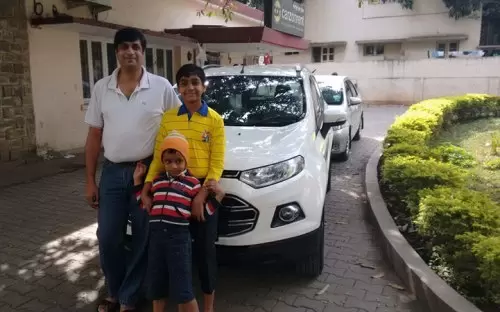 The company gets on an average 500 customers daily

There are many such quotable stories in the modern annals of entrepreneur Sakshi Vij, who has a PG diploma holder in Global MBA from the S.P. Jain Institute of Management & Research in Mumbai.
She began her career with FiNoble Advisors, a company that guides Indian companies on acquisitions in Europe and the US. The only child of her parents, Vij then joined Carzonrent India Private Limited - a company owned by her father Rajiv K. Vij – which has been in the book-a-cab business since 2000 in May 2007 as Manager-marketing
Within less than five years she had risen to Vice President - Corporate Marketing & Business Development. On the way she added to her CV a Management Development Programme (Customer Relationship Management) as well as a General Management Programme (Luxury Management) from the Indian Institute of Management (IIM) Ahmedabad.

Starting Myles with seed money from Carzonrent, from the word go, Vij's objective was to expand to high-demand cities and ensure that Myles cars were available within a radius of five kilometres in these places.
The company worked with airports, metro authorities, local malls, resident welfare associations and parking area owners to create the locations. She also focused on introducing variety to the inventory with newer and exciting car models – in fact, Myles were the first to include electric cars in their fleet.

On the demand front, the company connects a car to users through Telematics technology, and a mobile and web-based application (98 per cent of Myles customers book online). The mobile application becomes the navigation and key to a car once it has been booked. The user can choose a location convenient to him or her to pick the car, or have it delivered to him.

On the way, Vij realised that the biggest block that customers had towards renting a self-drive was the security deposit.
"We have lowered our security deposits by 90 percent from what we were charging earlier," she says. "to Rs. 5,000 irrespective of the number of days you hire the vehicle." The customers have to provide address and identity proofs, and a copy of their driving licence, while paying the deposit by credit or debit card.

Alongside, meticulous attention is paid to all other rental parameters. To ensure safety, all Myles vehicles are insured and fitted with GPS systems, and the vehicles offered by fleet operators and car dealers are checked before delivery to the customers. Besides, the company's reservation system, Vij adds, is equipped to identify female guests as high-priority ones.
A promotional campaign for the brand

The technology on the Myles online platform makes it possible for fleet operators to keep complete track of their cars – who drives them, where, and what speed. The fleet operators partnering with Myles earn more than what they would on their own.
"My consumer base is much larger," says Vij. The company maintains a record of all its customers and rates them on parameters such as on-time return and the condition of the rented cars on return.

The road ahead is wide open, and Vij is full of innovative ideas. Besides building revenue- sharing partnerships with fleet operators, Vij hopes to involve private car owners on her platform once the government amends its self-drive policy (framed way back in 1986!) and reviews transport policy, allowing private owners to make commercial use of their vehicles.
Her company already gets 50-60 inquiries on an average every day from private car owners asking if they can place their vehicles on the platform.
Vij calls Myles Cars an 'alternate eco-system for car owners', which could take care of issues like vehicular congestion, pollution and the lack of parking infrastructure. The recent fortnight-long odd-even trial of vehicles in Delhi justified her focus on car sharing: "I know of families who swapped their cars during this trial," Vij says.
Apart from this, Vij wants the Indian government to make it possible for the customers to pay road tax and tolls online. "Globally, self-drive cars do not have to pay any inter-state taxes and are treated as private cars across the country," she points out.

Vij anticipates the arrival of global car rental giants like Hertz, Enterprise and Thrifty in India soon (Avis India, a joint venture of the Avis Budget Group with The Oberoi Group is already operating) and welcomes it.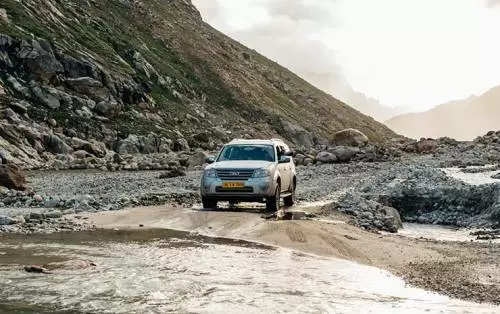 Myles is flooded with inquiries from private car owners wishing to place their vehicles on the company's rental platform

Her private-equity-invested company is growing at 35-40 per cent month on month! And the road ahead looks bright. "Tourist destinations will grow," Vij says. "There will be smart cities. Women want to be independent."

Myles, operating with the tagline 'Your city, your choice, our car, you drive', has more than 100 employees working with it in technology, marketing and fleet development verticals.
Vij is only just revving up. By 2020, she plans to have 50,000 cars on her platform, reach about 50 cities of the country and have five million registered customers or members.
Out of 1,000 cars available on the online Myles cars platform, 250 belong to 20 small fleet operators who have tied up with the company and there are 300 fleet operators already in the queue.
This Article is Part of the 'Super Startups' Series

Trending Now: