This duo started a coffee shop in a small town, which has now grown into a Rs 8.3 crore turnover coffee chain

Kavita Kanan Chandra
&nbsp | &nbsp Vadodara
28-December-2016
Vol 7&nbsp|&nbspIssue 52
From a single coffee shop in 2008 in the small town of Vadodara, Gujarat, to 110 outlets – 50 cafes and 60 snack bars – in 70 cities across India… the secret of Brewberrys' success story lies with the brewers of the enterprise – its co-founder-directors Ankur Gupta and Ronak Kapatel, both 36.

Combining Ankur's motto, 'Do it with passion or not at all!' with some savvy business strategies, they have built Brewberrys into one of the fastest growing coffee chains in the country, with 10 million annual footfalls and growing profit.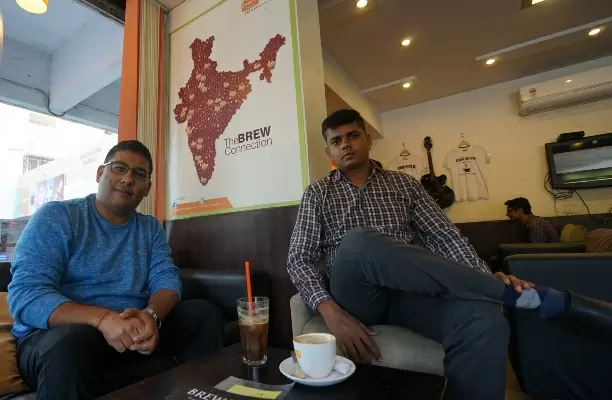 Ankur (left) and Ronak, co-founders of Brewberrys, have been friends since their student days at Vivekanand Institute of Hotel & Tourism Management in Rajkot

Started with an investment of Rs 12 lakh that came from their hard-earned savings and with some funds from their parents, Brewberrys' turnover has already touched Rs 8.3 crore.

The very first Brewberrys flagship café at Makarpura Road on the outskirts of Vadodara is the key to the story. This is where the two friends, both Hotel Management graduates from the Vivekanand Institute of Hotel & Tourism Management in Rajkot, Gujarat, began their venture.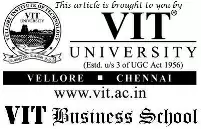 It is fragrant with fresh brew, catering to customers with freshly made snacks, books, board games and wi-fi connectivity on hand.

A bright colourful wall, T-shirts on display and cushions with quirky quotes strewn on sofas fit perfectly into the company's positioning as a neighbourhood café brand across cities.

Ankur and Ronak were friends since their student days. Ronak liked the food production department (the kitchen) while Ankur preferred the service department (food and beverages).

After college, Ankur read Ayn Rand's iconic book The Fountainhead and was greatly inspired by the individualism of the protagonist Howard Roark.

A former national level baseball player, Ankur, then 28, had the vision and the zeal for a start-up. He convinced his parents about it and then called Ronak, who shared his dream of entrepreneurship.

They first thought about opening a restaurant, but it was capital intensive. "In the fourth and final year of the hotel management course," recalls Ronak, "Ankur and I worked on a project on coffee and did lot of ground work on that, so perhaps when we thought of a start-up coffee was on our minds."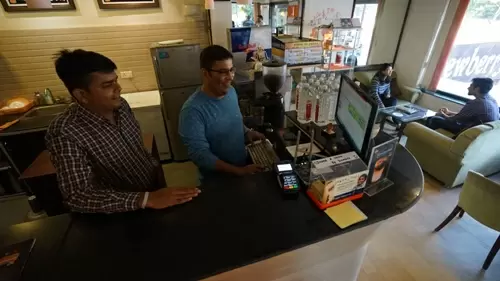 Both Ankur and Ronak closely monitor the day-to-day operations at their outlets

On completing studies in 2005, Ankur had interned at Café Coffee Day (besides Hyatt Regency in Mumbai) and Ronak, while working in the USA at the Marriott Baltimore, had also worked at its Starbucks kiosk. Coffee seemed to be calling out to them.

As a management trainee at the Hyatt, Ankur had shared a rented apartment with 4-5 of his batchmates, working 17-18 hours a day. He had built a healthy bank balance. Ronak had also prudently saved during his stints in the USA, and the UK – where he had worked at the Marriot Cheshunt.

They pooled their savings and along with some funds from their parents, they set out with an investment of Rs 12 lakh.

Brewberrys Hospitality Private Limited was formed in September 17, 2008. Ankur and Ronak made up the two-member team who brewed coffee and prepared sandwiches for the customers.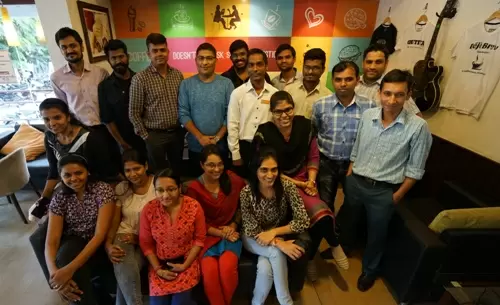 Brewberrys team at Vadodara with Ankur and Ronak

But why choose Vadodara of all places? Interestingly, neither belonged to Vadodara; Ankur is from Chandigarh and Ronak from Kheda in Gujarat.

However, having studied in Gujarat, the duo was familiar with the city - safe, with good infrastructure and a healthy entrepreneurial spirit.

"Our challenge was high rentals," recalls Ronak, "as we didn't have deep pockets. So starting in a tier-II city and expanding in tier II and III cities seemed wise. Vadodara was a perfect fit from every angle to start Brewberrys."

As a business model Ankur positioned Brewberrys as an affordable option – value for money at a neighbourhood 'adda' where friends could hang out with their buddies or families could relax over a cup of coffee.


Even without funds, Ankur decided on a course of expansion through the franchise model the very next year in 2009.
He started networking with people with finance, and travelled extensively through India to sell his franchise at a one-time fee of Rs 3.5 lakhs.

The first franchised outlet came in Jaipur, followed by Surat and Ahmedabad. Brewberrys was able to break even in 2010. By 2012 – a milestone year – they had one own outlet and 25 franchises in 25 different cities.

Then suddenly a call brought a challenge – and an opportunity to scale up in a way they had not imagined.
It came through Tata Consultancy Services (TCS), whose billing software they were using; the Passport Office was searching for a coffee café chain in the Passport Seva Kendras (PSKs) and TCS which was managing the PSKs invited Brewberrys to be their café partner. TCS provided Brewberrys space inside PSKs and Brewberrys paid them rental.

"We had to set up 63 cafés in 50 cities in four months and then we were a six-people team in Vadodara," recalls Ankur. They first hired six more people and then sat down with India's map in front of them to strategize.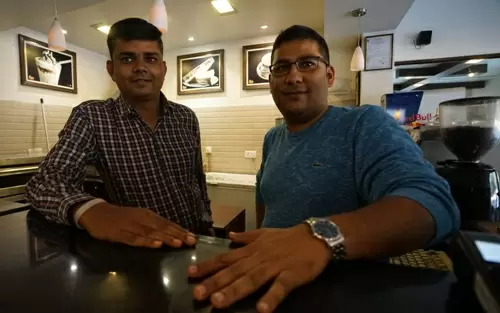 Brewberrys crossed the 100-store mark in 2015

They would fan out and every week one person would open one café. They took a leap of faith, hiring local people in each location through networking with their contacts in the hospitality sector. Beginning in end-February, they completed the challenging task by May.

Now they had 16 core team members and 120 direct employees of Brewberrys across India. In a single financial year, their turnover jumped from Rs 75 lakhs to Rs 4.5 crore.

"It changed the way we did business and from then on we charged a one-time fee of Rs 6 lakh and a royalty of six per cent on sale for every new franchise," says Ankur.
By 2015 they had crossed the 100-store mark, their growth strategy encompassing corporate cafes and franchises.

The Coffee Board of India acknowledged their growth as the second fastest growing coffee chain in India. At the end of 2015-2016 their turnover had risen to Rs 8.3 crore.

At present, Brewberrys is in 63 PSKs, one each in Mind Space Technologies and Essar, and 45 franchises. Last year they signed up with the Hyderabad Metro to open 20 outlets and are also opening seven more at the Essar Township in Hazira near Surat and in Jamnagar, both in Gujarat.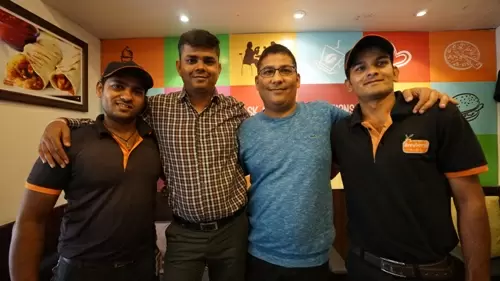 Brewberrys has 120 direct employees across India
Lateral diversification is well on its way: last year, using their existing bakery vendors, Brewberrys started a one of a kind 'Cake Studio' where one can order cake from anywhere, to be delivered fresh across 50 cities.

Their vendor network gives them an edge and they are already registering sales worth Rs 4 lakh a month.

Coffee and cake is a classic combination, after all. And a large serving of enterprise makes it all perfect!
This Article is Part of the 'Amazing Entrepreneurs' Series

More Amazing Entrepreneurs

Trending Now: