'A society which can't protect its women and children cannot be a civilized society'
14-May-2012
Vol 3&nbsp|&nbspIssue 19
The menace of human trafficking remains a major problem in India despite many policies and laws being in place, said Maharashtra Chief Minister Prithviraj speaking Friday night after presenting The Week magazine's "Man of The Year Award" for 2011 to Ajeet Singh, who has been spearheading a campaign against human trafficking and has been working for rehabilitation of trafficked women and their children.

Ajeet Singh spoke passionately about the need to change the mindset of people and redefine development.

Read The Weekend Leader's Article on Ajeet Singh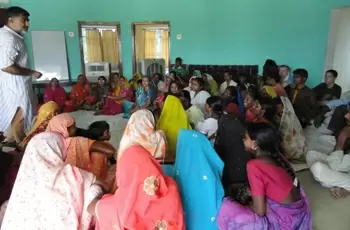 Ajeet Singh sensitizing women on preventing human trafficking
"We have eaten up our trees, we have swallowed our rivers and we are now exploiting our women and children too," he said, adding: "A society where you cannot protect your women and children cannot be called a civilized society."
"People have fixed ideas about social work, they said this is not social work," he said, recalling how he was ridiculed when at the tender age of 17 he started working for women caught in trafficking.
"Some also pointed out that there are other causes like child labour where one could get grants for many projects. I am happy that I stood up and remained firm with my ideas and did what my heart said," Singh said.
Singh also narrated three shocking cases of child and women trafficking and the difficulties he had to face whenever his NGO Guria (pronounced Gudiyaa) rescued them.
"The police were not ready to file an FIR (first information report) of the mother whose daughter was trafficked. This is the prevailing situation and not a one off case. In another case, the trafficker was arrested four years after filing the FIR, which clearly showed the patronage of police and politicians for these activities," Singh said.
Ajeet Singh is archetypal of the people 'The Week' selects for its "Man Of The Year" award honour. The award winners are chosen on the basis of their work that has benefited the society at large. They must have a larger vision and personal commitment, something beyond writing out a philanthropic cheque, according to the weekly.
Late Baba Amte was The Week's first 'Man of the Year' in 1983.

Varanasi-based Singh has rehabilitated more than 100 sex workers, and has saved many before they reached the red-light area. His primary work, however, is among children of sex workers and from impoverished families. His NGO, Guria, runs a floating school on board a 250 sq.ft boat moored at Manasarovar Ghat, Varanasi.
Guria has been pursuing 175 criminal cases against 541 human traffickers and brothel-keepers. Singh has lost count of the threat calls he has received, or of the number of times the police have let him down.
Ajay Uprety, who wrote the story about Singh in The Week, recalled how he met Ajeet Singh about ten years ago when his work was at an early stage and has subsequently kept monitoring it over the years. - IANS

Also Read

The man who gives lunch @ Re 1 - The Weekend Leader's Person of the Year

Trending Now: