A man whose heart bleeds for the victims of flesh trade and their children
06-February-2012
Vol 3&nbsp|&nbspIssue 5
But for Ajeet Singh, Gufrana will not be doing her Diploma in Nursing in Faridabad and Vijay would not have become a software analyst in Mumbai.

Children like them – offspring of sex workers in the red light areas of Varanasi and Mau in Uttar Pradesh – never thought of education before Ajeet Singh, who is now 41, stepped in with a mission.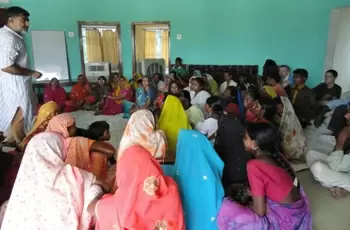 Ajeet Singh sensitizing women groups on preventing human trafficking
When he was barely 17 years and doing BA (Hons) History at Hansraj College in Delhi, he was shocked at the sight of women dancing in the midst of jeering men at a wedding in his home town of Varanasi.

"The vulgarity on display was pathetic and it smacked of typical exploitation of women and girls in Varanasi and Mau red light areas," he recalls.

Ajeet followed one of the women to the red light area and convinced her to send her children to school. By adopting the woman's three children, the boy who had gone to public schools in Dehradun and Lucknow, embarked on a new path in life and in the process helped transform the lives of many children. Educating the children meant eliminating second generation prostitution.

Ajeet narrates chilling stories of how minor girls who had been tortured and exploited by landlords and human traffickers were rescued by them.

During the course of his work, he had been brutally attacked many times by goondas. However, nothing has deterred him from continuing his work to rescue women caught in the sex trade.

Through his NGO 'Guria,' he had been partially successful in breaking the police – politician – pimp - brothel keeper - trafficker nexus.

"The threat to life is always there, but I also get support from human rights groups and well-meaning individuals," says Ajeet, who points out that Kabir, Buddha and Sant Ravidas started their teachings from the vicinity of Varanasi. His crusade for a just and humane society has also begun from the same place.

Till date he has helped the police in booking 175 criminal cases against 539 human traffickers and brothel-keepers. His organization, which has rescued around hundred minor girls pushed into the flesh trade, celebrated when the Supreme Court passed a judgment against granting bails to human traffickers.

In 1993, Ajeet started a non-formal education (NFE) centre in Shivdaspur red light area of Varanasi. Several years later, in 2006 he opened another centre at Shahadatpura red light area in Mau.

With 6-7 staff in each centre, there are currently 150 students in Varanasi and 80 in Mau centre. "Around 75 percent of our students have been enrolled in mainstream schools. At present we are sponsoring about 43 students in various government and public schools," says Sunil, one of the staff at Guria.

There is one more NFE centre at Karar village of Bedia tribe in Raisen district of Madhya Pradesh. It was a challenging task for Ajeet, who spent over nine years with the community that was involved in traditional family-based prostitution, to let the people send their children to school.

"We are not there to judge or give moral sermons. We work with these people who are marginalized and ostracized by society and make them feel important," says Ajeet.

However, a subtle process of change begins to take place during the course of their interactions with them. Today, many children from the Bedia tribe are going to schools trudging as far as 5 Km to reach one.

According to the social activist, Uttar Pradesh has become a hotspot for human trafficking. "Girls from Nepal, Bangladesh, and from the Eastern and North-Eastern India are brought here before they are sent to other parts of the country and abroad," he says.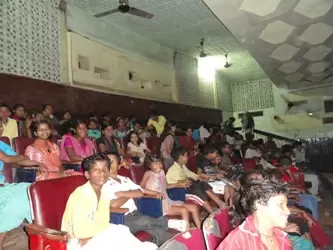 Children of sex workers, who are being sent to schools by Guria, watching a film at Varanasi
Varanasi always bustles with people from all over India and foreign tourists, which makes it easy for traffickers to operate.

The growing number of Nepali girls in Varanasi red light areas made Ajeet to start sensitization and rescue programmes in Maharajganj and Sidhartnagar districts of UP that share a 60-70 km border with Nepal.

"We are working with SSB (Sashastra Seema Bal), schools, and civil society in the UP – Nepal border areas to sensitize the public about the trafficking of girls so that they are vigilant on this issue," said Ajeet.

Guria adopts a holistic approach towards women in prostitution. They don't just distribute condoms but also look after their overall health needs, provide them with legal support and ensure that they are not exploited.

Financially, Guria wants to be independent and so it holds concerts like 'Pearls of Love', where traditional artists perform traditional dance forms like Rai of Bedia tribe, and Kalbelia dance of Rajasthan.

Guria has also launched a worldwide series 'Freedom Now' in association with renowned Indian classical musicians for the twin purposes of raising awareness against human trafficking and generating funds for its operations.

Ajeet is grateful to musicians like sarod maestro Aashish Khan who is always ready for this cause.
Wish to share your story?
Trending Now: