Clay nests distributed to conserve sparrows
11-June-2012
Vol 3&nbsp|&nbspIssue 23
A bird lover in the Taj city, businessman Rajeev Gupta, is on a mission to save sparrows from extinction.
In a bid to increase their numbers, Gupta has distributed specially designed nests made of mud clay.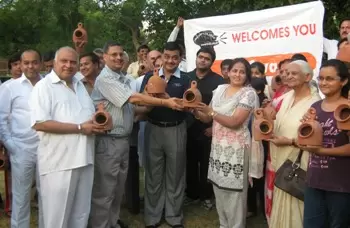 Specially designed nests made of mud clay (Photo: IANS)
"The nest design is cool, comfortable and functional," said Gupta.
He added: "Till last year I distributed water pots for the birds. In summer, the birds die of thirst. When these pots were widely distributed, we found smaller birds, mainly sparrows, returning to people's homes."
Gupta said birds were finding it difficult to build their nests due to rapid urbanisation.
"Also, there is the additional problem of monkeys in Agra. The monkeys do not allow the birds to settle down."
Rajeev has now procured beautiful nests made of mud from Ahmedabad. The designer is a teacher in an engineering college who is devoted to saving birds.
Bird lover Abhinay Prasad who has made his home a haven for birds said: "It is a timely initiative. People should fix the nests at a safe point away from the reach of monkeys. A water pot can be placed nearby.
"I am sure the birds would love the nest and return. Life would indeed be dull and boring if the birds stopped chirping. The winged guests are a reliable indicator of the healthy environment." - IANS

Also Read

Nature Forever Society helps people conserve sparrows
Wish to share your story?
Trending Now: