Nature Forever Society helps people conserve sparrows

02-March-2012
Vol 8&nbsp|&nbspIssue 9
On March 20, when World Sparrow Day is celebrated, Nashik-based environmentalist Mohammed Dilawar can tell himself: 'Well, I have done it'. For, his Nature Forever Society has succeeded in raising awareness among the common man from every nook and corner of the country on the need to conserve sparrows.

It has been few years now since Dilawar realized the importance of including the common man in sparrow conservation given the fact that sparrows are not found in the wilderness but live in homes and the immediate surroundings of humans.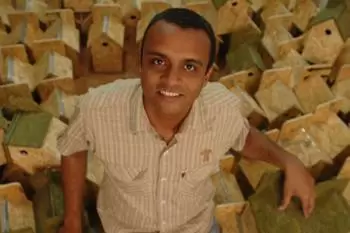 Mohammed Dilawar's efforts to save the sparrows is showing encouraging results
The new urban architecture that is not bird-friendly, the mushrooming microwave towers, chemical pesticides and fertilizers, and the introduction of exotic plants in gardens, have all taken a toll on these hapless creatures. Once ubiquitous, they are now found in select pockets.

However, it is too early to lose hope. There are still some people who want to desperately invite the sparrows into their homes. The feeders and nest boxes made by Nature Forever Society (NFS) have come in handy for bird lovers.

My fourth floor apartment in Hyderabad boasts of five nests - two NFS nests, two natural nests and one Nike shoe box-turned nest. The millets (bajra) in the feeder has to be replenished every two weeks!

Subha Nair's 12th floor apartment in Malad, Mumbai, is testimony to the success of the nest box. She has a pair of sparrows nesting in the NFS nest box.

Vijayta Gupta has birds of all kinds flocking to her home in Gurgaon, including peacocks, parakeets, mynahs, and of course sparrows. She says, "I feed so many species in my balcony," adding, "but my neighbours are particularly unhappy with squirrels because they feel -the once-slim and sleek squirrels now look like fat rats!"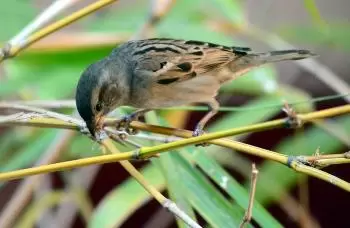 Oan Dilawar of NFS adds, "may be your neighbours are not aware of the beautiful species residing in and around their homes. But it feels great to know that you are there to support all species right from a squirrel to a peacock."

The water-bath in Dushyant Parasher's Noida home invites not just birds but also squirrels. And they all live in peaceful co-existence!

Karthik Vallioor is not so lucky though. He says, "Chennai seems to have lost its sparrows. I installed my nest almost 3 months ago, but haven't yet spotted any sparrows."

"I had not seen a sparrow for a long time but surprisingly saw a lot of them at the Bangalore Airport and that too in the crowded restaurant. They were happily pecking at the leftover food in the floor and table," says D. Madan Mohan of Coimbatore.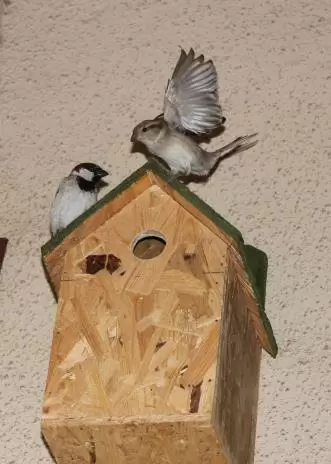 At Nin Taneja's New Delhi home, bulbuls come and check out the feeder he has installed. He says there are squirrels and sometimes mynahs and doves, and Nin is still hoping that sparrows will come calling some day.

Pushpa Anand says her Dallas, Texas home has plenty of sparrow visitors. The rangoli (kolam) drawn with rice flour attracts scores of sparrows and she is always worried what will happen to them when she is out of town.

David Bale of the UK sums up the sentiments of sparrow lovers, "Thanks to Mohammed Dilawar and the Nature Forever Society for opening my eyes to the worldwide problem of declining sparrow populations.

"I feel most people in the UK think it's a problem only in London or only in some of UK's large cities. I work as a volunteer warden at Paxton Pits Nature Reserve in rural Cambridgeshire, 60 miles north of London. Two years ago we re-sited the feeding table at our Visitors Centre and since then we have had an increasing number of house sparrows visiting the centre."
Dilawar says he feels the happiest when he receives feedback from people about the sparrow visits to their homes. He rightly believes that it is difficult to convince people to save the tiger when they are unable to do anything to save the flora and fauna in their immediate surroundings.

Saving the sparrow could be just the right beginning to a more vibrant wildlife protection movement. To adopt a nest box or a feeder from NFS, you can check out: http://natureforever.org


Trending Now: