Specially-abled Staffers Have Made This Trendsetter Eatery a Super Success
Quaid Najmi
&nbsp | &nbsp Mumbai
09-November-2018
Vol 9&nbsp|&nbspIssue 46
It was barely three months ago that a US-returned medico started a small cafe in upscale Juhu as a unique venture -- employing mostly those who suffer from various developmental disabilities.
Now, Cafe Arpan has gained huge popularity -- among patrons, many of whom have become regulars, and among the 19 specially-abled staffers who love to slog 30 hours over six days a week to make this trendsetter eatery a super success.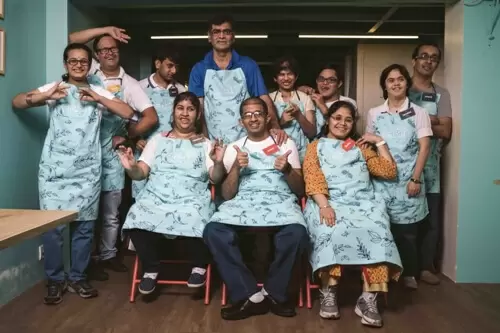 Dr. Sushama Nagarkar with her team of employees at Cafe Arpan (Photos: IANS)

"It was like a dream and in planning for nearly a year, but only after getting a proper place and crowdfunding that we finally opened the doors on August 2. I have 19 staffers, mostly full-timers, including my elder daughter, all suffering from some or the other form of developmental disability," said the founder-owner, Dr. Sushama Nagarkar.

A psychologist and single mother of two daughters -- Aarti (32), who suffers from autism, and Divya (30), settled abroad -- Nagarkar wanted "to do something different, and empower people suffering from developmental disabilities".
Initially, she started with a tiffin service, around one-and-half years ago, which proved to be a hit and had over a dozen staffers with afflictions like autism and Down Syndrome, as also under-developmental and intellectual disabilities, all of which are incurable but impact normal life among all age groups.

Situated opposite the SNDT Women's University Juhu Campus in Santa Cruz West, Cafe Arpan is specially designed for them.

"With a limited yet distinctive menu, there is ample space for the staffers to move around conveniently and everything functions on electricity for their safety. They can comfortably work around five hours a day and take home salaries comparable with industry standards," added Nagarkar.

In the age group of 23-50, most are barely literate, but they have learnt to handle everything "with complete dedication and focus", said Nagarkar, who opened the eatery under the auspices of Yash Charitable Trust (YCT) of which she is Managing Trustee, and which carries out multifaceted social activities.

"I returned to India after 15 years in the US and started the YCT in 2014 to bring people with developmental disabilities into the social and national mainstream, and make them responsible and contributing citizens," she smiled.

Nagarkar feels these specially-abled people have great potential but severely lack opportunities -- and that the Cafe Arpan and the tiffin services have started to contribute in a small way, helping them become independent and capable of supporting themselves and even their families.

Initially, there was a communication gap between the staff and patrons, but the latter proved very understanding and now the going is smooth, with customers appreciating the initiative.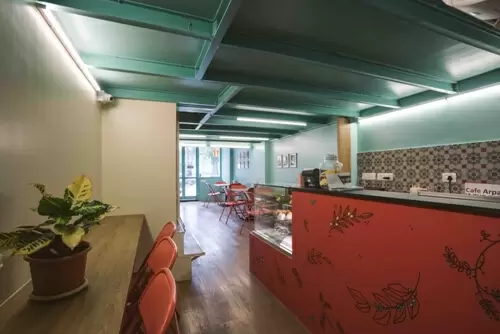 Cafe Arpan is open for 12 hours from 8 a.m. to 8 p.m.

Open for 12 hours from 8 a.m., Cafe Arpna offers a simple but specially-designed menu of barely 30 items like burgers, pizzas, hot/cold beverages and the like, which the specially-abled staffers can themselves handle without complications or calamities.

"During a visit for a snack, I was surprised when one of the staffers took my order, unusually quiet, but apparently efficient, and then served it gracefully. Later, I realised that all the staffers here are specially-abled and the experience was amazing," said an awed customer, Mini P. Menon.

She feels the venture would help commoners view people with developmental disabilities in a new light and open up new avenues for them to become valued members of the community.

Cafe Arpan's hand-picked special team includes: Nazneen Kagalwala, Sudha Chhabria, Pratibha Kamath, Ashritha Shetty, Nandini Rajwade, Abuli Mamaji, Aaron Colaco, Samvit Desai, Chetan Jawale, Nikhil Sharma, Shefali Gundecha, Saurabh Kambli, Shonali Menon, Bunny Aman, Ram Bhiwandikar, Raees Shaikh, Anand Jangir, Gaurav Vanvari and Aarti Nagarkar.

She urged people and the society to come together and create more such gainful opportunities that can enable people with developmental disabilities become self-sufficient and lead a dignified life.

On her part, Nagarkar said that all the staffers here have come through word-of-mouth publicity and the demand of the specially-abled job-seekers is increasing.

"I briefly considered a similar venture in the US where I could have got ample state funding. However, I decided on the option here as the need is more in India, though I had to start from scratch. But we are satisfied with the results and may consider expansion plans soon," Nagarkar concluded. - IANS
This article is part of the 'Inspiring Indians' series
More Inspiring Indians
Wish to share your story?
Trending Now: