Businessman Turns 'Matka Man' To Serve Delhi's Poor
Nivedita Singh
&nbsp | &nbsp New Delhi
27-September-2018
Vol 9&nbsp|&nbspIssue 39
On a scorching summer day, the likes of which are plentiful in Delhi, what one needs most is a glass of water to quench one's thirst, more so for those who toil in the unbearable heat to earn their livelihoods.
The hundreds of civic workers, rickshaw pullers, street vendors and road sweepers cannot afford to buy water several times a day from vending kiosks. To their rescue come the "matkas", or traditional earthen pitchers, installed at different parts of the city which seem to get magically filled up with water every single day.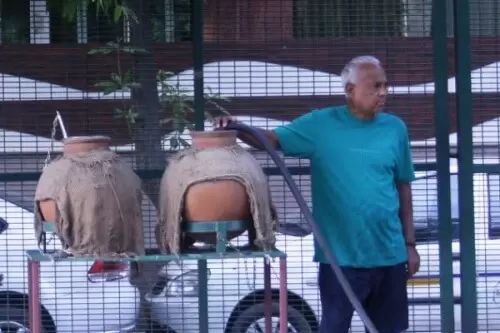 Alagarathanam Natarajan fills drinking water daily in 70 pots that he has kept at different places in Delhi for the poor people in the city (Photos: IANS)

Behind these matkas is a 69-year-old man who wakes up every morning before dawn and steps out in his van to fill up the 70 matkas -- used to store water in homes before refrigerators and coolers arrived -- he has installed in the city to ensure the poor don't go thirsty.
The man who overcame cancer and gave up his business in Britain, finally found happiness in this daily routine with which he gives back to what he says is an "interconnected" community that has lost its social purpose.
He says he wants to start a "revolution in human kindness".

The story began in the summer of 2014 when Alagarathanam Natarajan -- now known as Delhi's Matka Man -- realised that even something as basic as cold drinking water was not accessible to all even in the national capital. So he put a water-cooler outside his home.

"Once, I casually asked one of the guards who came to take water from the cooler why he was coming here and not taking water from where he worked. He said they did not provide him water," said Natarajan, who earlier ran a corner store in upscale Oxford Street in London.

The answer shocked Natarajan and also motivated him to do something.

"It was always on my mind to do something for my community. I discussed it with my family. But installing water coolers was difficult as it required space, electricity and also needed a lot of maintenance. So, I thought of installing matkas to help people in the hot summers," he said.

However, it became a throughout the year ritual to wake up in the morning and fill the pitchers. During the initial days, people used to consider him as someone appointed by the Delhi government.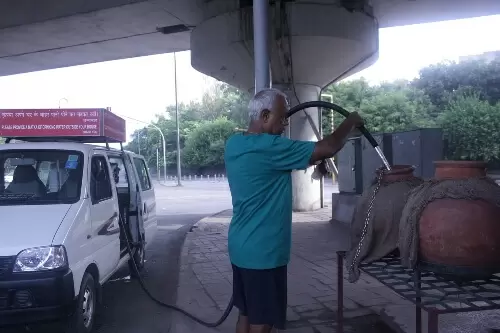 Natarajan began to provide free drinking water in 2014, but these days he also distributes food and fresh fruits to the poor

"I am not backed by an NGO, nor am I a government-sponsored organisation. I am mostly self-funded through my pension and life savings. I do get a few donations and, most importantly, lots of help and support from my family," he said.

Brought up in Bangalore (now Bengaluru), Natarajan moved to London as a young man and spent 40-years there as a businessman running a souvenir shop. There he was diagnosed with intestinal cancer and, after his treatment, he decided to return to India and do something for the less privileged.

"It was always on my mind to come back to the country. I saw cancer as nature's reminder of my wish."

After returning to India, he volunteered at an orphanage, a last-stage cancer hospice, served langar (free food) to the homeless in Chandni Chowk and even carried out the cremation of destitutes to give them a dignified end.

In 2014, he turned his attention to water which then expanded to encompass a much larger range of activities for the poor. Natarajan not only provides free drinking water to the poor but also distributes food and fresh fruits.

"I distribute seasonal fruits and vegetables like cucumber, watermelon, white radish twice a week to labourers and the poor when I go to distribute water in my van. I also include other items like 'lassi' (a curd-based summer drink) or 'jalebi' (a popular syrupy sweet snack) as well," he said.

"Through this work, I have come to believe that we are all crucially linked together but that society today has abandoned this inter-connectedness," he said.

For the water distribution, Natarajan has modified a van fitted with a 800 litre tank, a pump and a generator to run it. From the van, he fills the matkas daily and maintains the stands.

"In the summer, I do up to four rounds a day to ensure the matkas are always filled."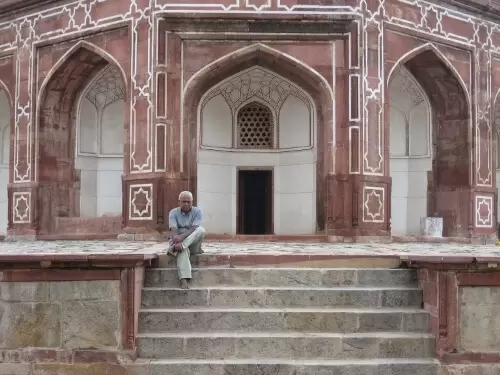 Natarajan has provided his phone number for people to inform him when the water gets over

"The matkas need around 2,000 litres of water a day in the summer months. The water is supplied by a school nearby and two kind souls. The rest I supplement from my own home. I maintain these stands daily with my van."

"The stands have a sign with my personal telephone number, so people can notify me when a matka is empty. I have also installed a bench for people to sit," he said.

He also urges people to place matkas outside their homes so that he can fill those up as well, an advice that many have taken seriously.

With each trip to fill water taking three to four hours, Natarajan now also has an assistant who helps him in doing this.

Apart from the matkas, he has also placed 100 cycle pumps around the neighbourhood to help those in need.

"Delhi roads are hard on cycles. These pumps give poor people the flexibility to fill air 24/7. Some are stand-alone units and some are part of the matka stands. I also distribute glow-in-the-dark stickers for safety purposes and spare nozzles for their wheels."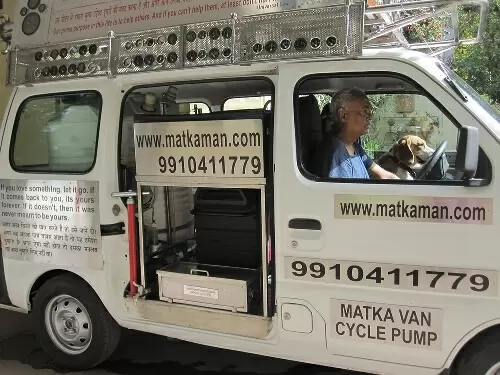 The van that Natarajan uses to transport water to the various matka points

He believes that people in a community must sincerely care for one another. "Every one of us has something to give and share with society." Unfortunately, today we live in a culture where we, as a society, have become greedier and more self-indulgent, he said.

"As a consequence, the poor, who are watching this growing inequality from the periphery, have become angrier; and as a result of this injustice, crime is on a rise.

"I wish to help those in need around me and also to inspire people to help those around them. Perhaps then, I can start a quiet revolution of human kindness," he adds. - IANS
This article is part of the 'Inspiring Indians' series
More Inspiring Indians
Wish to share your story?
Trending Now: