How a Scrap Collector Turned Into a Successful Eco Entrepreneur Investing Rs 750 in a Bicycle
Sofia Danish Khan
&nbsp | &nbsp New Delhi
01-March-2018
Vol 9&nbsp|&nbspIssue 9
He bought a cycle for Rs 750 to start his business in 1995, his only investment, and today his organisation has a turnover of Rs 11 lakh per month. However, his work is more important than the money he makes.
Jai Prakash Chaudhary, or Santu Sir as he is fondly called by his coworkers, is among those few revolutionary people who believe in changing the world bit by bit.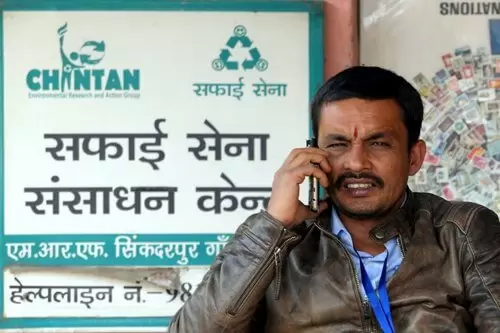 Safai Sena supports around 12,000 scrap collectors. Jai Prakash Chaudhary's company buys the scrap, sorts them and sells it to recycling companies (Phoots: Navnita)

Living in Delhi for the past 24 years, he has been doing a phenomenal job of protecting the environment while still earning well for himself.
Jai, 42, helms the 'Safai Sena', an organisation of local garbage and scrap collectors who sort, sell and recycle waste from our homes and offices.
The Safai Sena collects the waste from main garbage dumping sites, sends the plastic to recycling factories while the biodegradable waste is turned into manure and sold.
Born on 18 March 1976, in Munger in Bihar, Jai is the eldest amongst five sons. His childhood was spent studying in the local government school where the fee was nominal and all the five children happily enjoyed their carefree days.
"But as I completed my Class 10 board exams, I realised my farmer father will not be able to take care of my education as well as food and other expenses of such a large family," says Jai. "I decided to go out and work. My mother protested but I knew I had to add an extra source of income to the family."
He took the train from Munger to Delhi with a friend, Ravi. They knew a person from the same village who worked in Delhi's Connaught Place. Having no information about his workplace, it took them three days to find him working at Delhi's famous Cottage Emporium. They had no money and had barely eaten anything till then.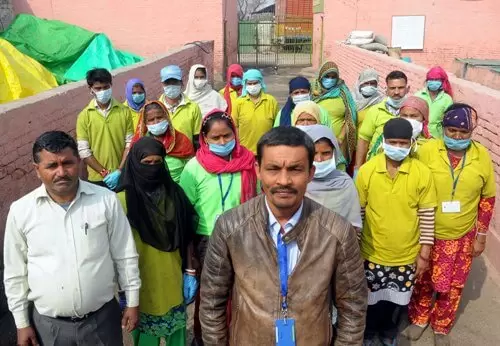 Jai employs around 70 people whose children are provided free education by Chintan, NGO

In Connaught Place, the duo got to know a vendor who applied mehendi on people, sitting right opposite the Hanuman Mandir. He offered them food and shelter. A fruit chaat seller in the same area offered Jai a helper's job for Rs 20 a day.
That's how Jai's Delhi journey began in 1994. He would work at the chaat stall from 9 a.m. to 9 p.m., then earn some extra money by helping in the construction work at the emporium for three or four hours after that. He hardly slept.
In three months, however, he lost hope and went back to his village because even after working very hard, he wasn't earning enough. "But I returned within a month with a renewed determination to make things work this time," says Jai. "I met the owner of a kabadi godown (scrap storehouse), in Raja Bazaar in Gole Market, through friends and started working for him."
During daytime he would collect scrap and at nights he worked as a watchman, earning a salary of Rs 3,000 a month. "There were days, during the rainy season, when water would drip through the roof and I would sit in one corner, huddled up all night..." he recalls.
He left the two jobs in six months to start his own work. Since he understood the nitty-gritties of scrap work, he decided to foray into it alone. There were various reasons for doing this.
He explains: "Firstly, I had no money and this work demanded no investment. Second, it did not need the permission of any authority. I could just start my work at once."
He bought a cycle from his meagre savings and started going door to door to collect scrap from houses. People wanted to declutter their homes and were happy earning some money on something they would eventually dump. The metal scrap earned him good returns when he sold them to the dealer.
His earnings soared to over Rs 150 per day. Soon he got together with four friends and they opened their own godown in Raja Bazaar.
"I started working with four partners, who would go out in different directions, collect the scrap and finally we sold it together," explains Jai. "This meant that we were growing bigger as a company, and so were the profits."
Life has not been a bed of roses for Jai though, and the smooth sailing business was affected by constant interference by the Delhi Municipal Corporation in 1996-97. The police also started troubling them around the same time. Both would want bribes to let them work peacefully.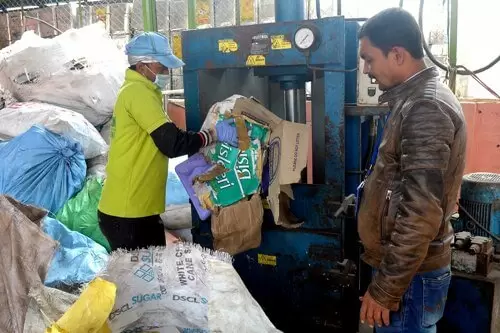 It is estimated that Jai's company has reduced 962133 metric tonnes of greenhouse emission through their recycling work

But things turned around after he came to know Bharti Chaturvedi, who runs an NGO by the name Chintan, in 1999, when she was doing a survey on koodawallas (garbage collectors). His guru, mentor, idol, everything rolled into one, he says Bharti changed his life.
"Unhone hamari disha aur dasha dono badal di (She changed my life's condition and also gave it a direction)," says Jai.
Chintan's survey emphasised the role played by these scrap and garbage collectors in helping the environment and decluttering the plastic off the face of Delhi.
In 1999, Chintan started workshops where the people in the trade were taught about their rights, how to earn more money and ways of dealing with the authorities who harassed them.
His big moment happened in 2009, when he registered his own company by the name of J.P. Engineering, where he was the sole proprietor.

With over 12,000 members in Delhi and Ghaziabad today, the impact it creates is tremendous. The local garbage collectors, godown owners, traders and recycling companies are all members of Safai Sena.
They bring the waste to the main godown of Jai's company in Bhopura, Ghaziabad, where around 70 employees segregate the waste and sell it to recycling companies. Al Mehtab is their authorised recycling company which recycles tonnes of plastic waste.
Jai's company and Chintan also work towards women's empowerment, as 40 per cent of their workforce is women. The children of the employees are provided free education by Chintan, and they ensure that the kids go for further studies in decent schools.
The Delhi Corporation dumps its waste at landfill sites which smell horrible. "These landfill sites can be totally avoided if we follow the zero waste policy," says Jai. "I have a workable plan where houses can manage their own waste by setting up compost pits at homes which can produce manure to be used for plants. The other waste can be sent to recycling plants."
J.P. produces 150 kg manure per tonne of waste, which is sold to offices and houses that might need them. They are dealing with only 20 per cent of Delhi's waste, but are already able to reduce 962133 metric tonnes of greenhouse emission.
This entire process fetches the company an income of Rs 11 lakh per month. "This money is used to pay the salaries, rent, and bills, and is not my profit alone," Jai clarifies,
His salary is Rs 40,000 and the company has been running on 'no profit no loss' basis so far.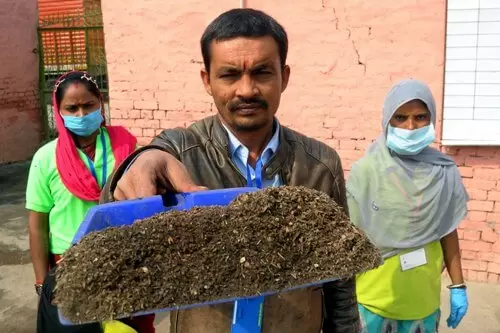 The compost made from the biodegradable waste is sold as manure in the market

Currently he and members of Chintan also undertake workshops in schools and Residents Welfare Associations (RWA) to promote the zero wastage way of living and to show how composting garbage at home is possible.
Jai is a visionary and is full of workable ideas for a plastic-free future. Living now in Kotla, near Mayur Vihar, he has big plans for his ancestral village where he wants to build schools and colleges and provide free education. His wife and two children, a daughter aged 11 and a son aged 9, are studying in good Delhi schools.
With a working day of 16-17 hours, his smile at the end of the day only shows how dedicated he is towards his mission of keeping the environment clean as well as getting his own finances in place.
Only one thing upsets him. "People don't respect us. They might appreciate our job, but nobody would like to contribute," says Jai. "I wish people would give us our due respect, because we do this work not just for the money but for the sake of the environment."
This article is part of the 'Inspiring Indians' series
More Inspiring Indians

Trending Now: