2,000 Weddings Later, the Man Who Never Tires in Getting His 'Daughters' Married
Deven Lad
&nbsp | &nbsp Surat
17-February-2018
Vol 9&nbsp|&nbspIssue 8
Surat-based businessman Mahesh Savani claims that he has 2,000 daughters. Well, in a way that's true. In fact the number keeps going up.
Mahesh arranges mass weddings of women who don't have parents or anyone to look after them. He has been in the news for arranging up to 300 weddings per year.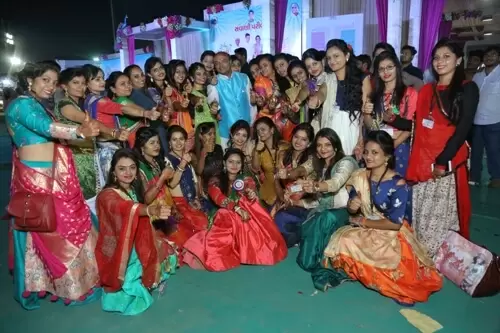 Mahesh Savani started organising mass weddings of girls who had no father since 2010 (Photo: Special Arrangement)

At his office in Surat he shares his incredible story, the ups and downs he has faced in life, and the life-changing incident that got him into philanthropy.
"In 2008, one of my distant relatives, Ishwarbhai, died before the wedding of his two daughters," explains Mahesh. "I did their kanyadan and spent around Rs 10 lakh for their wedding."
Mahesh then realised that there are many such daughters who will need a father like him – girls who don't have parents or cannot afford the expense of a wedding.
A former diamond merchant and now a realty king, Mahesh, 48, who has enough money coming in from his realty businesses under the P.P Savani Group, a private limited firm, started arranging mass weddings in 2010 for his own mental satisfaction.
Born in a well-to-do family in Saurashtra's Ranparada village, Mahesh can count himself lucky. His father Vallabhbhai came from a humble background, started off as a labourer and slowly built his diamond business, which Mahesh and his brothers expanded over the years.
"My father is the real man behind all that we have," admits Mahesh. "We are just carrying forward and adding numbers. His life story is very inspiring for me."
His father earned Rs 125 per month at a diamond manufacturing company, saved every penny and, in 1978, installed one machine and started a manufacturing unit of his own. He trained his family members and started his business which later became big. By 2004, its annual turnover was Rs 150 crore.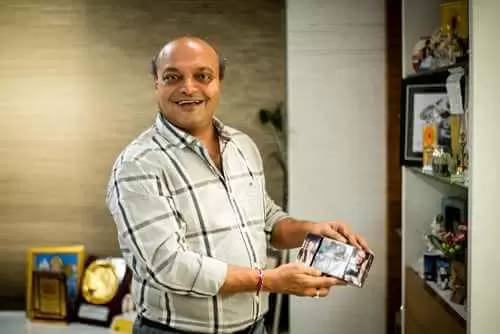 Giving away the girls in marriage from the position of a father gives Mahesh great joy and satisfaction (Photo: Manoej Paateel)

Mahesh studied at Sadhna Vidyalaya and then went to Bengaluru to attend Dayananda Sagar University for a diploma in civil engineering. "I was bad at studies but managed to get the diploma!" he laughs.
he joined his father's business. He used to sit with his father and learn all the business tricks and techniques.
"In 1990 I became part of the business. We started manufacturing more diamonds. My father used to produce 35,000 pieces per month but I started manufacturing three lakh pieces per month," says Mahesh. He expanded the business and started branches in Belgium, Hong Kong and Mumbai.
Business was in a high until 2003 when Mahesh got embroiled in a few cases against him over diamond import.
"Those four years, 2003-2007, were very frustrating. I was depressed and shifted to Mumbai in 2004, then for three years to Belgium," says Mahesh. "My family was supportive and that gave me courage."
Following his acquittal from the cases, he returned to Surat and shifted to the realty business. The business, started in 2008, became an instant success and till now he has made deals of thousands of crores.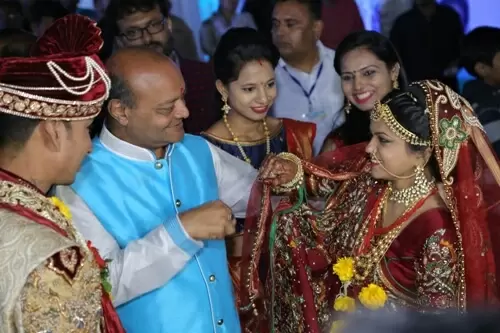 A happy 'daughter' entering wedlock in the presence of Mahesh (Photo: Special Arrangement)

"We do this business under P.P Savani Group and build housing, townships, schools, universities and hospitals in Maharashtra, Madhya Pradesh, Gujarat and Rajasthan," says Mahesh.
Today, Mahesh, along with his brothers Ramesh and Rajesh, has led P.P Savani Group to a turnover of around Rs 1000 crore. Mahesh's son Mitul has also joined the group after completing his MBA from London, and his second son Mohit is doing his MBA in New Zealand.
In 2010, Mahesh organised the first mass wedding. He asked around and circulated registry forms in hospitals for girls who don't have parents, or means to afford a wedding, and shortlisted the brides-to-be.
"Now there are thousands of forms and we have to choose," says Mahesh. "We make sure those without parents get on the list, then we give them a catalogue of make-up and clothes to choose from, and I pay for everything.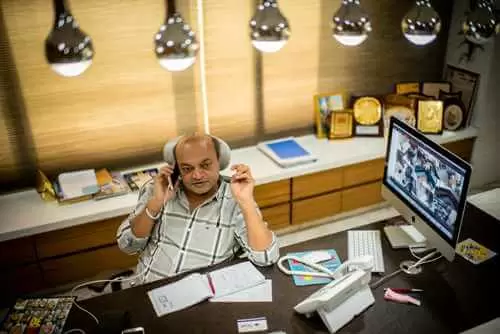 Mahesh's P.P Savani Group has an annual turnover of over Rs 1,000 crore (Photo: Manoej Paateel)

Each wedding costs Rs 4-5 lakh and every year around 250 couples from different religions and caste gather together in the P.P Savani school grounds in Surat, and in one day they all get married.
P.P. Group has arranged 3,000 weddings till now and they also sponsor the education of 3,300 students who have lost their fathers in 260 schools in Surat. He makes sure that they study till class 12 at least.
"This work gives me real pleasure," says Mahesh with a smile, whose journey from a diamond merchant to realty king to a philanthropist is truly inspiring.
This article is part of the 'Inspiring Indians' series
More Inspiring Indians
Wish to share your story?
Trending Now: