From a TWL social meet to companies like Vodofone, Danfoss, Auto Anna has flown a long distance

P C Vinoj Kumar
&nbsp | &nbsp Chennai
04-July-2016
Vol 7&nbsp|&nbspIssue 27
An auto driver from Chennai is now a much sought after speaker on 'building customer loyalty' in corporate circles.
Meet G Annadurai aka Auto Annadurai, a Class 12 dropout, whose passion for his profession and the desire to give the best amenities for his customers has brought him success in good measure.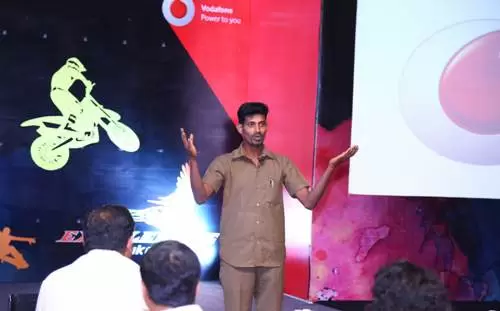 Auto Anna addressing employees of Vodofone in Hyderabad

Annadurai, 31, might well be Chennai's most loved auto driver. With nearly 10,000 followers on Facebook and more than 40 speeches at corporate offices and two TED talks to his credit, Anna is literally going places.
"I have addressed employees of Vodofone, Hyundai, Royal Enfield, Danfoss and Gamesa," says Annadurai, who has travelled – mostly by air - on speaking assignments to more than a dozen cities across the country, including Bengaluru, Delhi, Hyderabad, Mumbai, Pune and Gurgaon in the last couple of years.
Incidentally, his first speech was at The Weekend Leader's Friends of Positive Journalism (FPJ) members' social in 2013. His speech went viral on You Tube and people from around the world had called and congratulated him on the amenities he offered in his auto.
Annadurai drives a 'share auto' which can carry five to six people on Old Mahabilpuram Road (OMR), where most of the IT companies are located.
His auto is wifi enabled and equipped with a TV set, laptop, tablet and Ipad – the latter three devices being available for customers who like to do some browsing as they travel.
He plays the day's important news clips on the TV set, which he normally records during the lunch break at home.
He also keeps a stock of popular film songs from major Indian languages and plays them for customers from other states who like to hear songs in their native tongue.

Anna's auto offers a plethora of options to keep his customers engaged during their ride in his auto (Photos: H K Rajashekar)

"Whenever I am outside Tamil Nadu, I experience a feeling of total bliss when I hear a Tamil song being played somewhere. I wanted people from other states who travel by my auto to experience the same feeling," he explains.
For those who wish to catch up on the news or do some light reading, there is a collection of eight dailies and the latest issues of not less than 35 magazines that are stacked neatly inside the auto.
Last year he installed a swiping machine too so that customers need not worry about carrying change while travelling in his auto.
Plying on a 20 km stretch on OMR from TIDEL Park to Siruseri, he charges flat rates of Rs 10, 15, 20 and 25 for various distances.
Annadurai used to encounter problems in giving change to customers. "When I didn't have change, I used to tell customers that they could pay me the next time they ride. Many felt guilty that they owed me a debt. So to resolve this issue, I approached a bank for a swiping machine.
"Now customers can pay the fare through their debit or credit cards. Initially some customers hesitated to use their cards for such small amounts. I encouraged everyone to use their cards for all their financial transactions as it would help in eliminating the black money menace," he says.
While even major shops discourage shoppers from using their credit/ debit cards as they would have to pay a commission of 1 or 2 per cent on the bill amount to the bank, Annadurai says he feels proud of contributing a share of his earnings to the banks.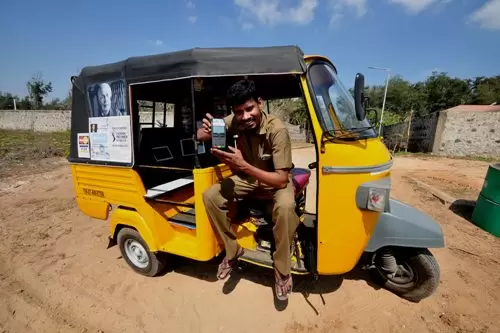 Anna introduced the swiping machine so that customers don't need to worry about looking for change to pay him

Annadurai also offers free or discounted rides on special days. Teachers are offered free rides daily, lovers on Valentine's Day, and women travelling with their children on Mother's Day.
On September 15, the birth anniversary of Dravida Munnetra Kazhagam (DMK) founder C N Annadurai, with whom Anna shares his birthday and after whom he was named, he offers a 50 per cent discount on all fares and a chocolate for every customer.
"I always look for ways to make my customers happy," says Annadurai, who earns around Rs 45,000 every month and spends from it about Rs 9,000 on the various amenities he provides for his customers.
He invested Rs 80,000 on the Apple IPad Pro he purchased in January.
"I have been invited to speak at IIFL (India Infoline Finance Ltd) in Noida and at Cummins India in Pune this month," says Anna, who has been delaying his marriage because he is not sure if his future life partner would let him continue with his present lifestyle.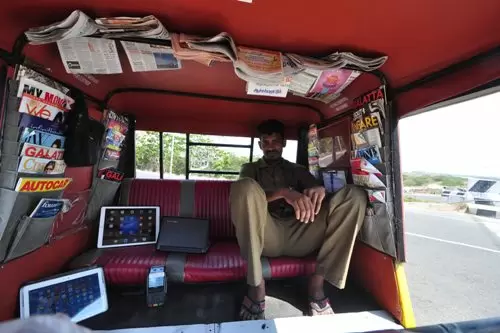 Anna's customers will soon have the option of booking a ride through an app

"My parents are putting pressure on me to marry. I know that's the only thing they are looking forward to in their lifetime," he says.
For the moment, he is preparing for the launch of an app that would enable customers to track the movement of his auto, check seat availability, and book a ride.

This Article is part of the 'Unsung Heroes of Tamil Nadu' series


More Unsung Heroes

Trending Now: