A small time actor expends his meagre income for the benefit of patients and attendants
P C Vinoj Kumar
&nbsp | &nbsp Coimbatore
02-February-2016
Vol 7&nbsp|&nbspIssue 5
The media often reports about the sorry state of affairs in government hospitals – lack of medicines, shortage of doctors, stinking toilets, insufficient beds, corrupt staff, and the overall unhygienic surroundings there.

But a good Samaritan is focusing his attention on the plight of the attendants of patients at the Government General Hospital in Coimbatore and doing his best to feed as many hungry mouths as possible.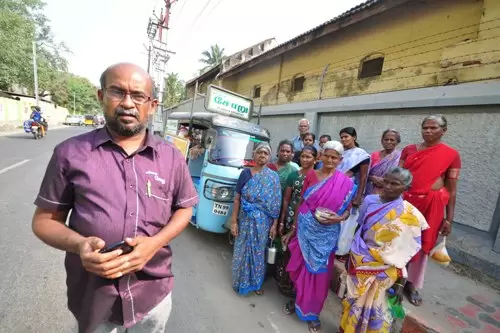 Raja Sethu Murali has been providing food for the poor patients and their attendants at the Government General Hospital in Coimbatore for last 15 years (Photos: H K Rajashekar)

For more than 15 years, Raja Sethu Murali, 44, a small-time film and television artiste, has been offering food and occasionally clothes to the poor patients and their attendants at the hospital.

While in-patients are provided food at government hospitals, the attendants, who are usually close relatives of the patient, are left to fend for themselves.

Hailing from poor families, their life goes for a toss when they stay in the hospital for prolonged periods.

They shell out at least Rs 150 daily on food, which becomes unaffordable as days go by. Soon, a stage comes when they start skipping the meals to cut down on the expenses.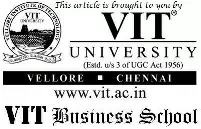 Raja's heart melted when he learned about their problems back in 2000. That was when he started feeding people at the hospital. However, it was a sporadic effort then and not as organised as it is now.

"Patients come from distant places. Their attendants stay with them for weeks or months together, leaving their jobs.

"Just imagine what they would do without their earnings. Their family back home also suffers because of their absence," says Raja, who now visits the hospital four or five days a week, providing food for such people.

Raja is not a rich man, but he has a big heart. He grew up in poverty and says he understands the pain of hunger.

"My father was an alcoholic. Mother worked as a coolie and brought us up. We were five children and life was always a struggle. We never celebrated festivals, nor did we have good food at home. I know what hunger is," says Raja.

He dropped out of school after class nine and took up painting jobs for about five years. Later, he joined a street theatre troupe that created awareness campaigns for government schemes.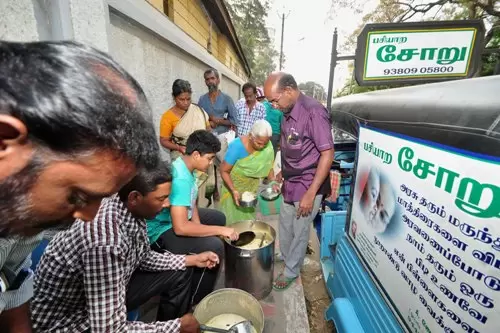 Many women at the hospital eagerly look forward to the food provided by Raja

He honed his acting skills and longed for a break in the movies. In recent years, he has appeared in small roles in couple of Tamil films and got a chance in a serial on a private television channel.

"I get work for about ten days in a month," says Raja, who is paid about Rs.2000 to Rs.3500 per day depending upon the film's or serial's budget.

With a meagre income you may wonder how he sponsors food on a regular basis for hundreds of people.

Raja has successfully involved various sections of society in his project.

He has informed wedding halls and spread the word among the public that they can contact him and give him the excess food during functions for distribution to needy persons.

"It is our custom to always cook extra food at any feast, because families want to avoid a situation when they would run out of food for their guests.

"That's why plenty of food is wasted at weddings and family functions. This food is generally thrown away. I have created awareness that people could offer the extra food to us and we would distribute it to those in need."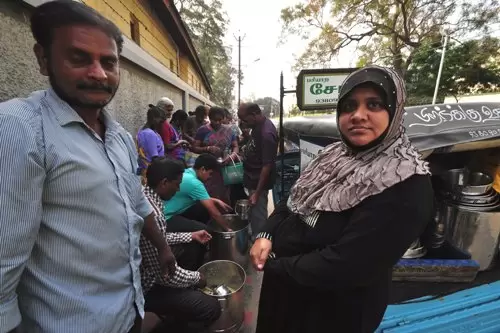 Shehanaz Syed, the wife of a local businessman, has become a regular contributor to Raja's initiative

With more people coming to know about his initiative, there are now requests to directly contribute for the cause.

So, on this particular morning that we are with Raja, Shehanaz Syed, the wife of a local businessman, is donating the morning breakfast for about 100 people.

It is 8.30 am and Raja has just arrived on his auto, which he had received as a gift a couple of years ago from a well-wisher who wanted to support his work.

Inside the auto are containers holding idlies, sambar and chutney. He has parked the auto near the back gate of the hospital by the side of the main road.

On the roof of the auto is displayed on a board in Tamil 'Pasiaara Soru' - Filling Meals for The Hungry - the name Raja has given his project.
Soon, there is a steady trickle of people coming from the hospital. They stand in a queue near the auto, holding tiffin carriers in hand, patiently waiting for their turn to receive their share of food.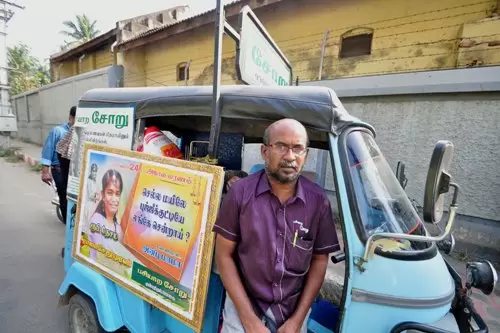 Raja plans to register his organisation and feed more hungry people in hospitals

Almost everyone has his or her relative in the hospital, and each has kind words to say about their benefactor.

Nachimuthu comes from a village about 125 km from Coimbatore and works as a car driver. His mother fell down and broke her leg. He admitted her in the hospital a fortnight ago, and has been staying with her ever since.

He has just packed some food for him and his mother.

"I earn Rs.350 daily, but for last two weeks I lost my income. Buying food is quite expensive. The free food is so helpful," he says, with a wry smile on his face.

Raja, who is single, plans to formally start a registered organisation and expand his service to feed the hungry people in government hospitals.

This Article is part of the 'Unsung Heroes of Tamil Nadu' series

More Unsung Heroes
Wish to share your story?
Trending Now: