A rehabilitation centre to liberate those with addiction problems from their shackles

P C Vinoj Kumar
&nbsp | &nbsp Chennai
29-June-2015
Vol 6&nbsp|&nbspIssue 26
A simple and short prayer to an unnamed God kicks off the counselling session at CONCERN, a rehabilitation centre in Chennai for persons addicted to alcohol and drugs - "God grant us the serenity to accept the things we cannot change, the courage to change the things we can, and the wisdom to know the difference."

Most inmates at CONCERN seem to know this prayer by-heart.
Bhanu Suresh Babu's work in de-addiction was born out of her desire to change the lives of alcoholics and drug addicts (Photos: H K Rajashekar)
It could well be the motto of the NGO that was founded in 2008 by a woman who had borne the brunt of her husband's alcoholism for about seven years before he eventually turned sober in 1994 following treatment at TTK de-addiction centre in Chennai.

Bhanu Suresh Babu, the founder of CONCERN, believes her work is a divine calling and says it is divine grace that 50 per cent of the 700-plus persons treated at their centre are free from alcohol and drug addiction.

To an attentive group of eight persons that includes a woman - all inmates at the 10-bedded residential treatment centre of CONCERN at Valasarawakkam - Bhanu defines the problem of addiction in crystal clear terms.

She notes that an addict would not admit that he has a problem. He or she would deny the problem or try to play down its gravity. "They would shift the blame on others or try to justify their addiction," asserts Bhanu, who has done her post-graduation and MPhil in psychology.

For some in the group it is not their first visit to the centre. They have been here before and have undergone treatment. They had remained sober for few months, before hitting the bottle again, or returning to drugs.

Rajesh (name changed), a senior IT professional, who has got himself readmitted at the centre after a relapse of drug and alcohol addiction, says that he preferred CONCERN to other centres because he likes the care they give here.

A woman who was an alcoholic for 32 years was able to quit the habit following the treatment at CONCERN last December. She decided to stay back at the centre and does odd jobs in the office now.

"I want to help in the work of CONCERN for the rest of my life," she says.

Raghu (name changed) has not touched a drop of liquor since the last two and a half years. A collection agent with a bank, he has dropped by to spend some time at the centre.

"I spend my free time with people like me - with those in the de-addiction centre, whom I encourage, or with those who have turned sober post-treatment. I know that I run the risk of turning back to alcohol any time.

"It is important for us to keep in touch with rehabilitated alcoholics. I also attend Alcoholics Anonymous (AA) meetings," he says. AA is a forum of former alcoholics who meet up regularly and support each other to maintain their sobriety.

The residential de-addiction programme at CONCERN lasts for 15 days and costs Rs. 9500. Inmates are provided food, bed, psychological counselling and medical care.

CONCERN has license for 15 beds, but has kept only 10 beds. "We like to give as much personal attention as possible. So we are keeping the numbers low at the centre," says Bhanu, whose involvement in the de-addiction programme is her way of giving back to society.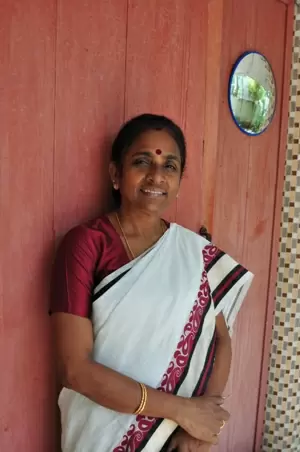 Bhanu holds a MPhil in psychology and has been trained in de-addiction counselling
Bhanu, 53, married early after she dropped out of college while doing second year BA History at Meenakshi College in Chennai.

Both her father - a well-known choreographer in Tamil film industry – and her husband were alcoholics and she had suffered a lot because of them.

"I know how the problems of addiction could affect a family. As a young mother I suffered due to my husband's alcohol addiction. He became a heavy drinker since the time my son was born in 1987 (two years after their marriage).

"He started drinking non-stop and stopped going for work. At one stage the bank - where he is still employed at a very senior position - was ready to throw him out of the job," she says.

The young wife pleaded with the bank authorities to give him a chance. "It was also for a selfish reason, because I wanted to get his job if something happened to him," she confesses.

However, thanks to the support from her in-laws, who took care of her needs, she was able to handle the situation without losing her mind. In 1991, they admitted her husband at TTK de-addiction centre at Indra Nagar.

After a struggle of nearly three years during which period her husband underwent multiple relapses, he finally became clean in 1994.

"He has been sober for last 19 years," she says. Her husband is now the backbone of CONCERN and he wholeheartedly supports her work of rehabilitating alcoholics and drug addicts.

Bhanu is a trained counsellor. At age 35 she embarked on a learning spree and did her BA, MA, and MPhil in psychology through correspondence from Annamalai University. In 2005 she completed her MPhil.

Around the same period (1999-2005) she also worked as a community worker at TTK de-addiction centre. Her work involved creating awareness on alcoholism in communities and rehabilitation of alcoholics. She also did a certificate course on de-addiction counselling at TTK.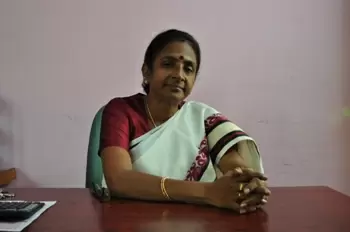 Bhanu's life revolves around those treated at CONCERN
Between 2005 and 2008 she worked as a senior counsellor in an NGO, Freedom Foundation, among HIV+ drug users.

In 2008 she started CONCERN. Her husband, one of CONCERN's three trustees, was very supportive. He roped in a friend, K Subramani, a former alcoholic who had just lost his job in a factory, to be part of their initiative.

Subramani is one of the counsellors at CONCERN and also assists in administering their office, where about ten persons are employed now. A medical officer and a psychiatrist visit the centre daily to provide treatment for the inmates.

For Bhanu, life revolves around the people who are treated at CONCERN. "I am like a goods train pulling along the 700- plus people who have been treated at CONCERN. Even if one of them derails, we try to put them back on track. I want to help each of them lead normal lives," she says.

CONCERN functions out of rented premises. Bhanu says she has no profit motive in operating the centre. She says she shells out few tens of thousands of rupees of her own money every now and then whenever there is shortage of funds to run the organisation.

"My son is settled as an architect. My husband is earning well. For me this is a service that I want to do for the rest of my life," she concludes.

This Article is part of the 'Unsung Heroes of Tamil Nadu' series

Other Articles in the Series
Caring by habit: Sridevi Ramesh

Dreamers' dream: R Sravanan

Trending Now: