Pune Trio Creates New Record with 21,000 km 'Long Drive' Across India's Boundary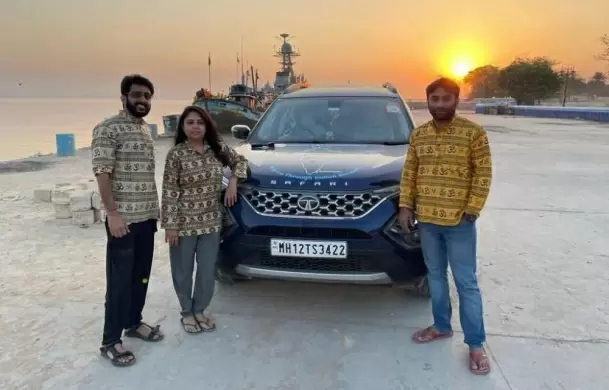 Creating a new record, a Pune couple and their friend - all software engineers-cum-adventure lovers - went on a 'long drive' in an SUV, covering a whopping 21,000 km in 70 days across the entire boundary of India, from east to west, north to south.

They are -- Jaykumar Anadkat, his wife Pooja Padiya-Anadkat, both from Gujarat, and their friend Sonesh Mehra from Rajasthan, who are the co-founders of the adventure club, 'PlacesAroundPune'.

"We have done many activities like hiking, trekking, cycling, mountaineering, scuba-diving etc., but this time we wanted to do something unique and fulfilling. So we charted out this trip -- "#MapMyCountry" -- in our Tata Safari SUV, and we hope to make it to the record books," said Jaykumar, after the trio returned home late on Monday.


The trio, all aged 35, embarked on their journey on February 27 from Magarpatta and returned to the same location on May 8, zooming through 26 states, several Union Territories, 52 major cities and over 250 important travel destinations along the boundary and borders of India.
"We went around the country's periphery, all the border states and drew the India map through the car route, starting in a clockwise direction from Maharashtra," said Mehra.
From Maharashtra, they went to Gujarat (Dwarka and Koteshwar temples in the extreme western parts of India), Rajasthan, Punjab, Haryana, Jammu & Kashmir, Ladakh, Himachal, Uttarakhand, Uttar Pradesh, Bihar, West Bengal, the Northeastern states like Kaho in Arunachal Pradesh, the first village of India in the east, and Danushkodi Rameshwar and Kanyakumari as the southernmost tip.
"We touched six international borders -- Pakistan, China, Nepal, Bhutan, Bangladesh and Myanmar. We learnt a lot about the different people of India, their cultures and lifestyles, the weather systems, the abundant beauty of different parts of the country. It was a very enriching drive indeed," said Pooja.
The ultra-long drive took them from 45-degree Celsius in Rajasthan deserts to the -5-degree Celsius in snowy Kashmir, braving hailstorms in Himachal Pradesh and Nagaland, torrential rains in Assam, and the humid weather in the southern states. Though they carried suitable clothes, many a times they had to hunt for more locally in order to survive.
The trio recalls speeding through some of the wildest and densest forests akin to a jungle safari, off-roading, dusty dry desert sands, boat-rides in mangrove forests, traversing snowy mountains roads, or gingerly driving through bamboo bridges, over deep valleys and turbulent rivers in different parts of India, soaking in the first sunrise in the east and the colourful sunsets in the west and southern beaches.
They also joined some tribal and traditional cultural festivals, wearing local costumes, singing, dancing or prancing to their tunes, and gulping cuisines ranging from the weirdest to delicacies, cooking for themselves on roadside fires, or just gobbling some fruits when nothing was available or dhabas were shut.
There are literally miles of many memories, including some a bit spooky, that the trio returned with -- like one excited gentleman from Punjab, Ripu Daman, who contacted them through Facebook and happily hosted them with his family for a night.
In Nagaland, they met a 95-year-old member of a tribe of erstwhile 'headhunters', who still proudly wears a garland with a few heads on it that he claimed to have acquired many decades ago!
Today, Jaykumar, Pooja and Sonesh are extremely thrilled on completing their 'long drive' without any untoward incident, something they will cherish for long. - IANS