Ours is the story of the Chinese bamboo tree
Following is the Full Text of the Speech of P C Vinoj Kumar, Editor, The Weekend Leader on the occasion of the launch of The Lead Star, annual print magazine.

I would like to begin my speech by telling you the story of the Chinese bamboo tree. The Chinese bamboo is a unique species whose seed does not sprout like other seeds, in a matter of few days or weeks. This particular seed takes a longer time to germinate.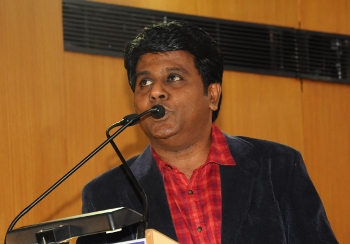 The editor spoke about the vision and growth of The Weekend Leader (Photo: Media Ramu)
Farmers dig holes in the ground, and plant its seed in rows and mark all the spots where they plant the seed. It is important to do so because they need to water the spot, fertilize it and tend the soil, without seeing any sign of growth for days, weeks and years.
All they have is their hope and belief that their labour will bear fruit one day. Their faith is vindicated when in the fifth year something amazing happens.

The seed that showed no sign of growth, suddenly sprouts, and begins to grow with a vengeance. It grows to nearly four feet a day sometimes and touches a height of 90 feet in just 6 weeks.


So, what was the plant doing all these five years when there was no sign of outward growth? It was spreading out its roots far and wide and building a strong root system, preparing itself for the phenomenal growth it would have in its fifth year.
Friends, The Weekend Leader online magazine was started in 2010. All these years we were tucked away in cyber space, restricted to the virtual world, and doing our work with sincerity, focusing on positive stories and putting the spotlight on change makers, achievers and innovators.
Seeing our work, many people joined hands, helping us to fulfil our vision. One of the first institutions to come on board was VIT. Your Vice President Mr. Selvam has been a great support. We have been working together since 2012, when we organized the first Person of the Year function at VIT Chennai.
Friends this is our fifth year, the year of the Chinese bamboo, the year of growth, the year of fulfilment of our dreams. Today we are no longer restricted to cyber space. We are in the real world in the form of a print magazine, The Lead Star.
Credit for this goes to every supporter who believed in our vision and continued to nurture us, pouring water, and sustaining us. I believe, for us, this is the year of growth.
We would like to present the real life heroes like Thinlas Chorol, about whom we write in our website, to more number of younger people this year. We hope to reach out to more colleges and schools, to inspire the students to live the right life and to tell them that good people too can be successful in life.

At this juncture I need to tell you something good about our Chief Guest (K Vijay Kumar, IPS, Retd., Senior Security Adviser, Union Ministry of Home Affairs). In the police department there are two kinds of officers, the ones who treat their subordinates humanely and the others who treat them like bullshit.

Mr. Vijaykumar belongs to the former category. He treats his subordinates kindly and respectfully. He is a team leader and he can inspire his men.

I remember the first time I met him as a cub reporter, in the early 1990s, when he was heading Special Security Group, a commando unit for protection of the Chief Minister in the mid 1990s.

I had little experience as a reporter. I had produced a few programs in All India Radio in sports. I met Mr. Vijay Kumar carrying a big tape recorder, the one I used to take with me for recording the interviews for my radio programs.

I had a lengthy interview with him. He answered my questions very patiently, offered me coffee and introduced me to all the senior officers with him. I finished the interview but I was not done yet.

I went back to him second and third time due to my inexperience. I didn't stop with it but called him over phone for more clarifications! He never lost his cool even once and I was able to complete my story. I think he is a good human being and so at age 62 he looks dapper, much younger than his age.

I would like to conclude my speech by appealing to the youth, think good, act good, and you can still be a successful person.