In ice bucket challenge era, he's like a whiff of fresh air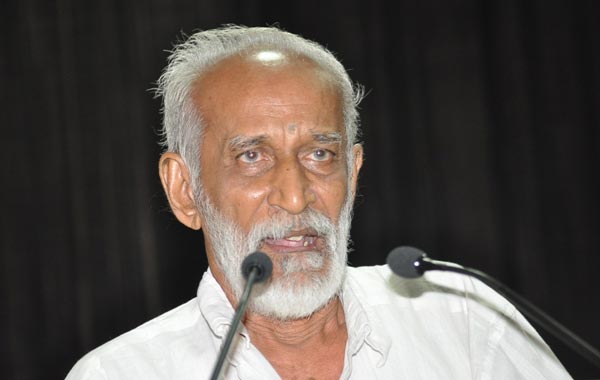 In an era when people trumpet their small acts of charity on social media, and perform weird acts like 'ice bucket challenge' and claim to have done their bit for a social cause, 74-year-old P Kalyanasundaram is like a whiff of fresh air.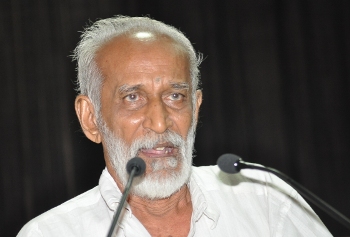 Kalyanasundaram, a retired librarian, had donated his entire career earnings for charity (Photos: Media Ramu)
Kalyanasundaram, a retired librarian who donated for social causes his entire career earnings of about Rs.30 lakh and the Rs.30 crore cash prize he had received from an American organization that named him 'Man of the Millennium', wowed students of VIT Business School, Vellore, with his unassuming and down-to-earth attitude.

"I had the money with me, so I was able to give it for charity. What's great about it?" he replied nonchalantly when an activist-friend coaxed him to talk about his 'Rs.30 crore donation.'

Addressing the VIT Business School students recently, Kalyanasundaram, chosen as one of The Weekend Leader's unsung heroes of Tamil Nadu, recalled how his mother inculcated in him the habit of giving right from his childhood days.

"My mother trained both me and my brother to share one tenth of anything we received with others. Whenever we violated the rule, we were punished," said the septuagenarian, who chose not to marry and worked as a waiter in a hotel to support himself while donating the salary he received from his job as a college librarian to the local district collector to be given for the needy.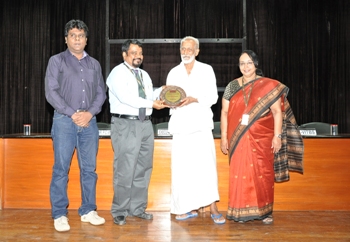 Prof M J Xavier handing over the trophy to Kalyanasundaram as P C Vinoj Kumar and Prof Kalyani Rangarajan look on
"Had I married I may not have been able to accomplish all I had done," he admitted, replying to a question from a student.

Kalyanasundaram mentioned about a government servant in Tamil Nadu who had donated his retirement benefit of Rs.10 lakh for charity and said the latter deserved more credit than him because he was a married man and had a family of his own.

Prof M J Xaveir, Executive Director, VIT, presented The Weekend Leader Unsung Hero of Tamil Nadu trophy to the veteran social worker.

Xavier pointed out that though Kalyanasundaram had not married despite having kalyanam (which means 'wedding' in Tamil) in his name, he was wedded to his social service.

Prof Kalyani Rangarajan, Dean, VIT Business School, welcomed the guests and P C Vinoj Kumar, Editor, The Weekend Leader, introduced Kalyanasundaram to the audience. – TWL Bureau