TWL-VIT hero to contest LS polls with 1 Vote 1 Rupee slogan
The Weekend Leader – VIT Chennai Person of the Year (2013) Award was presented to Balasaheb Darade, an associate of anti-corruption crusader Anna Hazare and a change agent from Maharashtra, at a function held at VIT Chennai on Tuesday.

VIT Chancellor G Viswanathan and The Weekend Leader's Consulting Editor Sam Rajappa presented the trophy to Balasaheb (29), who announced his decision to contest the Buldana Lok Sabha Seat in Maharashtra as an independent candidate with the support of his mentor, Anna Hazare.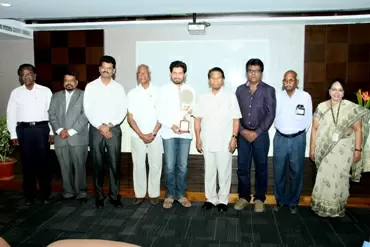 Hero's Moment: (from left to right) U Karunanithi, M J Xavier, G V Selvam, Sam Rajappa, Balasaheb Darade, G Viswanathan, P C Vinoj Kumar, Anand A Samuel, Kalyani Rangarajan (Photos by Media Ramu)
Balasaheb said he would fight the elections with donations from the people. His slogan would be 'one vote (and) one rupee'.

A total of 15 members from his team would contest the upcoming Lok Sabha polls from Maharashtra, he said.

Inspired by Anna Hazare and former President Abdul Kalam, Balasaheb gave up a lucrative career in the US and returned to India to work for the development of villages in Maharashtra.

He has motivated rural youth to work for change in the society. About twenty of the youth he had trained have got elected as sarpanchs. A woman leader among them has a good chance of getting elected as an MLA in the next assembly election, he said.

Balasaheb, who joined Anna Hazare's movement when he was in the US, decided to enter politics even before Arvind Kejriwal, another member of the movement, started his Aam Aadmi Party.

He contested the Buldana District Council polls last year as an independent candidate, convinced that good people should enter politics to bring about the change they want to see in the country.
He won the election defeating opponents from mainstream political parties and secured more than 50 percent of the votes polled.
In his speech, VIT Chancellor G Viswanathan observed that poll expenses have increased over the years. He recalled that when he fought his first Lok Sabha election as a DMK member in 1967, he spent about Rs.50,000.

"The party gave me Rs.4,000 and I spent another Rs.45,000. I spent about Rs. 1 lakh in the next elections in 1971. Today the expenditure limit is Rs.40 lakh for a parliamentary constituency and Rs.16 lakhs for an assembly constituency," he said.

Viswanathan added that rarely do candidates confine their expenditure within the ceiling, though none would state the truth for fear of disqualification. "If everyone declares the truth, all will be disqualified. There will be no Parliament, no government," he said.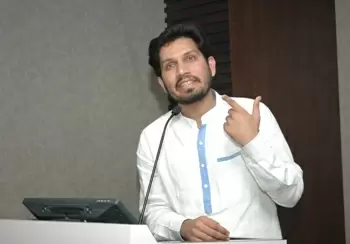 Balasaheb has emerged as a role model for the youth
Lauding Balasaheb's decision to leave the US and return to India for serving in the villages, VIT Chennai, Vice President, G V Selvam emphasized the importance of individual social responsibility "Not everyone can join politics, but each one of us should fulfill our social responsibilities," he said.

Senior journalist and The Weekend Leader's Consulting Editor Sam Rajappa said the unsung heroes honored by The Weekend Leader are being subsequently recognized by the other media.

"Payir Senthil, chosen by TWL as one of the unsung heroes of Tamil Nadu, and Erode Venkatraman, the 2011 person of the year, went on to win Amazing Indian awards (of Times Now)," he said.

VIT Chennai Pro Vice Chancellor, Dr. Anand A Samuel, VIT Business School Executive Director M J Xavier, and VIT Business School, Chennai, Dean, Kalyani Rangarajan also spoke at the function.

The Weekend Leader's Director, Outreach, U Karunanithi said the candle lit by this portal is focusing on positive news and bringing hope to the people.

The Weekend Leader Editor P C Vinoj Kumar said VIT and TWL would collaborate further to put the spotlight on unsung heroes and present them as role models to the young Indians.

Balasaheb was presented with a cash award of Rs.10,000 and a citation, along with the trophy. - TWL Bureau