Positive journalism need of the hour, say speakers at FPJ Meet
The FPJ (Friends of Positive Journalism) Meet at Coimbatore on Saturday turned out into an occasion for speakers to felicitate The Weekend Leader for highlighting the positive news that are not given importance in the mainstream media.

The Weekend Leader projected "the good work" of people in the community, Madan A Sendhil, Chairman, Rathinam Group, said speaking at the FPJ Coimbatore Meet held at EDC Seminar Hall, Rathinam College.
FPJ Coimbatore Meet: Sitting (L to R) TC Mini, P Saravanaraja, Madhan A Sendhil, PC Vinoj Kumar, AC Prabhu (Photos: Harikaran K)
Encouraging students from the department of visual communication to become regular readers of The Weekend Leader, he urged them to follow the website closely and contribute articles to it.

His announcement that the management would sponsor the subscription fee for ten candidates from the college to the FPJ forum was received with a round of applause.

Madan is also a committee member in the FPJ forum.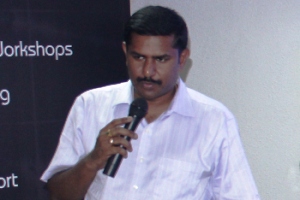 Madan urged the students to follow TWL
In his address, FPJ's Chairman, P Saravanaraja, said the present generation of students growing up in an atmosphere of crime and hate in society should make it a point to get their dosage of positivity from The Weekend Leader.

"We grew up in a time when they made movies like the one which had a scene where MGR confesses to Buddha that he is about to tell a lie. That one scene conveys the message that it is not correct to lie. Today society no more appreciates such values," he said.

A C Prabhu, head, department of visual communications, said the media had a tendency to pick on negative stories and ignore positives ones.

"Suppose I provide news about a conference and then about an actress, the media would be interested only in the latter," he said, adding that The Weekend Leader was different from the others.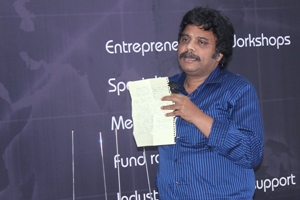 Saravanaraja rued the loss of values in society
The Weekend Leader's Editor, P C Vinoj Kumar, said the way the media was portraying the child rape incidents in the country it seemed we were a nation of child rapists.

Earlier, Rathinam College Principal T C Mini welcomed the gathering and introduced the guests.

– TWL Bureau
Also Read

Friends join forces to take The Weekend Leader to wider audience