Friends join forces to take The Weekend Leader to wider audience
10-April-2013
Vol 4&nbsp|&nbspIssue 14
Two years after its formation, The Weekend Leader's Friends of Positive Journalism Forum is geared for an exciting period of growth and action.

A team of office bearers are taking charge of the forum to build it into a vibrant movement that would support and complement The Weekend Leader's journalistic work.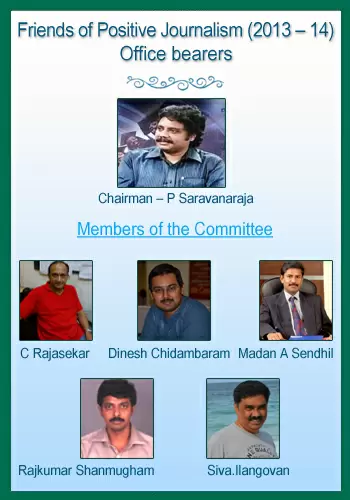 Heading the team is P Saravanaraja, a Chennai based businessman, who has been a longtime reader and supporter.

The 44-year-old Managing Director of 5Elements Entertainment Pvt. Ltd, a special effects and animation company with global clients, is of the firm belief that The Weekend Leader has the potential to emerge as a powerful voice in the Indian media.

His first priority towards this end, he says, is to strengthen the friends of positive journalism (FPJ) forum and add more likeminded people to the network.

The forum, under his chairmanship, has plans to arrange periodical interactions with change agents for members and take up social activities.

Saravanaraja is already associated with a social initiative called 'Valamaanathamizhagam' (Prosperous Tamil Nadu) that aims to uplift people from below poverty line, strengthen secularism, and develop industry and infrastructure in the State.

One of the primary aims of the initiative is to provide guidance to the youth. To pursue this objective, they have launched a program called 'Mentoring Tamil Nadu' with the support of some professionals who have volunteered to mentor youth from rural and economically backward families.

Making common cause with Saravanaraja in developing the FPJ Forum and taking The Weekend Leader to a wider audience are five other friends: C Rajasekar, Dinesh Chidambaram, Madan A Sendhil, Rajkumar Shanmugham and Siva. Ilangovan.

The common thread binding them all is their admiration for The Weekend Leader's positive journalism, its commitment to report positive news and write about the unsung heroes of India.

Another common factor could be their social consciousness. Rajasekar, a businessman and Executive Director, Dhayam Education Pvt. Ltd, also happens to be one of the founding members of 'Mentoring Tamil Nadu.'

Dinesh is co-owner of Dsignz Media, a web design and development company. At Syntel, where he worked as Project Manager till recently, Dinesh raised funds from friends and co-workers and distributed about Rs.1.5 lakh worth of materials including stationeries, and household items to about 700 children at a rural school in Salem district.

Madan is Chairman, Rathinam Group, Coimbatore, and has won quite a few entrepreneur awards. He was part of the Prime Ministerial Industry delegation to Japan in 2008 and received the 'Man of Humanities Award' from Academy of Universal Global Peace in 2012.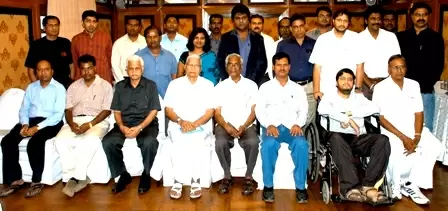 Participants at the FPJ Meet in 2011

He is founder and managing head of Rathinam Technical Campus (an engineering college under Anna University and AICTE), Rathinam International Public School, Rathinam College of Arts and Science, and Rathinam Institute of Management. He is also Founder and MD of Trioz Technologies India Pvt. Ltd, and Rathinam Technopark.

Rajkumar Shanmugham is Proprietor, Tech Pumps - dealers of water pressure pumps - in Chennai. He has a beautiful farm on the outskirts of Chennai, where he supports a local government school, but insists it is nothing to write about.

Siva. Ilangovan is Proprietor, Intech Engineering Services in Chennai, a company that deals with thermal insulation air conditioning systems. A member of the Indian Society for Heating Refrigeration and Air-Conditioning Engineers, he renders service at village schools.

The FPJ office bearers will be installed at a function in Chennai on April 20. Further details will be posted on our website soon.

P C Vinoj Kumar is Editor, The Weekend Leader
Email: [email protected]

Also Read

Speakers at FPJ Meet hail TWL's positive journalism


Wish to share your story?
Trending Now: