Membership for Association of Parents of Disappeared Persons is increasing by the day
Humra Quraishi
&nbsp | &nbsp Srinagar
30-December-2011
Vol 2&nbsp|&nbspIssue 52
What is striking about the Association of Parents of Disappeared Persons (APDP), a movement of parents in Jammu and Kashmir (J&K) who have been over the last one and a half decades in desperate search of their missing sons – all of them believed to be victims of excesses perpetrated by the security forces in the state – is that it has been completely non-violent.
It all began in 1996, when a small group of parents, all of whom had undergone the trauma of having their children taken away from them and not seeing them since, came together to form the APDP.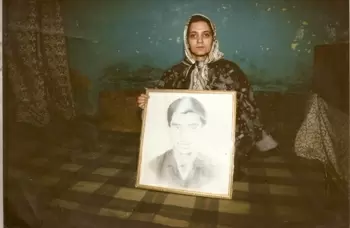 Parveena Ahangar, the woman who started the Association of Parents of Disappeared Persons, is still waiting for her son, Javed, to come back home, 21 years after he disappeared. (Photos: WFS)
The woman who co-founded the organisation, and who now heads it, is Srinagar-based Parveena Ahangar, who is still waiting for her son, Javed, to come back home, 21 years after he disappeared.
In many ways, Ahangar's story symbolises the experiences and trauma of each one of APDP's members. Today, she can still recall that moment of loss as if it was yesterday, "My teenaged son, Javed, was picked by the security agencies in 1990. Security men came to our Batmaloo home to pick him up, saying they were taking him for interrogation.
"We pleaded with them saying he couldn't have done anything wrong, that he had just passed his matriculation. But they didn't listen and took him to the interrogation centre at Pari Mahal. We never saw him again."
That incident shattered the life of the entire family. Ahangar's husband fell ill because of the trauma, and gave up working. He remains in poor health to this day. The other three children in the family were too young to realise the implications of their brother's disappearance at that point, but the sorrow of their parents and the financial privations of the family have affected them too.
"I can't describe how each day passes. I keep taking medicines every single day to control my tension. At night, I'm awake. I just can't sleep," reveals Ahangar.
This, of course, is not Ahangar's story alone. There are several mothers in the Valley who talk about how they had sold off their lands, homes, jewellery, exhausted every asset they had, in the search for their children.
But what perhaps makes Ahangar distinctive is that her personal tribulations have not dulled the edge of her will to get to the truth. "Mein darne wali nahin hoon (I am not one to get frightened). I have decided never to give up this non-violent protest of ours until my last breath," she declares.
Her search has taken her all over the Kashmir Valley. She has visited all possible jails – from Delhi's Tihar to prisons in Jammu, Meerut and Jodhpur. She has even approached the United Nations. But so far her efforts have proved futile. "I've appealed to every possible government authority, to politicians across party lines – both in J&K as well as at the Centre," says this courageous woman.
Her struggle has got both national and international recognition. This year, she had been a nominee for the 'Frontline Human Rights Defenders Award 2011'. She is also grateful for the support she has received from civil libertarians in India, with prominent academic Uma Chakravarti even forming a support group for the APDP in New Delhi.
Free legal assistance has come her way. When she moved the High Court on the issue, prominent lawyer, Zafar Shah, fought the case. The case, however, is still pending.
Says Ahangar, "I could not have afforded a lawyer. Fortunately for me, Zafar sahib is not charging me. In fact, there are many lawyers in the state who have taken up the cases of missing children without charging a paisa because they realise that we are not in a position to pay and the issue is a crucial one that needs to be redressed. It is an outrage that while we continue to suffer, those responsible for the crime have not been booked and are, in fact, roaming about freely."
The APDP members have met all the prominent political leaders of the Valley, from the present chief minister to PDP leader Mufti Mohammad Sayeed, but nobody has gone beyond hollow assurances. Whenever Ahangar meets a politician or government functionary, she asks them how they would have felt if their own young sons were picked up and then never seen again.
In fact, when Radha Kumar, the government appointed interlocutor, visited the APDP office in Srinagar, Ahangar told her to ask all the women occupying important positions in New Delhi how they would react if their innocent children were to be picked up and tortured by security agencies.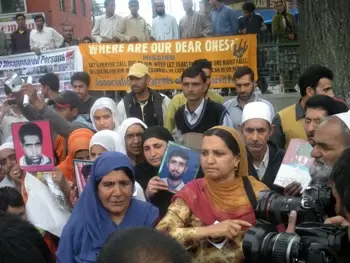 According to the APDP over 8,000 men have gone missing in the Valley
The APDP has long argued that over 8,000 men have gone missing in the Valley. A stance vindicated by the recent report of the State Human Rights Commission (SHRC) of J&K, which confirmed that over 2,000 bodies lie in unmarked graves in 38 locations in the state. The state government has now even offered to conduct DNA profiling on these bodies in order to identify them.
But Ahangar refuses to be diverted by the issue of unmarked graves. As she puts it, "I know this whole issue of unmarked graves is a very serious one but don't link the missing with that issue because then attention will get diverted. This is what the government authorities want; they don't want attention to be focused on our missing children."
She points out how, over the years, misleading facts and figures have been put out for public consumption, but the truth has always remained hidden.
Today, the APDP has offices in almost all districts of the Valley and the list of members keeps rising, to the extent that, according to Ahangar, it is difficult to keep count of the members.
With no closure in sight, the future seems bleak. But Ahangar believes that no APDP member will ever give up on this fight for justice. Says she, "I just pray to Allah to give me the 'himmat' (courage) to carry on." - Women's Feature Service


Trending Now: