Anti-nuke doctor in Koodankulam expert committee threatened with 'encounter'
03-December-2011
Vol 2&nbsp|&nbspIssue 48
A member of the people's expert committee of the anti-Koodankulam nuclear power project movement, V Pugazhenthi, a medical doctor, has alleged that an inspector of police threatened to book him under National Security Act and warned him of a 'police encounter' after he called him to the police station on the pretext of conducting an enquiry.

Pugazhenthi told The Weekend Leader that he had been spreading awareness about the ill-effects of nuclear radiation around the Kalpakkam Nuclear Power Plant, located some 60 km south of Chennai on the East Coast Road.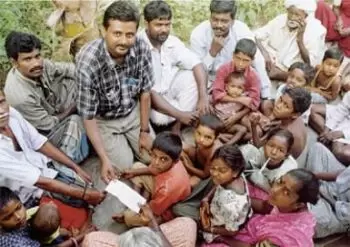 Dr. V Pugazhenthi has been spreading awareness on ill-effects of nuclear radiation in Kalpakkam area(Photo courtesy: www.dianuke.org)
He has also published several pamphlets on the subject. Recently, one of his pamphlets had pointed out the danger to the Kalpakkam plant from an undersea volcano, which is said to be located about 104 km from the plant.
"According to records, the volcano had last erupted on 20 January 1757. If this volcano erupts again, it can trigger a tsunami, which may pose a danger to the nuclear plant," says the 45-year-old Pugazhenthi.

On Thursday night, he was summoned to the Puthupattinam police station and told that the local Panchayat Chief Kaliaperumal had lodged a complaint against him. He was accused of delivering a death threat to Kaliaperumal through an anonymous letter.

"They accused me and another person of having threatened to murder the Panchayat chief through an anonymous letter if he did not cooperate with our anti-nuclear work. Does it sound convincing?" asks the doctor, an MBBS gold medallist from the Madurai Medical College.

He was let off after he gave a written statement that he would be available for any further questioning related to the case.

Pugazhenthi suspects the hand of some officials from the Kalpakkam plant in the incident.

He and other activists belonging to 'People's Movement for Protection Against Nuclear Radiation' have made elaborate plans for a protest against the alleged "breach of nationally and internationally laid safety codes by the authorities of the Kalpakkam Nuclear Power Plant" on December 12.

A group of activists including Nityanand Jayaraman, Madhumita Dutta, Praful Bidwai, M G Devasahayam and VT Padmanabhan have condemned the incident and are pointing fingers at the 'nuclear lobby'.

In a joint statement they said: "Inspector Sivakumar is merely a cog in the wheel. The Department of Atomic Energy, the Nuclear Power Corporation of India Ltd and the nuclear lobby's handiwork in this instance of intimidation is evident.

"Having failed in their attempt to use science to convince people about the safety and justification of using nuclear power, the nuclear lobby wants to silence all voices that offer a differing view on the matter of nuclear energy."


Trending Now: