Raising the dust on illegal mining in Goa
27-September-2011
Vol 2&nbsp|&nbspIssue 38
Only nine of the 90 active mining leases in Goa appear to be valid, preliminary investigations by the Justice MB Shah Commission reveal. The rest have been exploiting a legal loophole to extract upto 54 million metric tonnes of iron ore per year. Joseph Zuzarte reports on the dust that is, finally, being raised in the state about illegal mining
The arrival of the Justice MB Shah Commission, set up to inquire into illegal mining in the country, in Goa in September has opened up the proverbial can of worms.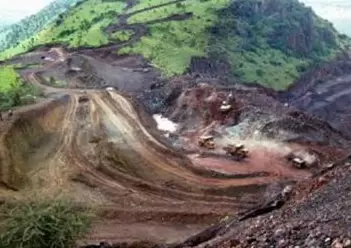 Mining the truth: Preliminary investigations reveal that only 9 of the 90 active mining leases in Goa appear to be valid (Photo courtesy: InfoChange News and Features)
Interacting informally with the media on the sidelines of his meetings with Goa Chief Minister Digambar Kamat, and Chief Secretary Sanjiv Srivastava, members of the commission have revealed that preliminary investigations prima facie indicate that only nine mining leases out of a total of 336 in Goa, have valid licenses to operate.
Considering that there are around 90 active mining leases in the state, this implies that around 90% of the mining leases in Goa are being operated illegally.

What's more, of even these nine valid mining leases, some are said to be operating without the mandatory clearance from the National Board of Wildlife (NBWL) required for carrying out mining within 10 km of a protected area.

The findings of this same Shah Commission, which had also inquired into the illegal mining at Bellary in Karnataka, led to Karnataka Lok Ayukta's damning report against the Yedyurappa government and the arrest of mining magnate and Tourism Minister Janardhana Reddy and his associates only recently.

According to information provided by the Goa Mineral Ore Exporters Association (GMOEA), 54.45 million metric tonnes of mineral ore were exported from Goa in 2010-11, the highest by any state in the country.
In FY 2009-2010, 45.68 million metric tonnes were exported. Most of this is iron ore, with a small percentage of manganese and bauxite (less than 20%).

Though most of this ore is of Goan origin, a small percentage comes from neighbouring Karnataka. In comparison, in 1995-96, 15.12 million metric tonnes were exported.
The nearly four-fold growth in exports has been largely caused by the insatiable demand for ore from China.

Catering to this demand has led to an unprecedented boom in mining in Goa and consequently all legalities have been thrown to the winds in the rush to excavate the iron ore and export it.
It's been a win-win situation for many – the mining lease owners, owners of lands next to the mining leases, transporters of the ore and, most of all, the politicians and bureaucrats who have facilitated the large-scale mining by bending the rules and turning a blind eye to the flouting of all laws. - InfoChange News and Features

To read the full article, which gives a complete lowdown on the Goan mining history, click on the link below. Editor


Trending Now: