IIT students help Burmese refugees overcome problems

Akash Bisht
&nbsp | &nbsp New Delhi
24-June-2011
Vol 2&nbsp|&nbspIssue 25
On a hot summer afternoon, a group of students from IIT Delhi sit on a mat in a small dilapidated room in Vikaspuri, a suburb of the national capital. A small water cooler, which is hardly of any relief from the scorching heat, is chugging slowly at a corner. A few chairs and some books on the struggles in Burma and Nepal are neatly stacked at one end of the room, which belong to three Burmese refugees.

More than 10,000 Burmese refugees live in this West Delhi locality and many more are on their way to make India their home as the brutal military regime in Burma continues to unleash a reign of terror on their own people.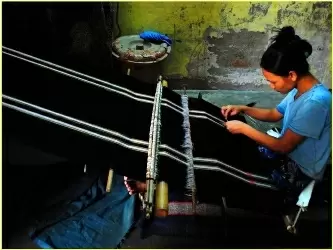 Skilled hands: The Burmese refugees in Delhi are skilled in making handmade goods like handbags, laptop bags, and shawls
But the Burmese live in obscure margins amidst poverty, lack of adequate and acceptable livelihoods, untenable living conditions and poor health facilities. They also find it difficult to integrate with the local community in the world's second largest democracy, which is home to more than a billion people from diverse backgrounds. Hardly does the media or the political class or other organisations raise a voice in support of them.
But this group of youngsters from IIT decided to reach out to them by helping the Burmese avail economic opportunities and also making them feel at home in a foreign land. "We decided to work for the community after we interacted with members of the Burmese community at a conference in October. Under the guidance of Dr Achan Mungleng from Euro Burma Organisation and the overall support of charter organizations such as UNHCR, we have been able to familiarize ourselves with the community and start our project," says Naman, a third year student with IIT Delhi.

She is part of a 23 member student group, SIFE (Students in Free Enterprise), IIT Delhi, that aims to play a proactive role in the development and economic sustainability of a group of people so far neglected. SIFE is an international non-profit organization that mobilizes university students to make a difference in their communities while developing the skills to become socially responsible business leaders.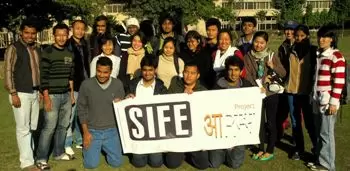 United for a cause: The 23-member SIFE group in IIT Delhi has vowed to help the Burmese refugees lead a better life
"After we saw the hardships that these Burmese refugees were enduring, we decided to launch Project Aarambh that aimed at the overall development of these individuals. We wanted to work for the society and this we believe was the trigger for this project," says Arpit Khandelwal. The project aimed at promotion of women based small entrepreneurial units.

Under promotion of women based small entrepreneurial units, the group will market handmade goods like handbags, laptop bags, purses, woolens, coats, shawls – all traditional Burmese designs. "Our major achievement was our collaboration with Dastakar - a society for promoting crafts – which, besides providing markets, also acts as a resource centre imparting training on quality control, exposure to market demand and guidance from experts in design and production," says Monica, another student from IIT.

The group also runs a placement cell that helps these refugees in getting jobs. In its first month itself the group has helped 10 refugees in securing a job. "We act as an interface between the employers and Burmese nationals. We are training them in working ethics and also familiarising them with Indian culture," adds Khandelwal.

"Most of us can't speak English or Hindi and don't have work permits. So we were exploited by our employers who would not give us salaries or pay too less. This is where SIFE came in and helped us negotiate a fair deal. They have been of great help and I am sure that more and more Burmese refugees would align with them for a better and just future," mentions Hkawn, a young Burmese refugee.

Naman adds, "The Burma they fled and hope to return to is carried in their hearts. Wherever they go, they create a little Burma. It is this culture that we want the world to get a taste of. It is this spirit, we salute. It is their story that we want the world to listen to."

Trending Now: