Through Digital Green, Rikin Gandhi helps farmers prosper

Kavita Kanan Chandra
&nbsp | &nbsp Mumbai
21-January-2011
Vol 2&nbsp|&nbspIssue 3
In Banihalli, a village 80 kilometres from Bangalore, a group of farmers gather in a courtyard and discuss worm composting after watching a video of the process. Since the video features a fellow villager, who has shot it, the farmers are able to connect with the message. "This way the farmers easily identify with the specific agricultural practice. The videos are shot by them but we make sure that its quality is good," says 29-year-old Rikin Gandhi, an NRI from New Jersey, who is the CEO of Digital Green, a non-profit organization.
Digital Green's aim is "to raise the livelihoods of smallholder farmers across the developing world through the targeted production and dissemination of agricultural information via participatory video and mediated instruction through grassroots-level partnerships." Banihalli is one among the many villages that Rikin transverses in the four Indian states of Karnataka, Madhya Pradesh, Orissa and Jharkhand.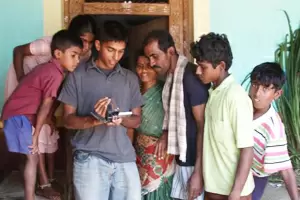 Back to the roots: Rikin Gandhi wanted to fly high as an astronaut, but realised there was a better thing he could do – serve the farmers
Born and brought up in the US, Rikin holds degrees from Massachusetts Institute of Technology (Masters in Aeronautical and Astronomical Engineering) and Carnegie Mellon (Bachelors in Computer Science).
A trained pilot, he was all set to join the US Astronaut programme. While waiting for his US Air Force application to be cleared, he joined Oracle in California. A chance visit to India during that time gave him his first exposure to rural India.

The exposure as well as the realisation that 60 percent of his native country's population relied on agriculture for livelihood made Rikin rethink on his goals. Interacting with the rural folks, he felt that use of technology could improve their economic well being and he prepared himself to reconnect with his roots for a bigger cause.

"I have been reading autobiographies of astronauts, who see the earth from above with new perspective. They become very philosophical; think about the futility of wars and human greed. Many become farmers, teachers and go all the way to reconnect with people," says Rikin, adding that going into space was like getting fifteen minutes of fame while working for small and marginal farmers and transforming their lives was more meaningful.

So, what could be called a case of reverse brain drain happened with Rikin joining Microsoft Research in Bangalore as a researcher in the technology for emerging markets in 2006.
Today, Digital Green is active in making videos of better farm practices using the villagers, after training them. The videos are then shown to small groups of villagers on laptops, DVD, village cable network and screens.
"These are simple videos starring local villagers that strike a chord with fellow villagers. We have taken feedback and found 70-80 percent farmers adopting new ideas as opposed to 10-15 percent earlier by traditional extension approach," says Rikin, who has enabled production of thousands of such local videos.
Selected as an Ashoka fellow and included in the 2010 list of world's young innovators in Technology Review 35 (published by Massachusetts Institute of Technology), Rikin made Digital Green an independent organisation in 2009, which is now supported by Bill Gates Foundation.
Having covered some 500 villages and with a target of 1200 in two years, Digital Green is going global as Rikin starts work in Ethiopia and Uganda in a couple of months. On the reaction of his parents, who had migrated to US for better opportunities, Rikin says they were initially apprehensive but when they saw his work, they were quite excited.

Trending Now: