Putting up with the vagaries of Indian politics

Marianne de Nazareth
&nbsp | &nbsp Bangalore
29-October-2010
Vol 1&nbsp|&nbspIssue 9
Rajeev Gowda does not fit the stereotypical image of an average politician. But he is very much a politician with the Congress party. Tall and fresh faced, the handsome man from a family of freedom fighters came back to Bangalore, throwing up a comfortable job and lifestyle in the US as he was consumed by a burning ambition to join politics and do something for the country.

However he has to live a double life, teaching at the IIM to earn his living even as he continues to hold on to his political aspirations. "I have a personal inspiration to do something for my country by joining politics. I had this dream from my teenage years and I have never wavered since then, though I turned 47 this year," he says.

Today, Rajeev Gowda is Chairperson, Centre for Public Policy and Professor of Economics and Social Sciences at the Indian Institute of Management Bangalore. His education includes an MA in Economics from Fordham University and a PhD in Public Policy and Management from the Wharton School, University of Pennsylvania. He has worked as a Post-doctoral Fellow at the University of California, Berkeley, and as Associate Professor at the University of Oklahoma.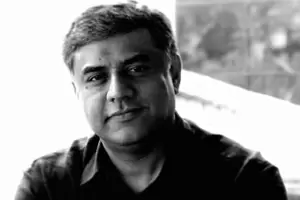 Rajeev Gowda is seeking people's support to make a mark in politics
"Since I have chosen to stay within party politics I mix with all kinds of people and have learnt to handle it. Our urban educated just walk away from politics because of the corruption and don't want any part of it. They don't even vote. Yes, they want people like me in politics but if they don't vote me in how does it work? They are ready to help by working with NGO's and in public service enterprise, but politics they avoid totally," he says.

Rajeev is the brain behind the Resurgent India Trust that aims to empower youth and energize Bangalore. "Resurgent India has a focus on youth and I hold career related workshops with them. I also help with start-ups and write for the media as well," explains Rajeev.

Since he has not been so successful in his political aspirations as the "Congress high command favours local leaders who have blocked my entry, I refuse to be side tracked and get depressed. I have written the manifesto for the city corporation elections and last year when the Ram Sena attacked women in pubs in Mangalore and threatened to come to Bangalore, I organized 20-25 simultaneous rallies covered by the mass media which helped keep them out of Bangalore. The youth from colleges across the city came out in a show of strength and I was worried that they might get arrested due to me. Thankfully that did not happen; instead the whole protest was a huge success."

We need clean and honest politicians like Rajeev to show the way.

Trending Now: