A fight against illiteracy in an impoverished slum yields results

Santosh H K Narayan
&nbsp | &nbsp Ranchi
01-October-2010
Vol 1&nbsp|&nbspIssue 5
Five friends, Eizaj, Iqbal, Shahid, Irfan and Javed, all in their early thirties, are running a school in one of the Ranchi slums though they have had little education. Other than Eizaj, who has completed his school final (intermediate exams), the rest have not stepped into a school for studies. But they had learnt a lesson through illiteracy and decided to start their own school that would ensure a better future for the next generation in their filthy, sleepy and impoverished slum of Domtoli of Lower Bazar area of Ranchi.

The friends, through their herculean effort, have not only brought a good name to the otherwise neglected locality but are executing an unfinished dream- not to let poor children of the mohallah remain scoundrels. "We all suffered due to lack of education. So, we decided to devote our small income and time in providing standard education for these children who otherwise just played on the streets and quarrelled the whole day," says Eizaj, who runs an electrical repair shop.

Eizaj and friends founded Prerna Samajik Vikas Vidyalaya in 2006 with only ten pupils. They had to work hard to convince the parents who were suspicious and reluctant to send their children to the school. "We told them to see what is going on with us because of lack of education. We used to ask the parents, do you wish to see your children struggling in their lives doing unrespectable jobs?" recalls Eizaj.

Eizaj's father Nasir Alam provided his small home to run the school which currently teaches about 180 students ranging from pre-nursery to class 6. But the journey has not been so easy for the five. Each of them has to work hard to ensure unhindered functioning of the school.

"After working in a shop till 6 in evening I work for private clients to earn some extra income so that I can contribute to the school," says Javed, an electrician.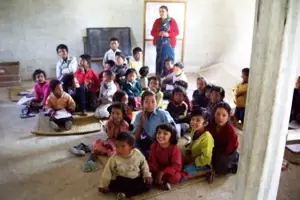 This school in a Ranchi slum is making responsible citizens of neglected children
The school needs around Rs 12,000 to 14,000 for a month. There are six teachers and they are paid Rs 1,200 to 1,500 per month. Besides, the students are provided books and notes, and some vocational training like stitching and computer education. Occasionally, local residents contribute a bit, but no assistance has come from any outside agency or politician.

Prerna Samajik Vikas Vidyalaya teaches both Sanskrit and Urdu. Interestingly, children irrespective of their religious backgrounds have shown a remarkable willingness to learn both the languages. "Some Muslim students performed better than Hindus in Sanskrit and it was vice versa with Urdu," says Iqbal.

"The locality has two government schools but most people prefer to send their children here and we have to even decline admission to some students due to lack of space and resources," says Eizaj. That sums up the success of the mission.


Trending Now: