Grassroots activists succeed in improving the lives of Dharavi residents
Mehru Jaffer
&nbsp | &nbsp Mumbai
20-August-2016
Vol 7&nbsp|&nbspIssue 34
Fatima Shaikh, 35, has been working since she was little. Her parents came over from Andhra Pradesh to Mumbai in search of viable livelihood and decided to settle down in Dharavi.
From then on this crowded shanty has been her home and workplace. Over the years, she's been a vegetable vendor and then a domestic worker, who toiled for 12 hours daily without proper wages or benefits.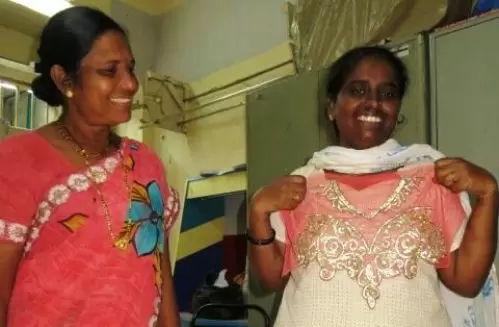 Activists of the Labour Education and Research Network have ensured that the lives of women like Fatima Shaikh and Sheila Devi have changed for the better (Photo: Mehru Jaffer/ WFS)

At the end of it, she never had enough money or a home and no proper identity that would enable her to avail of government schemes. Like her there were many other women in her neighbourhood who laboured day and night as informal workers but ended up with little money, no benefits and severe ailments.
Infuriated at the situation of her lot she was looking for an opportunity to make a difference and it came when activists of the Labour Education and Research Network (LEARN) came to Dharavi, a hub of small-scale industries like pottery, snacks, rubber, electronic waste and plastic recycling units, handicraft, embroidery and kite-making among other, to mobilise a dispersed, disempowered workforce.
Today, Fatima 'apa' is president of Mahila Kamgar Sanghatana that is backing women workers on issues of identity, housing, sanitation, wages and healthcare.
According to Indira Gartenberg, Organising Secretary, LEARN Mahila Kamgar Sanghatana and scholar at Mumbai's Tata Institute of Social Sciences (TISS), "Women form a large majority of home based workers and no matter what they do they are extremely low paid. In several Dharavi slums, adolescent girls and the physically disabled, too, are engaged in exploitative work."
With the exception of the Self Employed Women's Association (SEWA), trade unions have overlooked the conditions of this huge workforce, which includes 30 million women and contributes crores to the economy.
In fact, according to Gartenberg, as a first step to realising the ideals enshrined in the ILO (1996) C177 Home Work Convention, which spells out a legal framework for securing informal workers' entitlements, it's imperative that they are duly identified and recognised as workers.
Fatima shares, "I have grown up in Dharavi. Even as a little girl I remember being woken up at the crack of dawn to be sent along with my sibling to sell vegetables. We walked the broken down lanes with a heavy basket-load and it was really tough negotiating the narrow spaces especially during the long monsoon season when rainwater flooded the streets."
As she grew older she found employment as a domestic worker. But when despite labouring all day she was unable to make ends meet she took on embroidery assignments during the night. In time she felt her life was going nowhere.
Marriage to a construction worker brought additional responsibilities and three daughters but penury was one constant she couldn't shake off. "How could there have been any difference. I had no birth certificate, no identity card, no rights as a worker.
"Although we were paying Rs 1,000 as rent for a room where the five of us stayed there was never any proper proof of residence. Consequently, securing government welfare entitlements was difficult."
It was desperation for change that motivated her to link up with LEARN. Gartenberg says, "In 2008 we decided to speak to the women about their rights as workers. We felt that once they understood that they had legitimate entitlements and felt confident enough to demand them, it would have a multiplier effect on other aspects of their life as well."
After Fatima attended a few meetings she realised that whether one was a domestic worker, a key chain maker, a scrap sorter or an embroiderer everyone was going through the same problems. Moreover, she started seeing how their poor living conditions only added to their difficulties.
The small size of homes in Dharavi along with the overcrowding and miserable civic amenities invariably took a toll on their health and work. "Most working women complain of severe backaches, hand and leg pains, irritation in the eyes and diminishing vision.
"If the children are small, then they have to find time to attend to them, sometimes even ignore them if there is a pressing deadline. In the absence of a crèche or a daycare centre, there is simply no other way out. With meagre daily wages and no real safety net to fall back on, everyone just has to go on. Be it healthcare or rent or education everything requires money, especially if they don't have government identity cards," shares Fatima.
From the onset, securing ID cards has been a major focus area. Swampy Dharavi was once the stronghold of fishermen working in the waters of the Mahim Creek. At the time it was just a little settlement between Sion and Mahim. When immigrants from different parts of the country flocked the city seeking work they put up tin shanties on the ground that was still free and unregulated.
"Some four decades ago my father had paid Rs 300 for the room our family of seven called home," says Fatima sitting in the two-room office of the Sangatana in the Rajab Ali neighbourhood, named after a community leader, and companion of the late Haji Mastan, a Mumbai gangster.
But most residents like her father had no ownership documents. For years touts made false promises to provide a ration card at an exorbitant cost. Fatima was once asked to pay up Rs 2,000.
"Even if I wanted to I could not afford to spend that much money on anything," smiles Fatima. It was the LEARN activists, who eventually assisted her to get a ration card for Rs 50. Ever since then Fatima has remained an active member.
Initially, she went house-to-house talking to women about the advantages of becoming a member. "I wanted other women to improve their life as well," says Fatima who along with her colleagues has managed to ensure that women associated with their network have ration cards, election cards and property ownership documents.
Things have improved on the amenities and infrastructure front, too. Sheila Devi, 40, Secretary of the Sanghatana, reveals, "Today most of the shanties are owned by the people living here. The shacks have been converted into concrete rooms, many with an attached toilet. The streets have been named and houses are numbered."
Like Fatima, Sheila used to be a domestic worker but nowadays the Sanghatana's activities take up all her time. Savitra Suresh, who used to make leather straps earlier, devotes her hours to resolving the various concerns shared by the women workers.
The three also sew and use the sewing machines set up in their union office to do some tailoring work in their spare time. "A shanty existence can be really the worst experience for a woman. The pressures of deprivation are at all levels - be it the paucity of money, water supply, space at home, and so on. But with concerted efforts things have started improving," says Sheila.
Their biggest victory so far has been a fixing of the wages. Under the Sanghatana, which has 5,000 members, there are six separate groups – the domestic workers, the largest faction with 2,000 members, has fixed Rs 2,000 as monthly wages for a home with a family of four.
The home based workers group has about 1,500 members followed by garment workers, vendors, rag pickers and those who prepare and sell packed lunches.
Remuneration for their services has also been laid down. Happy to be leading change from the front Fatima is positive that they will go from strength to strength. She has another dream, one she shares with all the women, "I want to own a home." With Rs 1,000 saved up right now she has another Rs 25 lakhs to go, but Fatima has seen what hope and hard work can accomplish. - Women's Feature Service

Trending Now: