Making leaders among slum dwellers

Hema Gopalakrishnan
&nbsp | &nbsp Hyderabad
03-September-2010
Vol 1&nbsp|&nbspIssue 1
Mujeeb Khan is passionate when he describes the 'change' that Bhumi has brought about in Rasoolpura, the biggest slum in Hyderabad, through its initiative that has helped groom leaders. He has also developed young leaders among professionals and college students to inspire and mentor government school children.

When asked what inspired him to embark on such initiatives, the 36-year-old social worker explains how his mother was a great source of inspiration. She had told him that one should always find ways to make the world a better place to live in. She also made him read books by leaders like Mahatma Gandhi and Abraham Lincoln.

It was that desire to usher in the change that impelled Mujeeb to opt for a career in the media. He ran an advertisement agency in Mumbai and was into making short films. It was while exploring the possibility of making a movie that he realized that the change he wanted to make could not be done through films. Despite one's best intentions to send a message across, films do not assure a tangible change.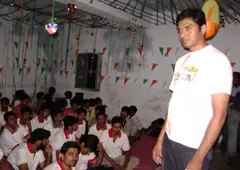 A visionary for change
Since he believes in the Gandhian maxim 'be the change you want to see', he came back to Hyderabad and got involved with a few non-profit organizations such as the Byrraju Foundation and Dr.Reddy's Foundation. Yet he felt a sense of restlessness and thought he was not making an impact on the scale he desired. He shared his vision for a better society with his friends and found a group of like-minded people and mobilized them for an initiative.
Most of them wanted to start a political party but Mujeeb was not convinced with the idea. Politicians cannot succeed completely if they want to make a change. To achieve that, the involvement of the people is essential. According to him, people need a high level of awareness of the conditions they live in, which in a sense is their collective destiny. This will build a collective consciousness and consequently create a desire to change.

To inspire people to make that change, Mujeeb felt that it was important to develop leaders in the community and the idea behind Bhumi was born. As his idea was to shape leaders from the grassroot level, he named it Bhumi, meaning 'earth'. Started in 2006, Bhumi went about identifying those who were in their own small ways trying to make a change in the Rasoolpura community and started grooming them into leaders. Bhumi helped them overcome the internal barriers that prevented them from working for a change on a larger scale. Now these very people, Mujeeb says proudly, have been made leadership fellows and act as role models in the community to inspire and groom future leaders.

Bhumi's Leadership Development Programme trains the slum dwellers in dealing with challenges and coping with various circumstances while working in their own community, besides helping them develop their personal character. "These people are trained by Bhumi to understand and solve the problems with limited resources, counter challenges, get the support of the community, mobilize resources and help the community solve its own problems and be self-reliant," Mujeeb says. These leaders in turn help to create a second rung of leaders in the community. This creates an environment for continuous development of leaders.

The mentoring role is also given to college students and young professionals who are encouraged by Bhumi to take the responsibility to mentor children in government schools and be the role model. The role also leads to self-discovery and self-improvement, which in the process helps both the mentor and the protégé realize their full potential. This youth development initiative, called the 'Dronacharya and Ekalavya programme' is likely to be taken to a few south Indian cities like Chennai and Bangalore this year and later on to other cities too.

Trending Now: