Women guarding the Indian seas sail to new frontiers, breaking old myths
Hema Vijay
&nbsp | &nbsp Chennai
23-February-2015
Vol 6&nbsp|&nbspIssue 8
Perhaps the most defining image from this year's grand Republic Day parade – that played host to US President Barack Obama – was that of the all-women contingent of the three armed forces marching smartly down the Rajpath in Delhi for the first time ever.
Nevertheless, female officers always find a way to distinguish themselves – just like Commander Gutta Sowjanya Sree and Lieutenant Vartika Joshi from the Navy, and Assistant Commandant Vasundhara Chouksey from the Coast Guard have by navigating the rough seas between Chennai and Kochi recently as part of an expedition on board the INSV Mhadei, led by Commander Dilip Donde, who holds the record of being the first Indian to have circumnavigated the world by sailing.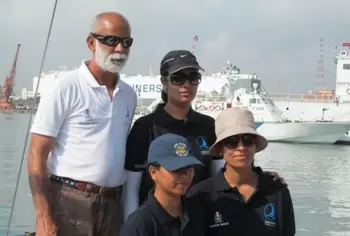 Cmdr Gutta Sowjanya Sree and Lt Vartika Joshi from the Navy and Asst Cmdt Vasundhara Chouksey from the Coast Guard with Commander Dilip Donde (Photos: Hema Vijay\WFS)
Although, in the past, female naval and coast guard officers have been known to spend their entire career doing on-shore duties alone, Asst. Cmdt. Chouksey, 25, has already started sailing. "I have been in service for three years now and it's been good going so far. I had always been dreaming of being part of such an expedition and when the navy called for women volunteers, I jumped at the opportunity," she says.
Currently stationed at Chennai's Coast Guard Air Station, Asst. Cmdt. Chouksey is also keen to take up combat or frontline operations, if given the chance. As a young girl growing up in Bhopal, Madhya Pradesh, she had signed up for the National Cadet Corp during school, and had always planned on a career in the defence forces. As a logistics officer, these days she gets to assist in patrolling the sea from air.
"We are certainly moving towards more frontline roles for women in the armed forces. Women are slowly getting the opportunity to go onboard warships," remarks Lt. Joshi, a naval architecture cadet posted at Visakhapatnam.
She works on the design and construction of ships and submarines. The fact that most recently designed and constructed warships have separate accommodation for women gives Lt. Joshi the confidence that women naval officer in combat roles will be a reality sooner than later. Asst. Cmdt. Chouksey couldn't agree more, "I strongly believe that in the next five to 10 years, women will be on the frontline as well."
According to Hyderabad-born Commander Gutta Sowjanya Sree, 37, who is Joint Director-Training at the National Defence Academy in Pune, anybody - male or female - can take up combat operations with the right kind of training.
"The key is being physically and mentally fit. It is a necessary non-negotiable attribute," she says. Cdr. Sowjanya Sree, too, feels that right now the problem of bunking with male officers in warships is what has stopped women from finding a more regular space on board. Incidentally, she has the distinction of being the first female officer to have completed 16 years of service in the Navy.
On his part, expedition lead Cdr. Dilip Donde doesn't see much of a difference in the way male and female officers approach the job. Referring especially to their sailing skills he says, "The lady officers handled the trip very well. When you are on board with only four as the crew, everybody has to do everything and they caught on to the job excellently."
Even today, a general notion exists that a career in the defence forces is particularly rough on women. Asst. Cmdt. Chouksey refutes this outright. She says, "I am single right now, but I have seen colleagues and seniors having a successful career as well as a happy married life. In fact, women in the services are far more comfortable. The defence establishment has very good facilities.
"Living arrangements are not an issue, as female officers are entitled to accommodation where they can stay with their husbands. Moreover, they get to give their children access to a more inclusive and varied education as well as an opportunity to indulge in all kinds of adventure sports." In April 2015, Chouksey will be off to the Himalayan Mountaineering Institute for an advanced training programme in mountaineering. She has already completed her basic training in Pahalgam, Jammu and Kashmir, a few months ago.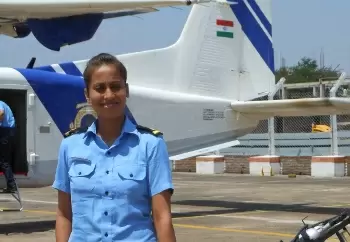 Asst. Cmdt. Vasundhara Chouksey of the Cast Guard is keen to take up combat or frontline operations, if given the chance
Cdr. Sowjanya Sree's 13-year-old son Saakeph is in a boarding school in Hyderabad because she didn't want him to move to different institutions in his secondary schooling years. "Earlier, I used to take him to wherever I was posted," she recalls.
But since her software professional husband is stationed at London and she doesn't have extended family support, the couple took the call to send their teenage son to a hostel.
"During his vacations, he comes over to Pune and I take as much leave as possible to spend time with him. My son is proud of me being in uniform. Personally, his ambitions have varied from being in the infantry to being a scientist, pilot, and software professional. He is learning sailing and horse riding at present," shares the doting mom.
Cdr. Sowjanya Sree opines that bringing up children while being in service has become relatively easier. "These days, lady officers can take almost a year's leave on having a baby by clubbing maternity leave, annual leave, furlough leave, and so on. I used to leave my three-month-old baby in a crèche and go to work," remarks the officer, who was earlier working on missile control systems in DRDO, Visakhapatnam. "A career in the defence calls for a lot of sincerity and dedication. Unlike civilian jobs, here you can't go job-hopping," she adds. Women's Feature Service

Trending Now: