The Odisha school girl who blazed the international track is now washing utensils
Rakhi Ghosh
&nbsp | &nbsp Sundergarh
06-September-2014
Vol 5&nbsp|&nbspIssue 36
Like many impoverished women from her state, when Bibiana Kulu, 17, was in desperate need of a job, her friends put her in touch with a broker who promised to do something for her. A few months down the line Kulu found herself in Mumbai scrubbing utensils and cleaning homes.
Okay, so you might wonder what's new about a poor rural woman moving to the city to make ends meet as a domestic worker. Well, here's the twist in the tale: Kulu is a state and national level athletics star.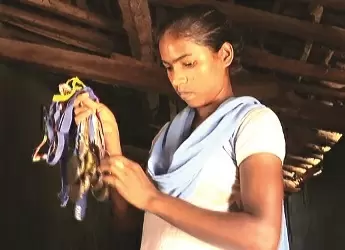 Bibiana Kulu had to abandon her dreams of becoming a successful athlete as her mother, a poor widow, was unable to bear the expenses of her training (Photo: Rakhi GhoshWFS)
It's been over a year since Kulu has settled down into her new routine but the rush of being on the track is something she cannot forget. And even her sophisticated employers, who are glued to their television screens during a sporting event, have no inkling that they have a true blue athlete working for them.
Kulu hails from Saleghagra Lojhapada village in Subdega block of Sundergarh district in Odisha. Her once-promising sporting career had begun in 2007, when she was in Class Seven. She was first spotted by a local coach who recommended her for specialised training.
Her parents, who were agricultural labourers, agreed to send her to the government sports hostel in the hope that one day her talent would give them all a better life. Her stellar performance at the junior level prompted her coaches to send her to the Sports Authority of India (SAI) hostel at the district headquarters to further hone her skills.
In 2009, Kulu won laurels for Odisha at the 54th National Inter State Senior Athletics Championships held in Kochi, Kerala. She bagged the gold in the 100 metre race and silver in the 200 metre race. The following year, she repeated the feat in Amritsar, Punjab. This paved the way for her to represent India at a school-level world cup at Aptonia in Russia where she secured the fifth position in 100 metre race.
Then in 2010, her world turned upside down. Due to her hectic schedule, Kulu was unable to clear her Class 10 examination and consequently was asked to leave the SAI facility. Disappointed, when she returned home, her mother, who was already struggling to run the household ever since Kulu's father passed away while she was in Sundergarh, was worried for her future.
Yet, the youngster did not lose hope. She worked hard at her studies and cleared her matriculation the following year. But when she went back to Sundergarh, the SAI refused to take her in. That was a real low point in her life - her career as a sprinter was officially over.
Once again, she made the journey from Sundergarh to Saleghagra Lojhapada, with a heavy heart. And this time around there was no reason to be optimistic either.
Kulu's mother motivated her to look for work in the nearby towns but when there was no well-paying opportunity available she decided to speak to her friends. "I discussed my situation with a few people who had migrated for work. They told me about some job brokers in Subdega block who had helped them. That's how I landed up as a domestic helper in Mumbai," she narrates.
Incidentally, Kulu is not alone in her misery. Deep in the interiors of Kendrapada district there's another woman who is still trying to come to terms with her unfortunate fate.
In another life Rashmita Patra, 23, used to be a celebrated football champion. The daughter of daily wage labourers in Aul block, Patra's prolific skill had been discovered by two coaches, Chitta Ranjan Patra and Pramod Patra, when she was only 12.
She received proper training and represented India at the prestigious Asian Football Confederation (AFC) Under-16 Championship qualifiers held in Malaysia in 2008. The former defender also participated in the Asia Cup qualifying tournament in Dhaka, Bangladesh, and played a key role in the win registered by the senior national team during an invitational series in Bahrain.
Things started going downhill when she did not land a state government job. "All those years, my father had been under the impression that playing sports for the state would ensure me employment in a state department, which would be a blessing for them all.
"But once it was clear that there was no possibility of that happening as there was a paucity of positions available he told me to stop playing and prepare for marriage. He simply couldn't afford to keep paying for my expenses," she rues.
Once Patra's nuptials were fixed she never went back to the football field. She had to quit the SAI hostel and go to her marital village. "Now I have a baby and my dreams are definitely over. I sit at this betel shop to earn some money for my household. But not a day goes by when I don't dream of running around freely on the football field. Playing football is in my blood. But look where I have ended up," she says, with obvious distress.
Bhubaneswar-based senior sports journalist Sambit Mohapatra has seen many a sporting career end prematurely. "There are many such cases where women players have had to leave their budding careers mid-way and rejoin their family's struggle for survival," he states.
According to Mohapatra, at present sportspersons are getting jobs in the Railways, the Accountant General Office and Odisha Police but the posts have been shrinking. What the government needs to do is to open up other avenues to accommodate them.
While a report on Kulu and Patra has been submitted before the Sports and Youth Services department, and they have promised to take up their cases seriously, the futures of most women players like the aforementioned duo is still in the dark.
Pramila Trishani, a tribal girl from Koraput district, who is training at the SAI hostel to become a weightlifter, has already received international acclaim at the junior level. But that is not enough to allay her fear. Only time will tell if she escapes the fate that has befallen Kulu and Patra. – Women's Feature Service

Trending Now: