'The issue of employment for people living with HIV cannot be ignored'
Syed Mohammad Afsar
&nbsp | &nbsp Geneva
29-November-2013
Vol 4&nbsp|&nbspIssue 48
I had met Meera (name changed) through a common friend in Kolkata. Meera's husband had died leaving her with a one-year-old daughter. Gradually picking up the pieces, Meera remarried some years later and found a good job.
She had happily settled into her new life - until she fell ill and was diagnosed with HIV (human immunodeficiency virus).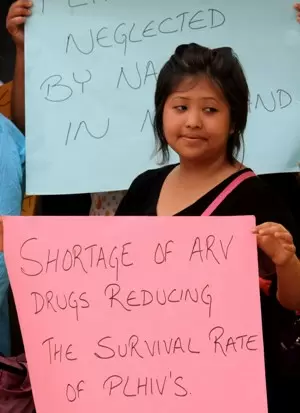 Anti Retroviral Treatment (ART) has benefited large number of people, but a lot more needs to be done for people living with HIV. (Photo: Indian Photo Agency)
It was hard for her to believe that this was happening to her. It was even harder for her to tell her second husband about her condition. But she did and the disclosure resulted in the end of her second marriage.
When Meera learnt about HIV and the symptoms of AIDS, she recalled that she had seen her late husband suffer from those very same symptoms. It was then that she realised he had actually died of AIDS. Meera's worst fear came true when her daughter was also diagnosed with HIV.
Meera has been on the Anti Retroviral Treatment (ART) over the past five years. She enjoys good health and leads a normal, productive life. Yet, her worries are far from over.
Her daughter, now a teenager, does not know about her own or her mother's HIV status. How should Meera break the news to her daughter and when should she start her on ART – these are the questions that plague her today.
As I write this piece, I think of the many Meeras who bravely combat the virus and the huge challenges it throws in their path.
Having been engaged in the AIDS response for over 15 years now, I have gone through moments of frustration and contentment. We have graduated from a period when people living with HIV were dying in the absence of treatment and we did not know what to do to the present scenario where ART is available – enabling people to live a healthy and productive life.
According to the 2013 UNAIDS Report on the global AIDS epidemic, ART has averted 6.3 million AIDS-related deaths worldwide from 1996-2012. Around 10 million people in low and middle-income countries received ART in 2012.
The wholesome life that Meera enjoys with her bright daughter exemplifies just how much ART has impacted the world. Had it not been for the treatment, her daughter would have been an orphan – bereft of an empowered mother and much maternal love.
But the latest UNAIDS report can be seen from different perspectives. It presents a mixed picture – achievements that the world can be proud of as well as challenges that persist.
The good news is that new HIV infections in 2012 fell by 33 per cent, from 2001; and the number of people dying of AIDS-related illnesses has dropped by 30 per cent since they peaked in 2005.
However, there are grave concerns such as the fact that worldwide there are 35.3 million people living with HIV; or that recent surveys in several sub-Saharan countries have detected a decrease in condom use and/or an increase in the number of sexual partners.
This is worrisome. Is complacency setting in the response? There is certainly a need to intensify prevention efforts.
The gains in expanding coverage of ART are commendable. Yet, only 34 per cent of the 28.3 million people in low and middle-income countries eligible for treatment in 2013 are currently accessing it, according to the World Health Organization (WHO) guidelines.
How will the treatment programme be sustained and expanded to cover all those who need it, while maintaining the focus on prevention?
This is a question to be addressed at policy levels. Even as domestic investment for the AIDS programme has increased in general, many low and lower middle-income countries are still heavily dependent upon international assistance.
There is a fair amount of work that still needs to be done to protect the rights of people by strengthening the policy and legislative environment. Rampant stigma and discrimination persists.
For instance, HIV-related restrictions on entry, stay and residence still remain in force in 44 countries. Criminalisation of key populations is widespread, too.
HIV continues to be driven by gender inequalities as well. Women comprise 52 per cent of all people living with HIV in low and middle income countries. So the responses need to have a clear focus on addressing issues and barriers that women face in accessing services.
Six out of 10 pregnant women living with HIV received ART in 2012. The goal of achieving 90 per cent coverage of pregnant women with ART is possible but calls for greater efforts to link pregnant women and children with HIV treatment and care.
Meera's daughter is part of the large number of children who, because they are born with HIV, will soon need ART. This group is in addition to the approximately 39 per cent of new infections – found amongst the 15 and 24 years of age in 2012.
The world has to think: would it suffice to just provide treatment to these young people?
Certainly not.
Helena Nangombe, a Namibian member of the International Community of Women Living With HIV, speaks for many when she says, "HIV has not changed my determination or ability to work. I am still the same person.
"Like all young people, I need a secure job, free from discrimination. Young women like me need to feel safe at work. Getting to Zero at work is critical for the youth."
This was Helena's message as part of the International Labour Organisation's (ILO) 'Getting to Zero at Work' campaign that aims to achieve zero new infections, zero discrimination and zero AIDS-related deaths for workers.
The story of AIDS, therefore, is not about numbers alone. It is about people who are part of our lives, such as Meera and her teenage daughter. While the integration of HIV is being talked about in reproductive health, the issue of employment for people living with HIV cannot be ignored. People need treatment but it works better if they have a job.
"Everyone has the right to live a dignified, healthy and productive life. People living with HIV must be allowed to work without any discrimination. Getting to Zero should be the goal of every workplace," says Nobel Peace Prize awardee Aung San Suu Kyi under the ILO campaign.
Meera daughter can avail of ART and enjoy her right to grow into an empowered woman who lives her dream.
(The writer is Senior Technical Specialist with the ILO's HIV/AIDS and World of Work branch in Geneva. The views expressed in this article are his own.) - Women's Feature Service
Wish to share your story?
Trending Now: