Cry for justice: 'Hang me if you can't hang the murderers'
Manisha Prakash
&nbsp | &nbsp Lakshmanpur Bathe
08-November-2013
Vol 4&nbsp|&nbspIssue 45
When gunshots rang out on the fateful night of December 1, 1997, at Lakshmanpur Bathe, a village in Bihar's Arwal district, most of the men ran for their lives. Left behind were the women, the elderly and small children.
No one had imagined that the criminals of the Ranvir Sena, a private army of upper-caste Bhumihar landlords, could be so ruthless as to gun down women holding infants in their arms, but that is exactly what they did.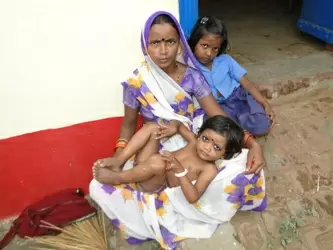 Seven members of Sunayana's family died in the massacre in Lakshmanpur Bathe (Photos: Manisha PrakashWFS)
From their hiding places, the men heard the gunfire but were too frozen in fear to respond. It is said that an old woman, on seeing everyone in her family killed, angrily demanded that the intruders kill her as well.
They unleashed four rounds into her body. A toddler crying for his father in the chaos was shot dead as well. In the end, 58 people lay lifeless, including 27 women and 16 children.
Seven members of Sunayana Devi's family died in that attack. She recalls, "My marriage had taken place six months earlier and I survived because I happened to be at my mother's home. My husband, Vinod Paswan, also survived because his sister had the foresight to hide him in the 'kothi' (granary).
"But his four brothers, two sisters and mother, were not so lucky."
Sunayana's father-in-law, Ram Chela Paswan, escaped because he had fled through another door. The grief stricken old man died six years ago, waiting for those who had changed his life forever to be awarded exemplary punishment.
Uma Devi is the second wife of Sikander Choudhary, who had lost his first wife and two daughters in that massacre. When she realised, as a prospective bride that she was being married into this village, she was under great stress and didn't eat for days. Nine people had been butchered in her husband's family.
He has never really recovered from the incident and is given to bouts of unstable behaviour. He could save his life by hiding behind a large heap of cow dung. His niece, Balwanti, was also among those who escaped. She was around nine years at that time and had fainted out of fear. The attackers took her for dead and left her.
Every house in Lakshmanpur Bathe has a story related to the massacre that the late president of India, K.R. Narayanan had declared as a "national shame".
To this day, villagers maintain a vigil at night, so worried are they that the incident could be repeated. Many in Lakshmanpur Bathe, like Jogiya Devi, cannot speak easily about the incident.
This elderly woman lost her pregnant daughter-in-law, a sister and another young female relative to the massacre and wants to wipe the memory of that night from her mind.
But on October 9, 2013, when the Patna High Court acquitted all 26 accused in that massacre, her wound was opened afresh.
The High Court had, through this verdict, reversed the 2010 judgment of a lower court that had awarded death penalty to 16 of the accused and sentenced the rest to life imprisonment. The High Court bench of Justice V.N. Sinha and A.K. Lal, in their verdict, chose to give the accused the "benefit of doubt".
Today, the survivors of the Lakshmanpur Bathe massacre have tried to pick up the pieces of their lives. Many of the men have re-married and the children lucky enough to have survived have grown up realising the truth of caste conflict.
But the bitter memory of the killings lingers on at Bathe, where the River Son separates the districts of Bhojpur and Arval. To reach this village, the marauders from the Ranvir Sena had used boats to cross the river with the help of the Mallahs (a fisher caste), who for years had fished in these waters for their livelihood. Not knowing the fate that would soon befall their community, these fishermen actually helped the murderers reach the village.
Today, one has to cross a rickety electric pole that works as a bridge over a drain to reach the Subhashnagar tola where the incident occurred.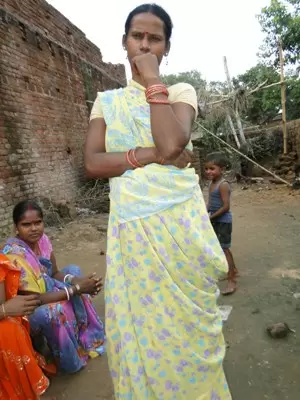 Uma Devi's husband, who lost his first wife and two daughters in the massacre, has never really recovered from the incident and is given to bouts of unstable behaviour
Change has come even to this remote pocket. The mud huts of old, whose floors had been soaked by victims' blood, have now been replaced by brick and mortar structures.
In front of the house of Vinod Paswan, there stands a 'shahid smarak', or martyrs' monument, over which flutters a Communist Party of India-Marxist Leninist (CPI-ML) flag. People from the area say Bathe was once the training centre for Maoists and the Ranvir Sena chose to target it in order to create terror in the minds of Naxal supporters.
Soon after the high court verdict, CPI-ML General Secretary Dipankar Bhattacharya held a public rally there, which drew a huge crowd, where he pledged that his party would appeal in the Supreme Court against the verdict.
Bihar Chief Minister Nitish Kumar has also indicated that his government will do the same, although he has always tried to maintain a safe distance between the upper castes and the dalits in his state, apprehending that alienating either community could prove politically unwise.
In Bihar, one massacre has always led to another in a chain reaction. In fact, exactly a week after the High Court verdict, seven people were killed in a landmine blast in Pisai village of Aurangabad district that is believed to be controlled by the Maoists.
Among those killed was a Ranvir Sena activist. Soon after the blast, Indubhushan Singh, the son of Brahmeshwar Mukhiya, president of Akhil Bharatiya Rashtravadi Kisan Sangathan, threatened "blood for blood". A spiral of violence is, therefore, likely in the area in the days ahead.
Yet, whatever the politics behind the Lakshmanpur Bathe massacre, it cannot be denied that it was the innocent who fell victim to the bullets.
For Lakshman Rajbanshi, the lone witness who identified the culprits, time has stood still. His house in which three women of his family were murdered remains as it was - a grim reminder of the incident. The battered door, which was thrust open with a pickaxe that night and the wooden bed where his wife, daughter and daughter-in-law were huddled together before being killed is also left as it was.
Today he wants the government to hang him if they can't hang the murderers. "We worked on their fields that whole day and in the evening they killed us," he comments bitterly.
The denial of justice in this massacre of the innocents has disturbed him greatly - as it has everyone in Lakshmanpur Bathe. -Women's Feature Service
Wish to share your story?
Trending Now: