Lower Bhavani Project canal now irrigates land and recharges ground water

Karthikeya Sivasenapathy
&nbsp | &nbsp Erode
20-September-2013
Vol 4&nbsp|&nbspIssue 38
Farmers of Erode, Tiruppur and Karur districts of Tamil Nadu are in distress over the proposed concrete lining of the Lower Bhavani Project (LBP) Canal, which would turn the region into a desert.
The project currently irrigates an estimated 2.07 lakh hectares of land. Along the way it recharges the ground water, which benefits lakhs of tube wells, open wells, around 400 lakes and 3 major bird sanctuaries.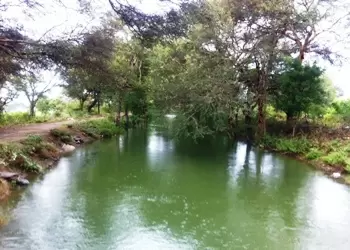 Concrete lining of the LBP Canal will lead to destruction of nearly 100,000 trees
But if the Public Works Department of the Government of Tamil Nadu has its way and implements concrete lining of the LBP canal, not only would lakhs of trees have to be cut down, hundreds of wells, and borewells would go dry.
Farmers' groups and environmentalists are understandably outraged.
Several protest meetings and demonstrations have taken place in the region, but the government is yet to respond favourably.
The agitation against the concrete lining of LBP has become a mass movement and is supported by various farmers' associations, G Nammalvar, the renowned organic scientist, environmental activists, and 64 panchayat presidents of the entire Lower Bhavani ayacut area.
Protests have been held at Mangalampatti, Muthur, Nathakadayur, Valliarachal, Marudurai, Paranjervezhi,Nathakatuvalasu, Chennimalai, Arachalur, Poondurai, Bhavani, Sathyamangalam, Kurumandor, Gobichettipalayam, Vellorru and Chithodu.
LBP was executed in the 1950s by building a dam across the river Bhavani, a tributary of Cauvery, and diverting the water through a 200-km long canal for benefit of farmers.
It is also the only source of drinking water to one major corporation, Erode, and municipalities like Gobichettipalayam, Sathyamangalam, Chennimalai, Kunnathur and more than 60 revenue villages.

Since it is not solely a drinking water project, the concern need not be to ensure zero loss of water and carry it through pipes or cemented canals. Water seepage or percolation only helps in recharging ground water level of abutting agriculture land.

From the time of its inception, maintenance work has not been carried out in the canal. The need of the hour is repair and maintenance work in few stretches of the canal.

Instead a committee appointed by the Government of Tamil Nadu recommended concrete lining of the canal as a long lasting solution and a GO was passed - by the previous (DMK) regime - in the year 2009 in this regard.

Former Chief Minister M Karunanidhi shelved the project after farmers protested, but the present government has given a fresh lease of life to it.

State Public Works Minister K V Ramalingam, who is from this region, had given an assurance that the concrete lining work would not be taken, but now they are bent on carrying out the work.

But most ruling party MLAs are against the project respecting the sentiments of local farmers.

The Congress party in Erode and Tiruppur district appears to be divided on the issue. While a former MLA, Vidial Shekar has opposed the project, another ex-MLA, R M Palaniswamy is supporting it.

Curiously, Subbulakshmi Jagadeesan, former Union Minister and a DMK heavy weight is supporting the project.

The issue has been taken up with the World Bank, which might be approached for funding the project.

The World Bank's Country Director (India) Onno Ruhl has clarified that he is yet to receive any formal proposal on the project from the government of Tamil Nadu.

"I would like to assure you that if such a proposal is received, we will undertake a full review of its social and environmental implications… In that event, comments and inputs from all stakeholders will definitely be considered," he had replied to a letter sent to him on the matter.

The project would be in violation of rules since the Indian government is a signatory to the United Nations Convention on Biological Diversity (UNCBD) and has also established the National Biodiversity Act 2002 – an authority to protect biodiversity in the country.

The Struggle Committee Against the Proposal for Concrete Lining of LBP is also in the process of appealing to the Union Ministry of Environment and Forestry to do an environmental impact assessment on the project and seeking a ban on the project due to the environmental damage that it would be causing.

Karthikeya Sivasenapathy is Managing Trustee of Kangeyam Cattle Research Foundation, and Coordinator of The Struggle Committee Against the Proposal for Concrete Lining of LBP


Trending Now: