Eco Femme's products address concerns raised over throw away sanitary pads

P C Vinoj Kumar
&nbsp | &nbsp Auroville
25-May-2013
Vol 4&nbsp|&nbspIssue 21
Kathy Walkling, an ardent advocate and maker of washable cloth pads, gives you the statistics first to make you understand the gravity of the problem she is trying to address.
An average woman uses 10 sanitary pads a month during her menstruating years. In a span of about 35-40 menstrual years, she accumulates about 125 kilos of soiled pads.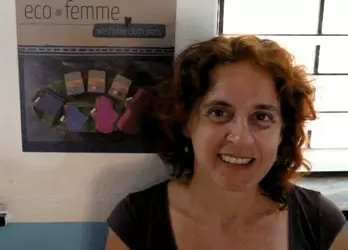 Kathy makes washable cloth pads with the help of members of a women's self-help group
In India, there are about 355 million women of reproductive age. If all of them start using pads, they would be throwing away a mind-boggling 58500 million used pads in a year.
Ninety percent of the material used in the pads is plastic and it takes about 500-800 years for a single pad to decompose.
"The disposal of used pads poses a major environmental issue," says Kathy, a resident of Auroville, an international township in Tamil Nadu's Viluppuram district.
An Australian national, Kathy has made Auroville her home since 1997. It was her personal quest for an alternative to sanitary napkins – which she found difficult to dispose of in an eco-friendly way - that led her to experiment with cloth pads.
She brought her first set of cloth pads from a shop in New Zealand in 1999. Finding them convenient to use, hygienic, and easy to maintain, she started making cloth pads for her own use and later made them for her friends in Auroville.
"There is nothing unhygienic about cloth pads. Is your underwear unhygienic? It's how you care about it that matters," says Kathy, who now makes washable cloth pads under the brand name of 'Eco Femme' with the help of members of a women's self-help group, Auroville Village Action Group (AVAG).
A large percentage of women in rural India still use clothes during their menstrual period, but most use dirty rags causing health concerns.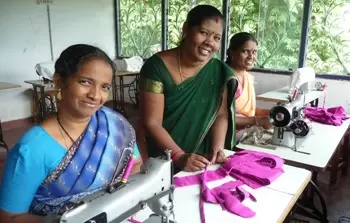 Women working with Eco Femme earn up to Rs.3000 per month
A survey conducted by AVAG in 2010 among 300 women in Viluppuram district found that 128 women (43 percent) used cloth during their periods, but did not follow hygienic practices. Just 28 percent of the cloth users dried it in open sunlight.
Nearly 48 percent believed that snakes, lizards or insects should not come in contact with the cloth and 45 percent believed that birds (eagles) should not fly above the cloth.

Twenty percent of the women believed that men should not see the cloth.
Kathy says it is this attitude among women that needs to change, and not necessarily the practice.
"If the cloth is clean and is washed properly, dried in direct sunlight, and stored in a clean place, there is no problem at all," says Kathy.
Eco Femme's cloth pads for the premium market is priced at Rs.315 (3 pads), Rs.215 (single pad), and Rs.260 (single pad) for different brands. For the economically disadvantaged women, the pad is made available at about Rs.85.
"If 4 cloth pads are used interchangeably, each can last up to 5 years. By using cloth pads, you not only help the environment by not generating waste, but you also save money," says Kathy.
In fact, awareness is building in the country on dealing with sanitary napkin waste. Recently, in Pune a waste pickers' cooperative sent bagfuls of used pads to the corporate offices of sanitary napkin makers, Procter and Gamble, Hindustan Unilever, Johnson and Johnson, and Kimberly Clark Lever.
The waste pickers had been trying to engage with the companies on hygienic disposal of the used pads, based on provisions of Extended Producer's Responsibility under the Plastic Waste (Management and Handling) Rules, 2011.
Since the companies did not respond, the waste pickers decided to give them a taste of what it was like to handle their used products.
Currently, Eco Femme is producing about 2500 pads per month. It employs 7 women from the AVAG self-help group, and each of them earn up to Rs.3000 per month.
Most Eco Femme pads are sold through online stores, and are exported to many European countries including UK, Germany, Italy and Netherlands.
For every pad sold in the international market, a donation of Rs.80 is credited to Eco Femme's 'Pad for Pad' scheme, which enables a girl from rural India to get a free cloth pad.

Wish to share your story?
Trending Now: