Police break Kudankulam protest using force
10-September-2012
Vol 3&nbsp|&nbspIssue 36
Tamil Nadu police Monday resorted to a cane charge to disburse thousands of villagers, including women and children, staging protests on the beach at Kudankulam, behind the upcoming nuclear power plant.

Earlier, officials had announced that enriched uranium fuel would be loaded in the first of the two nuclear reactors here Sep 11.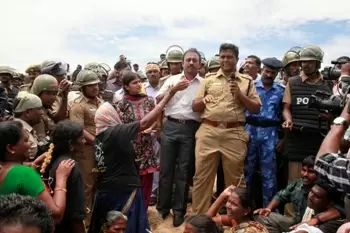 District SP Vijayendra Bidari holding talks with protestors Sunday
This is the first time police started cracking down on the protestors who launched their agitation against the atomic power plant more than a year ago.

With police resorting to lathi charge and lobbing of tear gas, protestors started running and some tried to escape by running towards the sea.

A Tamil television channel showed protestors throwing sand and stones at the police while being lobbed with tear gas shells.

The People's Movement Against Nuclear Energy (PMANE) that is spearheading the anti-KNPP movement had decided to take its fight against the Rs. 17,120-crore project near the plant, away from Idinthakarai village near Kudankulam in Tirunelveli district, around 650 km from here.

There is a prohibitory order against the assembly of people near the plant.

On Sunday around 8,000 people including women and children from eight villages near Kudankulam assembled at the beach since morning to stage their protest.

India's atomic power plant operator Nuclear Power Corporation of India Ltd (NPCIL) is building two 1,000 MW reactors with Russian equipment at Kudankulam since 2001.

Villagers under the PMANE banner have opposed the project for the past one year, fearing for their safety, especially since the nuclear disaster at Fukushima in Japan March 2011.

Police officials were not available for comments.

Around 4,000 policemen have been deployed around the plant site. - IANS
TWL Bureau adds: According to reports coming from Kudankulam, top PMANE leaders including SP Udayakumar, Pushparayan, and others, have escaped by boats before the police action.
Also Read
Kudankulam protest moves to the beach, closer to the nuke plant

Trending Now: