Kudankulam protest moves to the beach, closer to the nuke plant
10-September-2012
Vol 3&nbsp|&nbspIssue 36
Thousands of villagers, including women and children living near the Kudankulam Nuclear Power Project (KNPP) Sunday made the Kudankulam beach behind the upcoming power plant their protest venue braving chilly winds, rough sea, shortage of drinking water and food, said a leading activist.

The People's Movement Against Nuclear Energy (PMANE) that is spearheading the anti-KNPP movement for more than a year has decided to take its fight against the Rs.17,120 crore project near the plant itself away from Idinthakarai village near Kudankulam in Tirunelveli district around 650 km from here.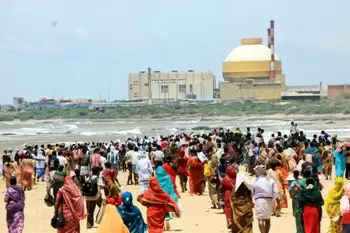 Protestors have moved closer to the nuclear plant demanding that it be shut down
India's atomic power plant operator Nuclear Power Corporation of India Ltd (NPCIL) is building two 1,000 MW reactors with Russian equipments since 2001.

Villagers under the PMANE banner have opposed the project for the past one year, fearing for their lives following the nuclear disaster at Fukushima in Japan.

Speaking over phone M. Pushparayan, a PMANE leader said, "We came out in procession waving white flags from Idinthakarai around 10.30 a.m. and went straight to the beach in order to avoid any direct confrontation with the large police contingent present in the vicinity."

Around 8,000 people including women and children from eight villages near Kudankulam have assembled with their children at the beach since morning.

"We have decided to be here till we get a positive answer to our protest. In the afternoon, people suffered a lot as there was no drinking water and food. Subsequently, porridge and drinking water were arranged. Bringing water and food for 8,000 people is a difficult task," Pushparayan said.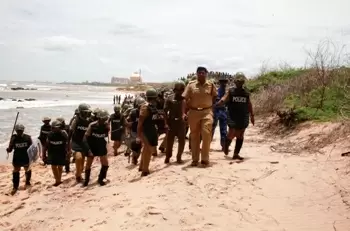 District SP leading a police force to stop the protestors from moving further
According to him, food and water would be mobilised from outside but the sea is rough and the wind is a bit chilly. Erecting a tent is difficult as the wind is strong.

"Senior district administration and police officials came and addressed the people and tried to convince them while maligning PMANE leaders. The people in turn retorted that not only the PMANE leaders but several noted personalities have opposed the atomic power project," Pushparayan said.

"The Madras High Court has recently permitted the plant to function. You have the right to appeal against the judgment in the Supreme Court instead of resorting to unlawful protests," R.Selvaraj, Tirunelveli district collector told the protestors.

According to Pushparayan, more people are expected to join the ranks of the protestors Monday. Fishermen of the three districts - Tirunelveli, Kanyakumari and Tuticorin- have declared their decision not to venture into the sea Monday. - IANS

Just in

Trending Now: